Bicycle touring Kazakhstan, the chapter of central Asia was about to begin.
Here we were, in a new country again, at the south-western tip of a pretty huge one indeed! Kazakhstan is the world largest landlocked country with a total area of 2,724,900 km2 . In Kazakhstan, on our way to Uzbekistan, we were going to cycle a stretch of 530km's through the Province of Mangghystau, which is one of 14 Provinces of the country. Although on the map, this Province looks quite small compared to the whole country, it's the equivalent of four times the size of Switzerland.
After we left the ferry and thus entered Kazakhstan at the port in Kuryk, we cycled the first 10km stretch to the same-named village to find a cheap hostel / hotel to spend the night. At the marked Hotel on MapsMe, Siril was already waiting for us, who arrived a "bit" earlier than we did with his motorbike. Sadly this place didn't exist anymore but a few minutes later we found another one. An old lady offered us a 3-bed room and together with her help, we added another folding bed for the four of us. A quick shower later and half an hour before closing time we went to the largest supermarket in the village.
Compared to the size of Kuryk, we did not expect to find a grocery store of such a selection, but rather one like a small kiosk. We had to buy food for dinner but mostly enough groceries for the first desert stretch that lay ahead of us. We bought buckwheat, something we are going to find more often in the countries of the ex. Soviet Union. Next to that we bought rice, lentils as the protein source, bread, snacks, chocolate so as baby wipes for the daily "shower" in the tent.
Back in the hotel with filled bags of stuff, we went to the tiny kitchen and prepared our two packs of instant noodles each. After a huge and super spicy bowl of noodles and some refreshing beers, we tiredly went to bed.
A few hours of sleep later, it was time for our first full day in Kazakhstan. So it was for another goodbye. Siril, the first Swiss I met on my journey, left us after breakfast. Although he was also travelling on two wheels, he was understandably a little faster than us on his motorbike. Shortly after we packed our bikes and after we left Kuryk, we got to know our enemy for the next few days. A lot of times, where there are flatlands, there are strong winds. It was no different here, the wind from the east tried to push us back to the Caspian Sea.
Despite that fact, the first few kilometers have been as one could have imagined. As soon as we left the village of Kuryk, we were out in flat, dry and stony desert. From that point on, the term of "flat" got a different meaning. Never before in my life, I've seen such a flat place as here. Usually there was always something small to see on the horizon, but here it was not the case. We quickly realized why cycling deserts can become a mental challenge. The view was always the same: one straight road, the lower part the desert, the upper part the sky. Thats it.
Luckily, or at least for now, only the first day was like this. The more north we went, the closer we came to the north-eastern tip of the Caspian Sea, or let's say, where it once was. After the city of Shetpe, we arrived at "Karakichu", a salt plain, and thus cycled through canyon-like rock formations.
What else we got to see every day, as to relate it to deserts, were camels and dromedaries, both wild ones and livestock. They have been here and there along the road, sometimes on the road, and not easy to be irritated. They stared at us as long and stupid as we did at them.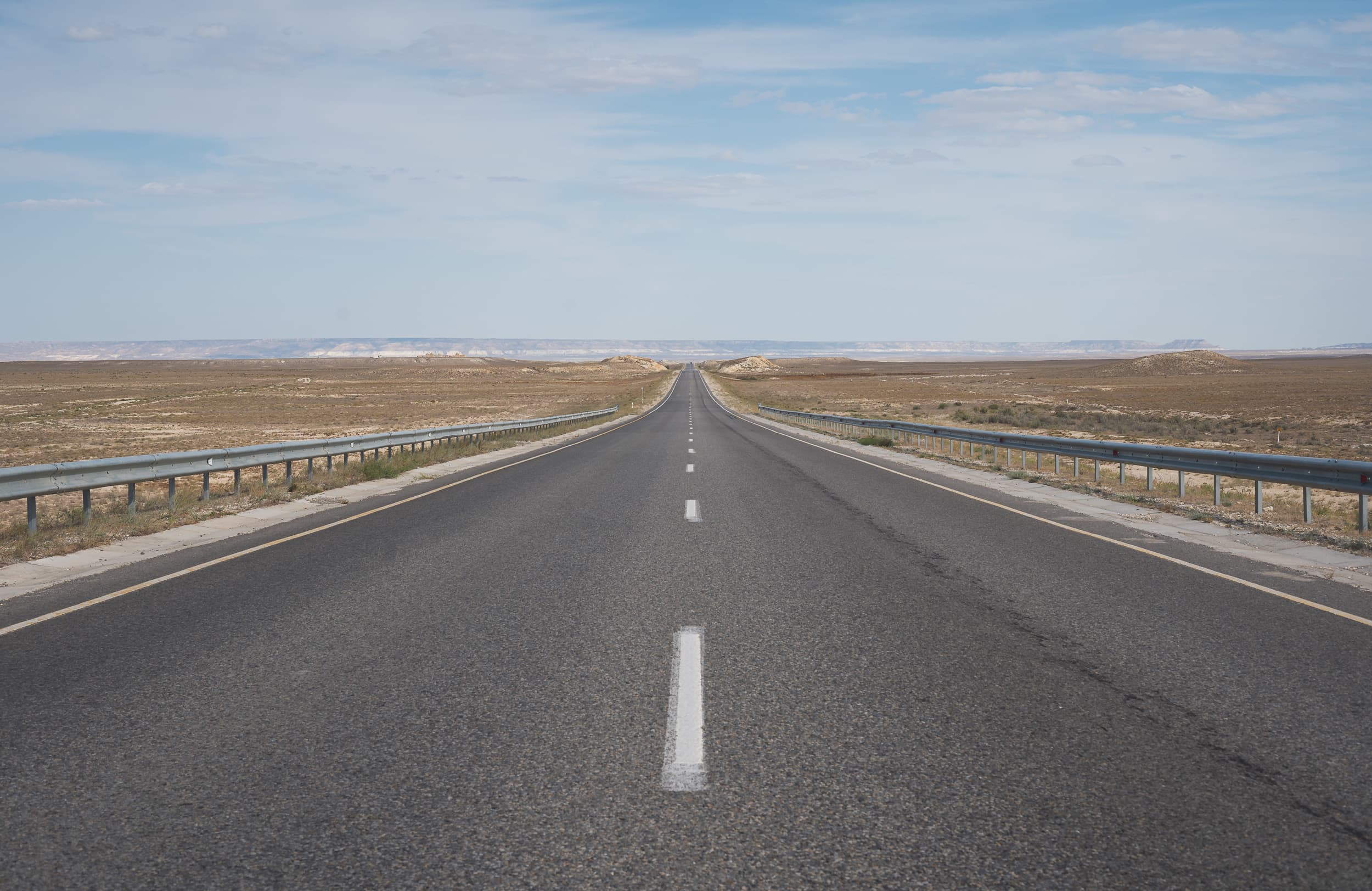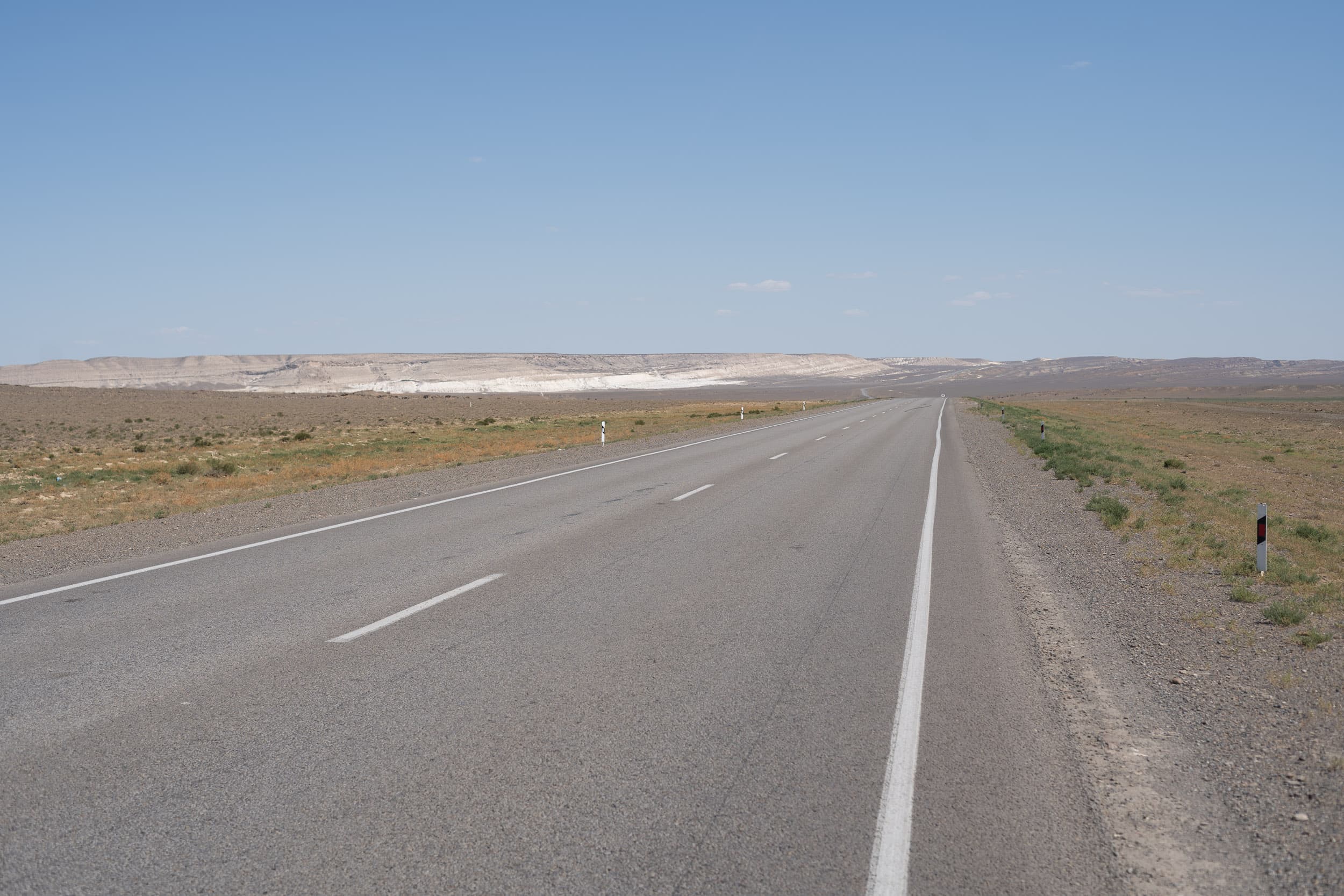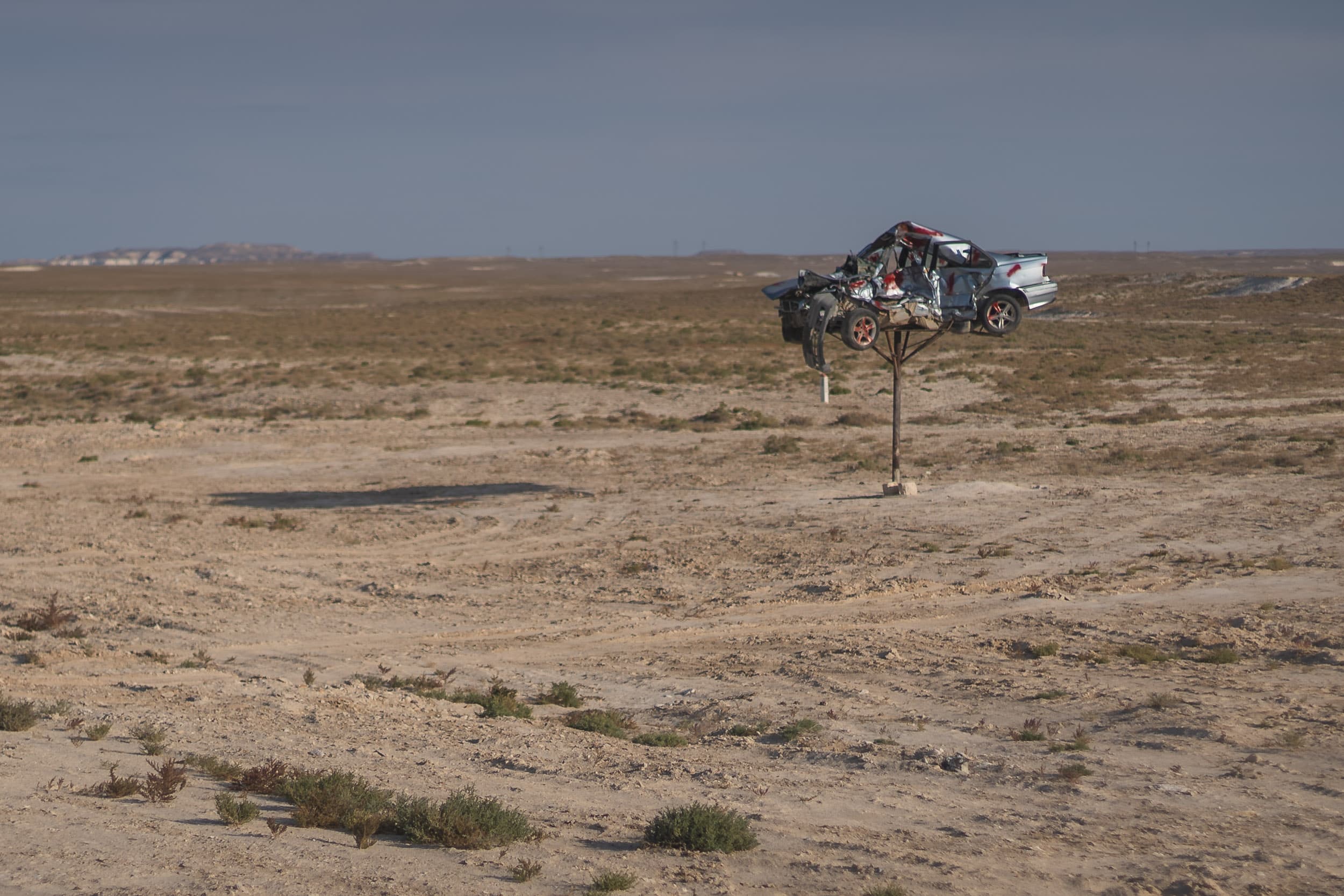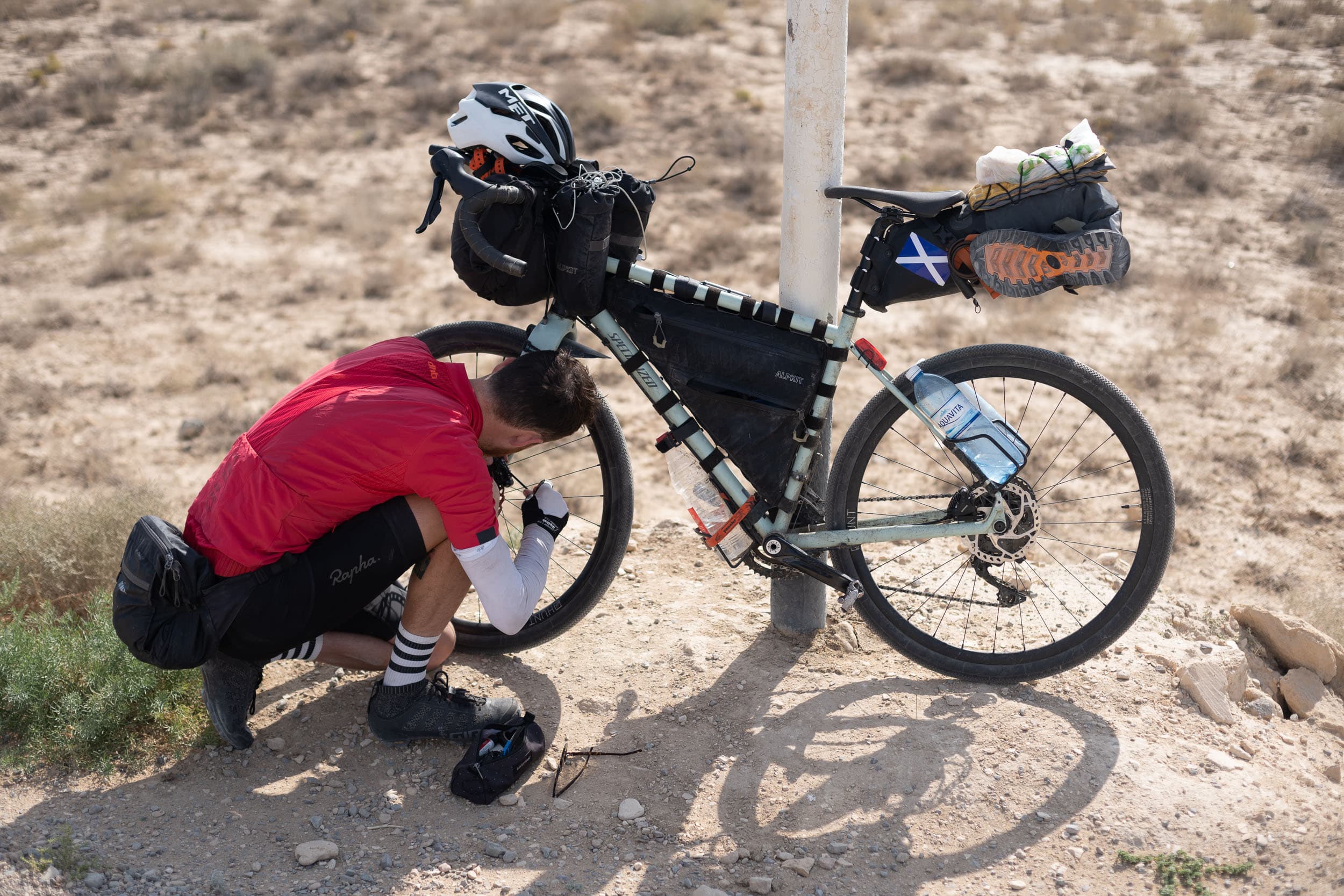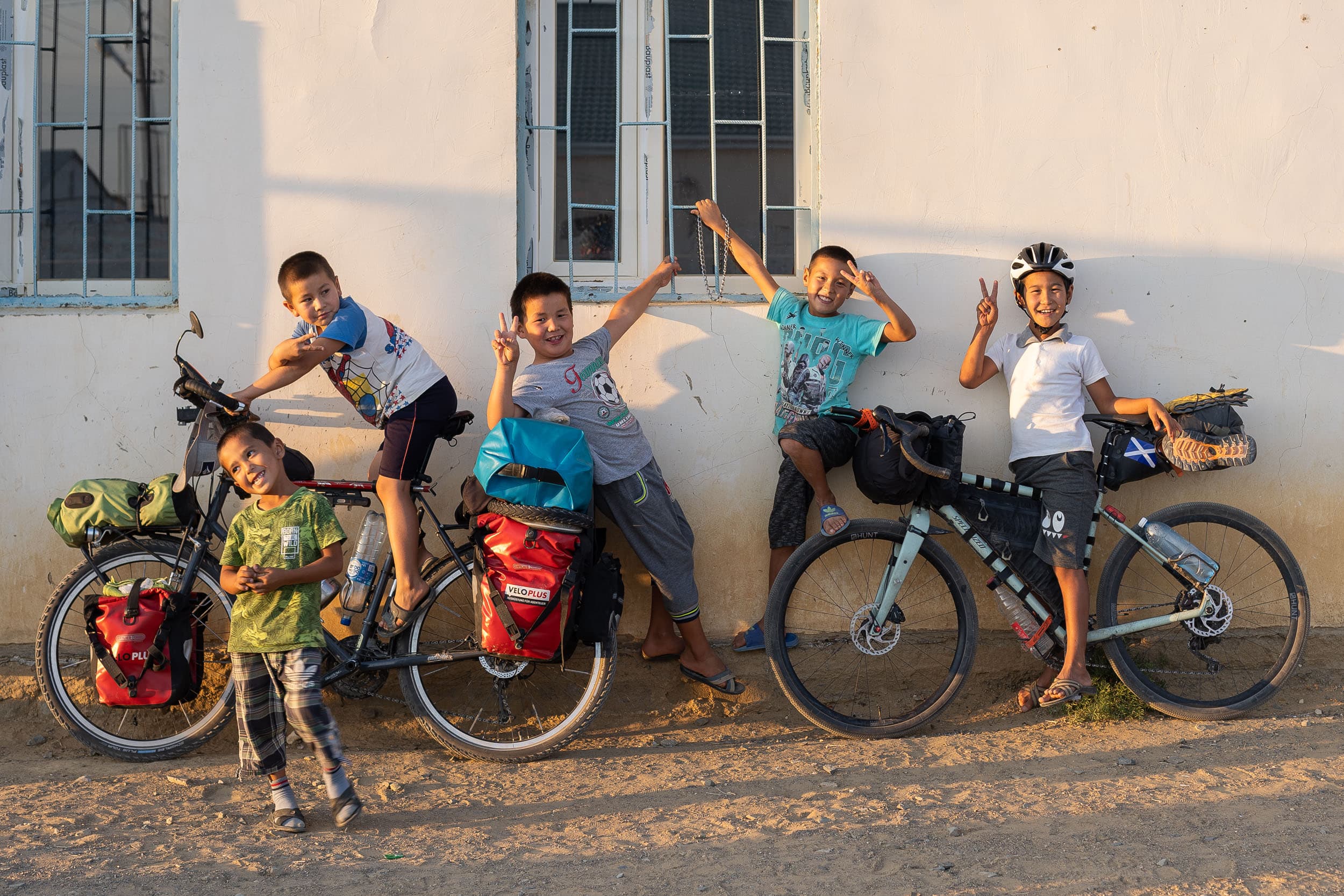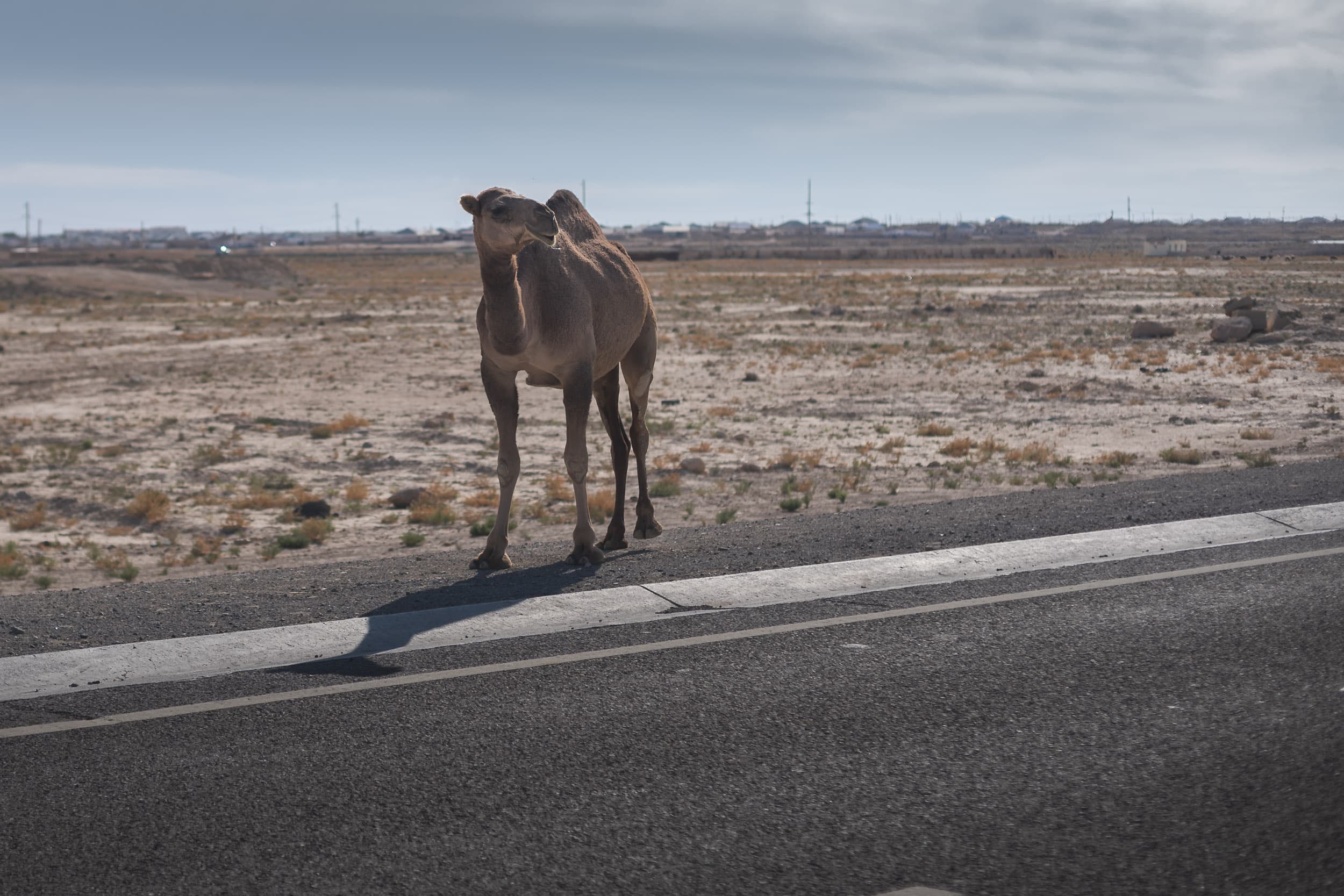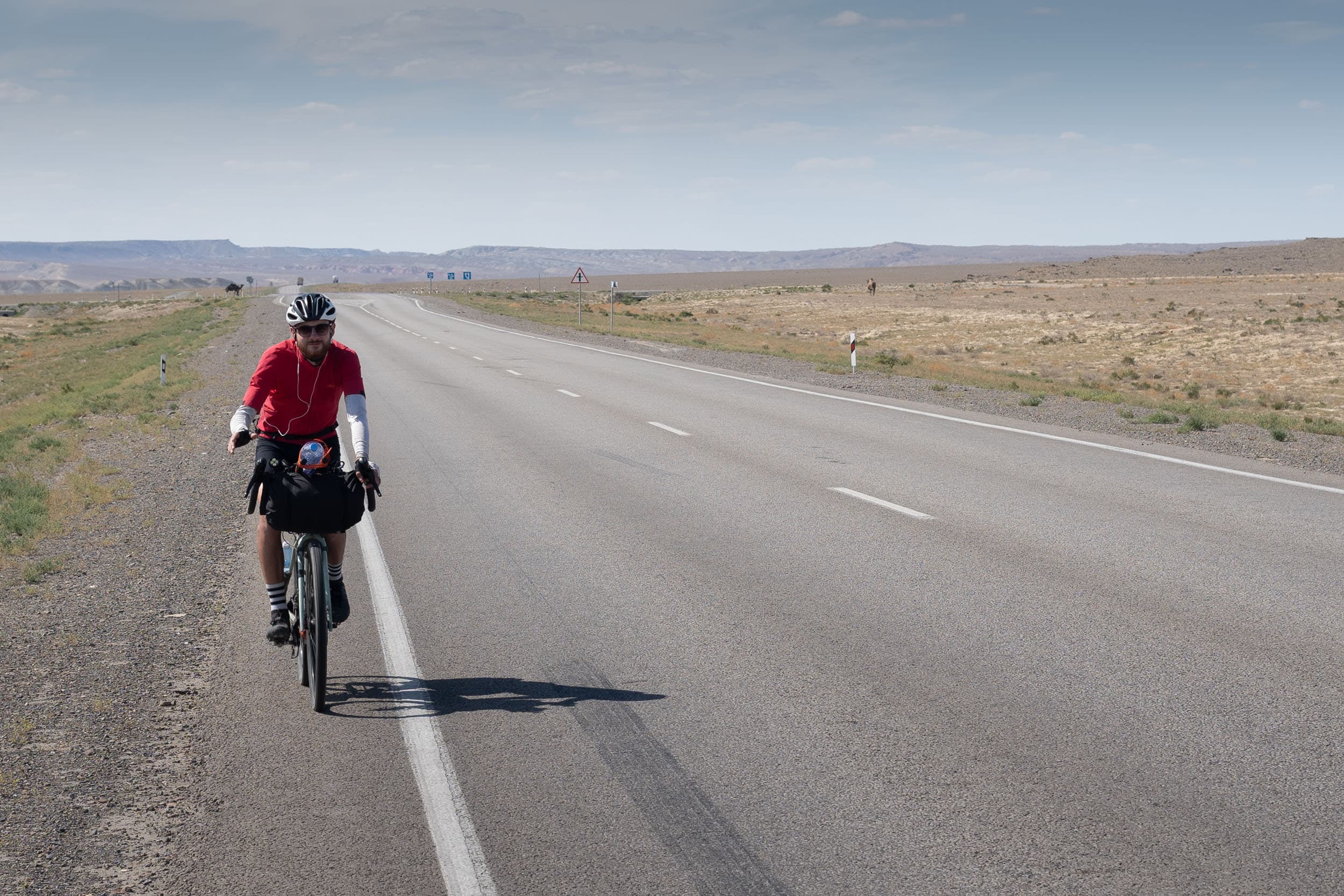 We really couldn't complain about the conditions so far. After the first two days, the strong headwinds dropped down, the days haven't been that hot anymore like in Turkey or Iran and also the nights became colder, which was perfect for sleeping in the tent. Even the roads were in pretty good condition, except the first 90km's from Kuryk along the E-121.
After this first week together, including the days at the port in Alat, Favio, Andrew, and I became a good team. Favio carried some hot water in his insulated bottle, Andrew and I the coffee powder to have a daily roadside cup of coffee. One thing I remember most, however, was the tub of chocolate spread Favio took out of his food bag at one of our first roadside stops (picture below). Everybody who knows me knows, that I'm in love with chocolate. Seconds later, the three of us have been sharing the last bits of the chocolate spread in the tub. It was the perfect match together with the white bread we always bought for lunch or snack breaks.
I always had some Snickers or a bar of chocolate with me, but chocolate spread?! Why didn't I think of it earlier? It was fun to see Andrew was thinking the same as me. As soon as we found a new supermarket, both of us went to buy a new tub of chocolate spread. Something we better never started with.
After a long and tough 140km ride and a night in a hotel in Shepte, the next evening we found a nice camp spot just a few hundred meters off the main road. Slowly but surely, summer was going to end, and around 17.00 – 18.00 o'clock, we had to look for a suitable campsite before it went dark. At this particular spot, our first one in Kazakhstan, we got to see an amazing sunset with a burning red sky. In the desert, as soon as the sun went down at the horizon, it got colder pretty quickly. At this time of the year, temperatures during the day were between 28-35 degrees, however, after sunset, the temperature dropped rapidly by 20 degrees, perfect for a comfy sleep in the tent.⁠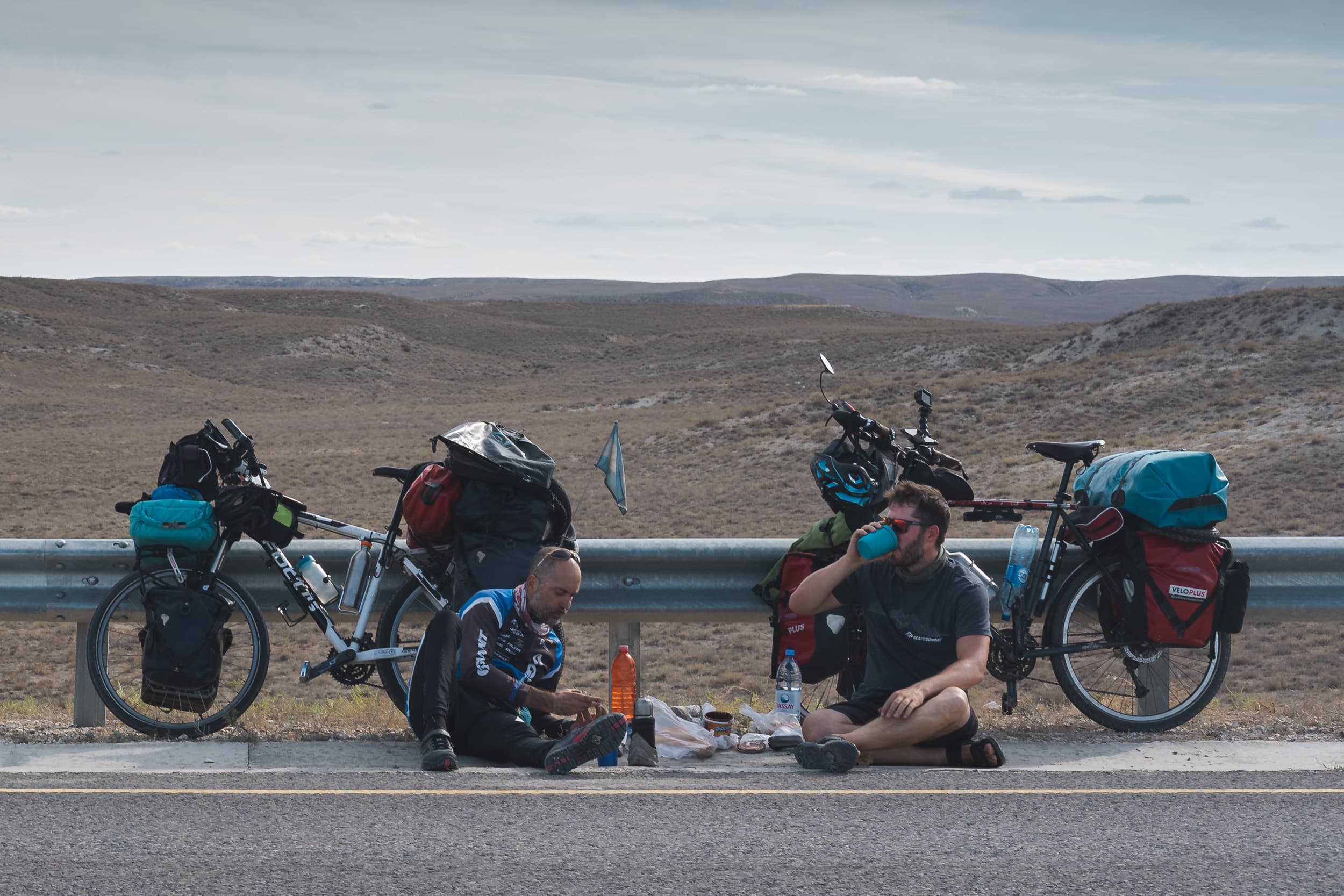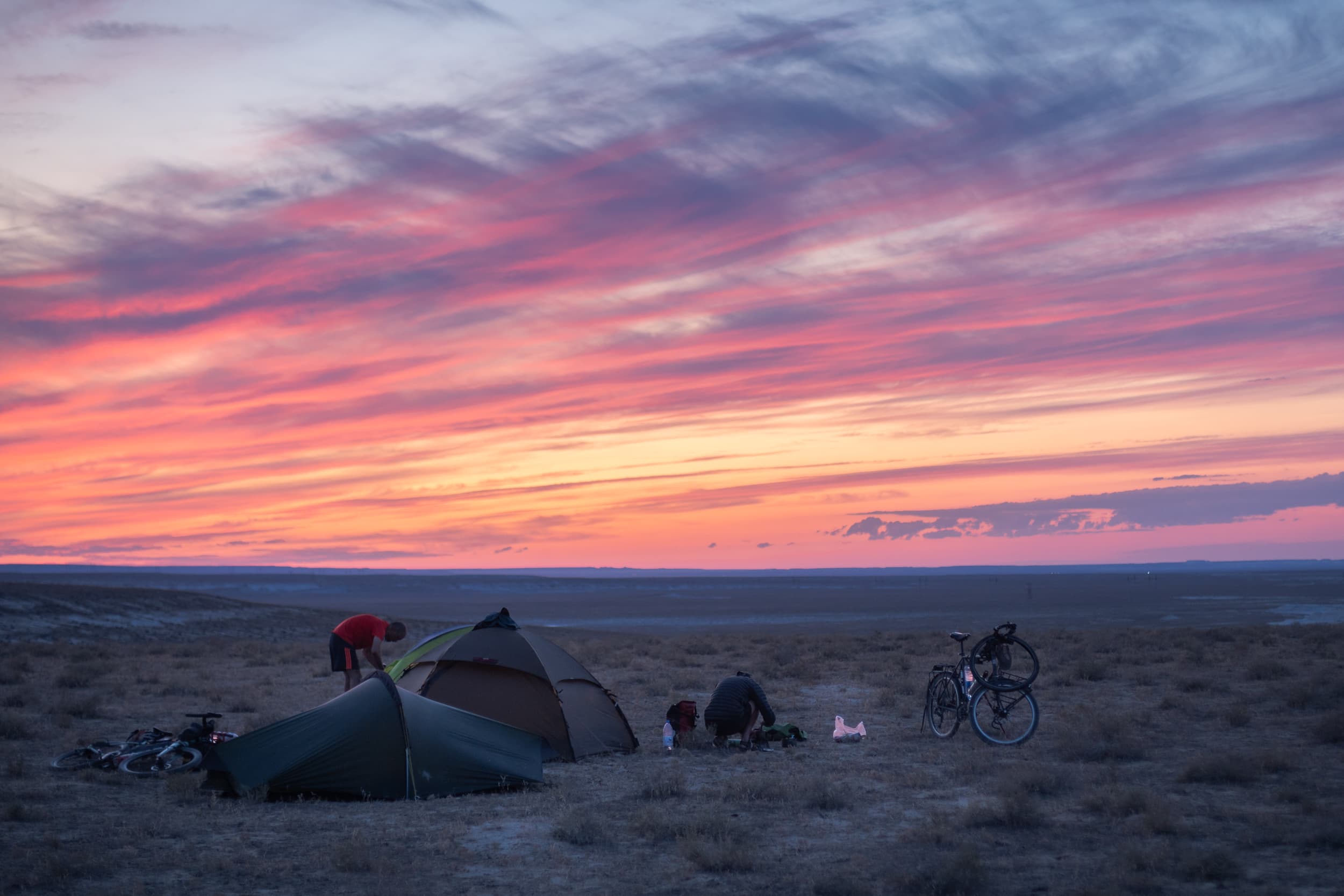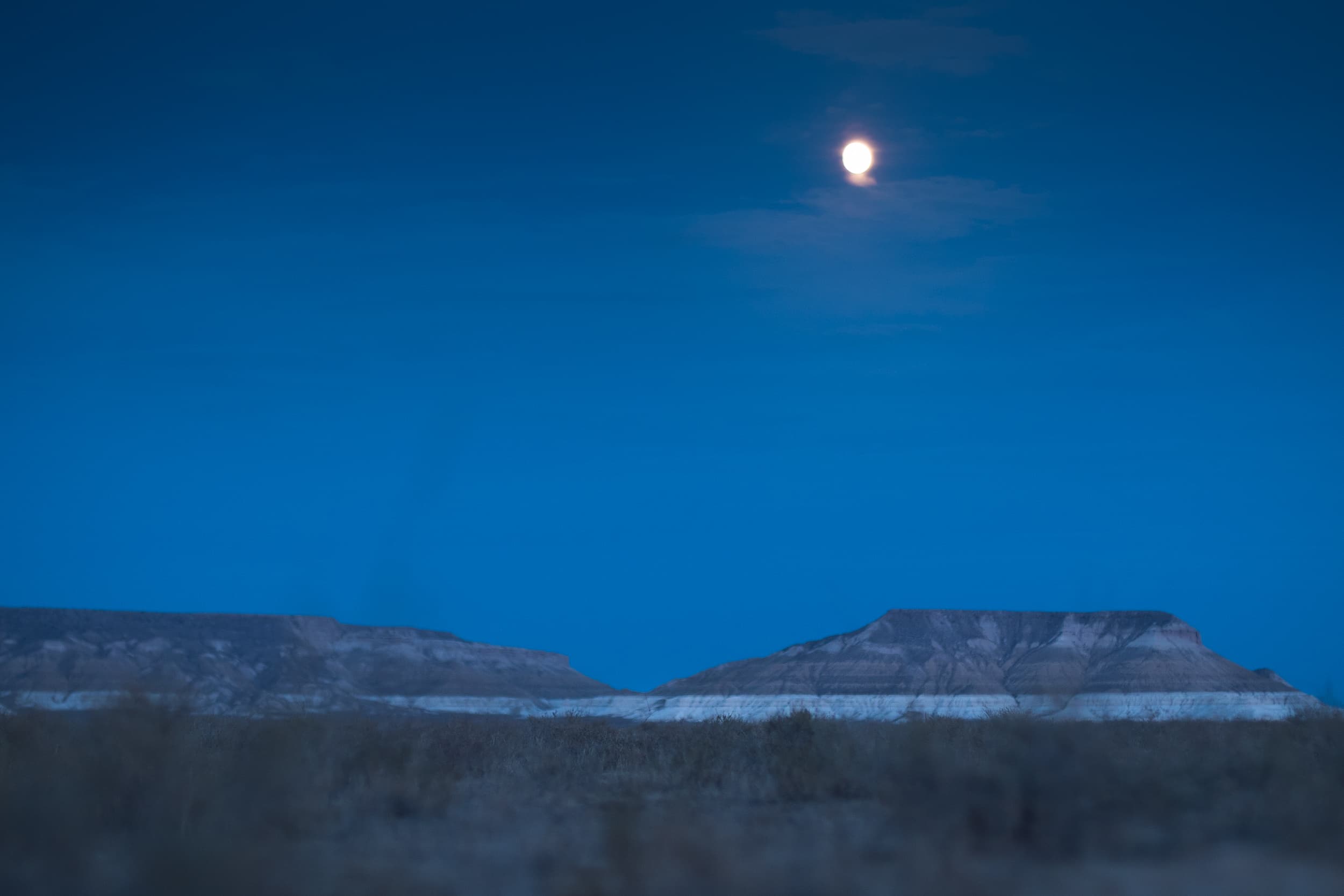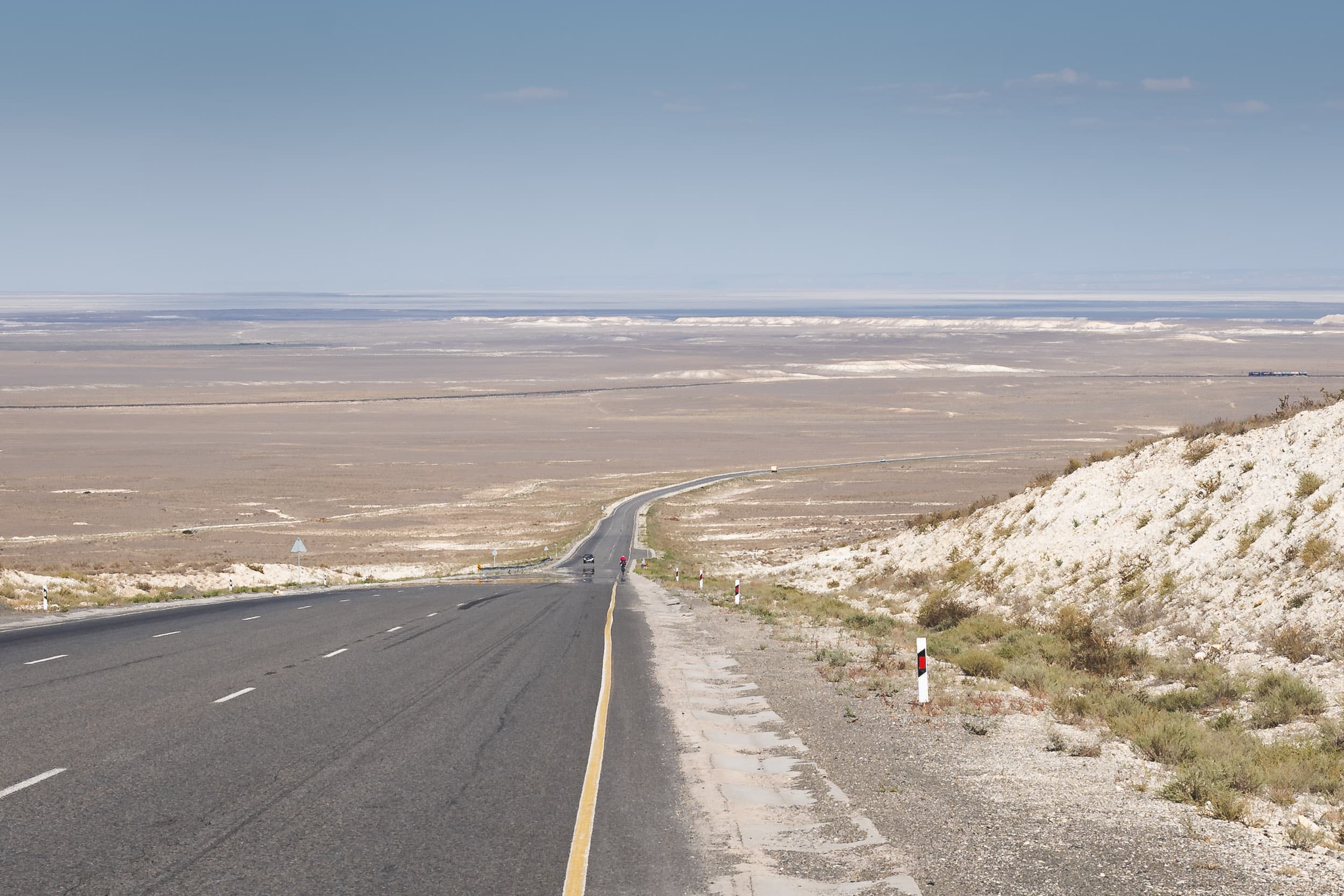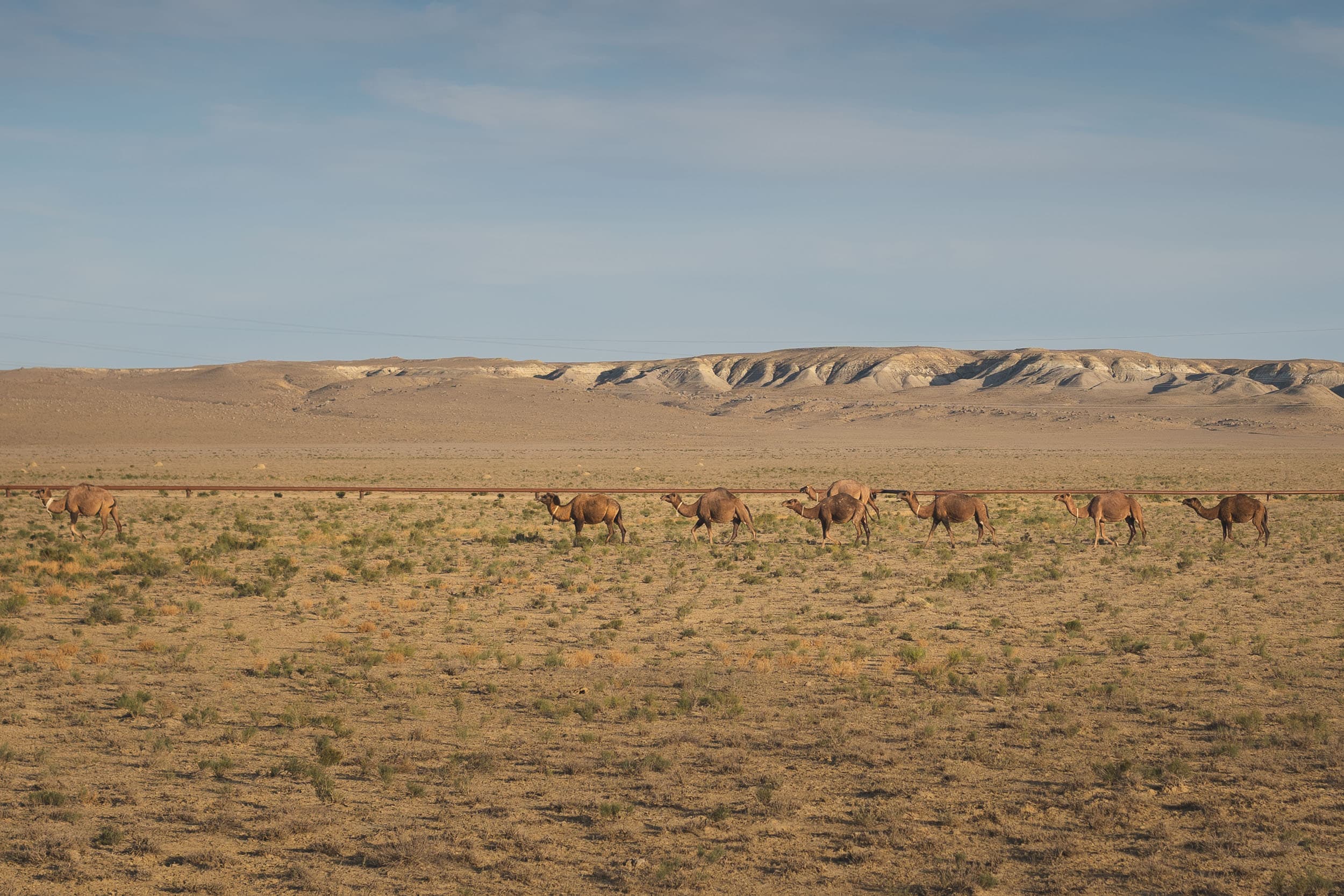 During our first two days and up to this point we had almost no acquaintance with locals, except all the Camels. To really get to know a country, one of the best and most important things is to meet locals. To learn about their daily life, to see how they live, what they eat, and all other cultural things. As we only had a total of 530km's in Kazakhstan and just one village and a city remaining, the chance was rather small to meet and get to know more Kazakh people in a desert. Little did we know that this was going to change soon, in a way we never could have imagined.
On our third day cycling in Kazakhstan, the weather was about to change. After weeks of sun and blue skies, it got cloudy and even started to rain during the first half of the day. In the afternoon we were looking for a place to buy some bread or to have a meal. We found a small restaurant just next to the road,  which was just a few kilometers before the city of Say-Otes. We had a warm soup, some bread, and of course, a Snickers. While sitting on one of the tables and eating our food, a group of men in blue overalls entered the restaurant to have some food themselves.
One of them came to our table and introduced himself as Batyr. The men have been from the local telecommunication company, working for a festival which was going to start the next day. Batyr asked us where we are going and if Say-Otes was going to be our next stop. We didn't know where to stop and to sleep that night, as it was just after midday and as we were still able to cycle some more kilometers that day. He recommended to stop in Say-Otes and join the traditional Festival the next day. A Festival which only takes place all 10 years.
After a short discussion among the three of us, we decided to give it a try. This was our chance to learn something about their culture. We continued cycling and just at the junction pointing left to the city of Say-Otes, on the right side of the road, a bit ou in the desert we saw a lot of people building up yurts and other things. This had to be the Festival the man was talking about. In the city itself, which was more looking like a huge village with lots of simple looking houses, we went to the next magazine (tiny shop) to stock up with penty of food again. More or less, there was always the same stuff to find in these shops. We bought rice, lentils, new packages of baby whipes, eggs, instant noodles, lots of cookies, crisps, and even cold beers!
Locals in the shop were buying ice-cold vodka bottles like we were buying coca-cola or Fanta. We definitely arrived in central asia now and in an ex. soviet country. Vodka was to find in every shop, no matter how small it was, despite the fact more than 70% of the Kazakh people being Muslims. Next to the shop we then  cooked one of our usual one-pot recipies (instant noodles with some eggs) and started to find a place to sleep in the city. As we asked a young man where to find a place for our tent, he then offered us to stay with him. Daniel had an empty Kiosk where we could put our mats on the floor and spend the night. He then also recommended us to join the Festival the next day. At this point, we decided to have a day off in Say-Otes and to check out that Festival everyone was talking about.
In the afternoon the next day, we joined Daniel and his family and went to the Festival, leaving our stuff and the bikes in Say-Otes. As we approached the festival area, we recognized that this happening was going to be a big thing and that we definitely took the right decision to stay here for a day. There were dozens of yurts, both huge and modern ones and small traditional ones made of wood and sheep/camel wool.
Outside the yurts, there were men preparing and cooking plov for dinner, over fires in huge iron woks. Next to one of the fires lay a sheep that was still alive, but tied up. Unfortunately, it quickly became clear what his fate was like, as one of the men opened an already boiling soup to give it a stir.
Together with Daniel, we were able to enter one of the traditional yurts, which was amazing to see. All the interior was decorated with carpets in different colors, an older woman wearing a traditional garment and we even got to try a kind of camel cheese and candies made of camel milk.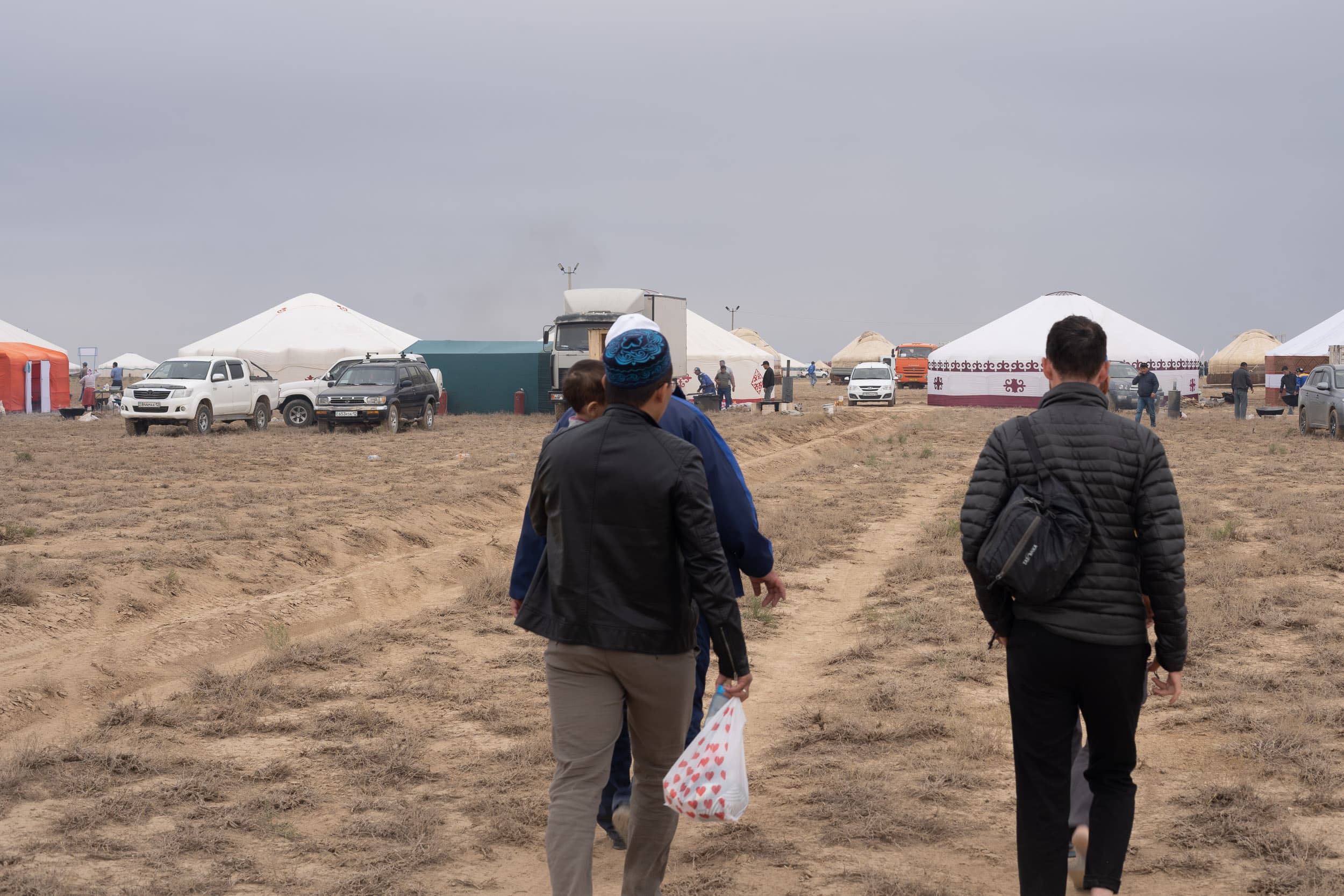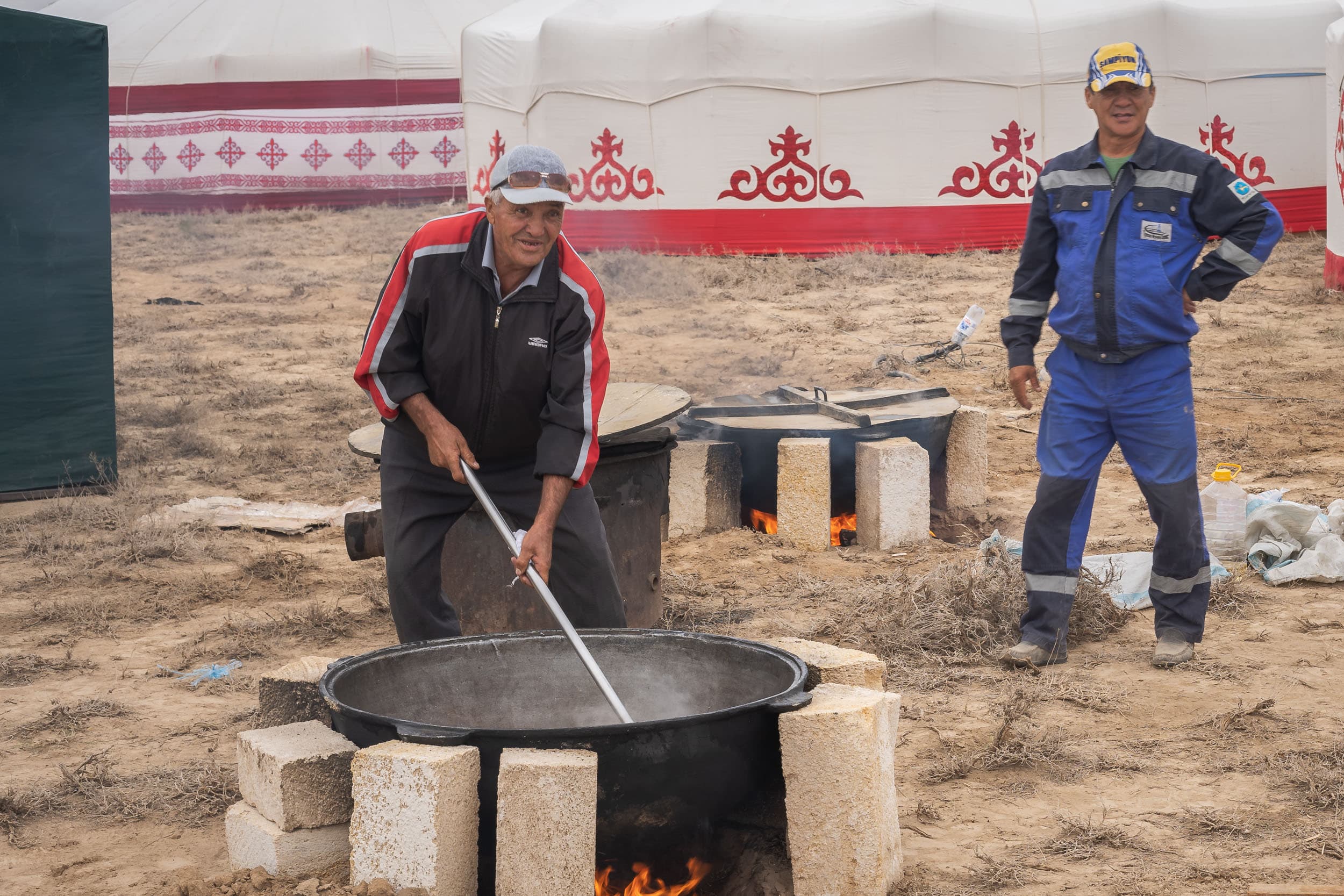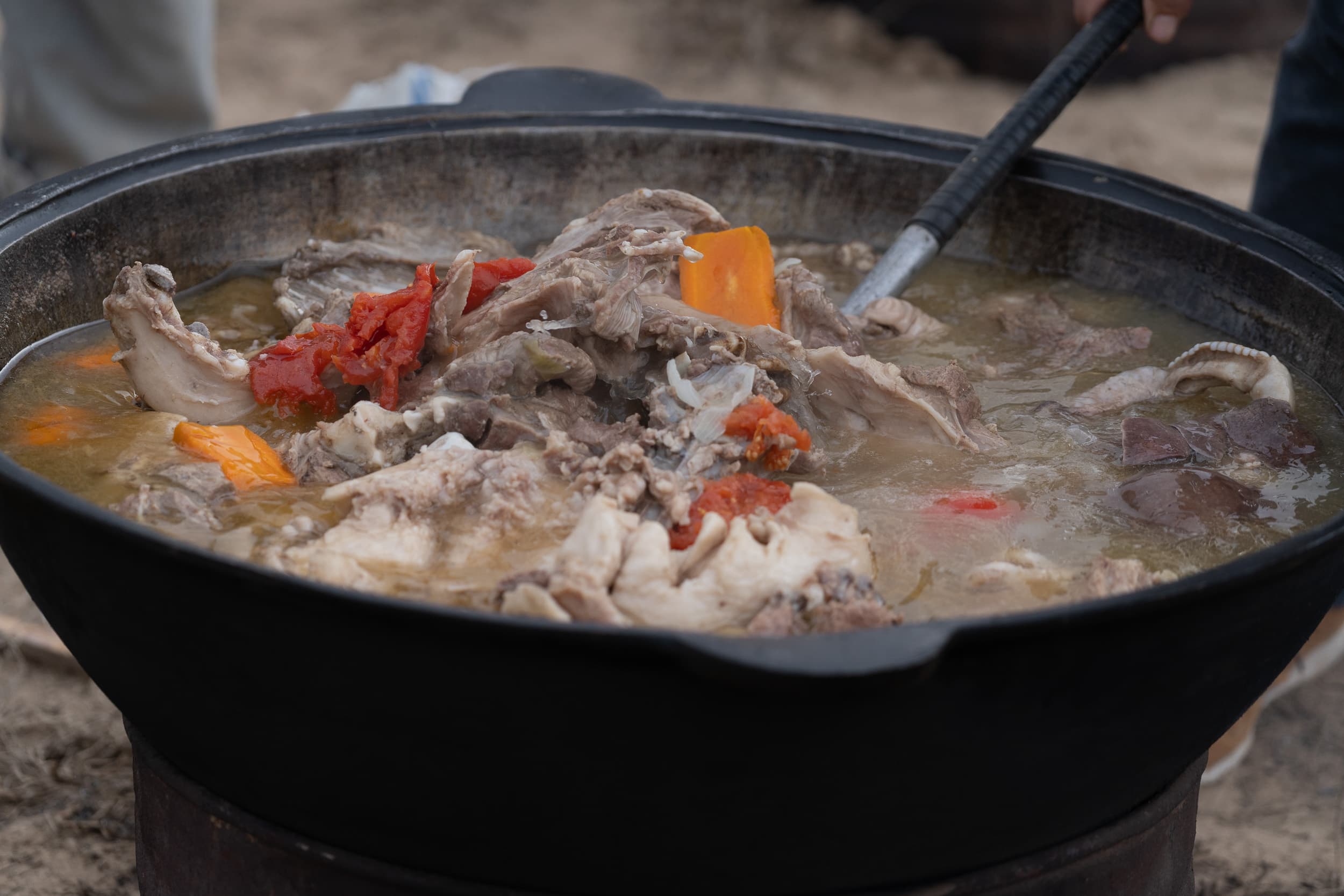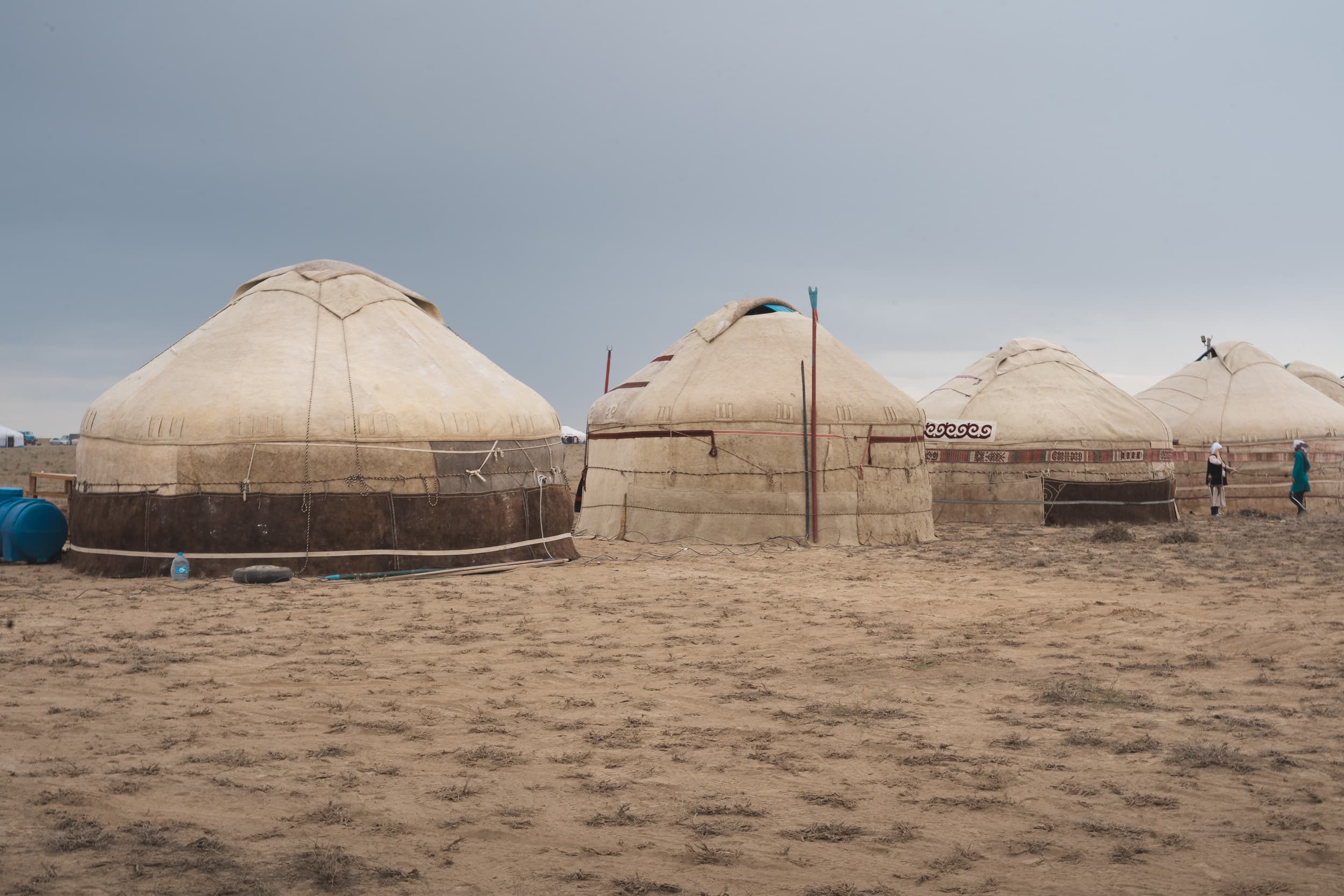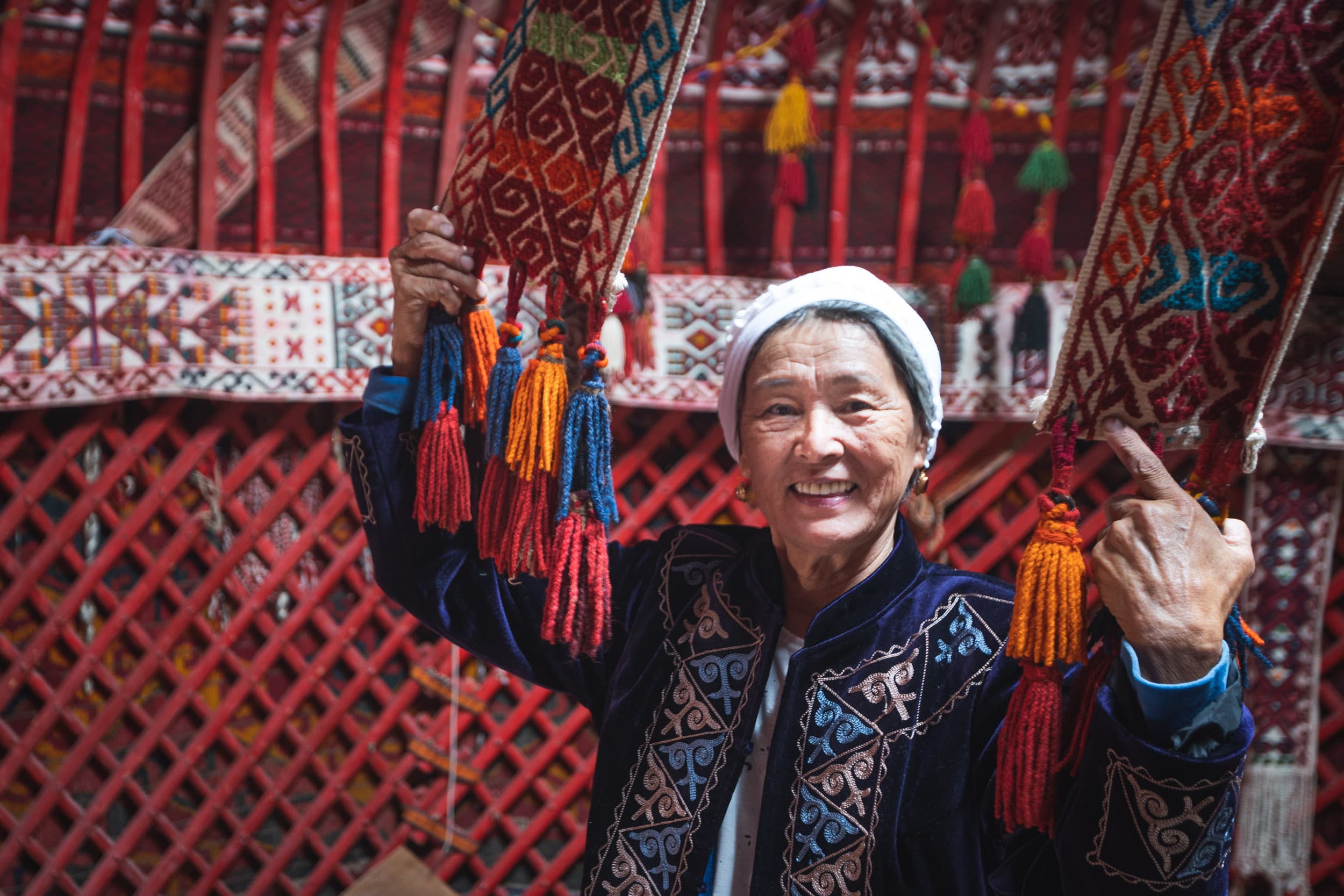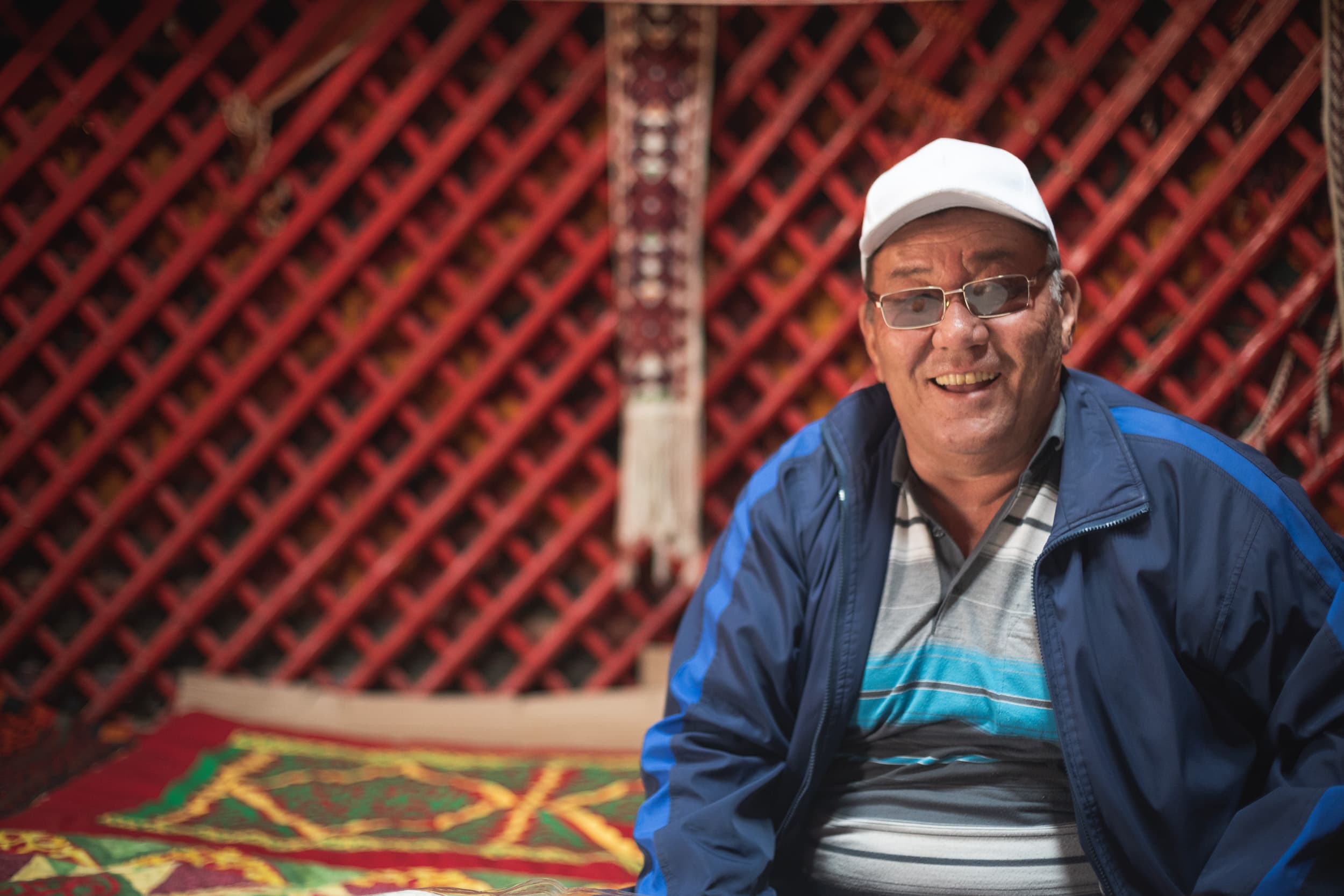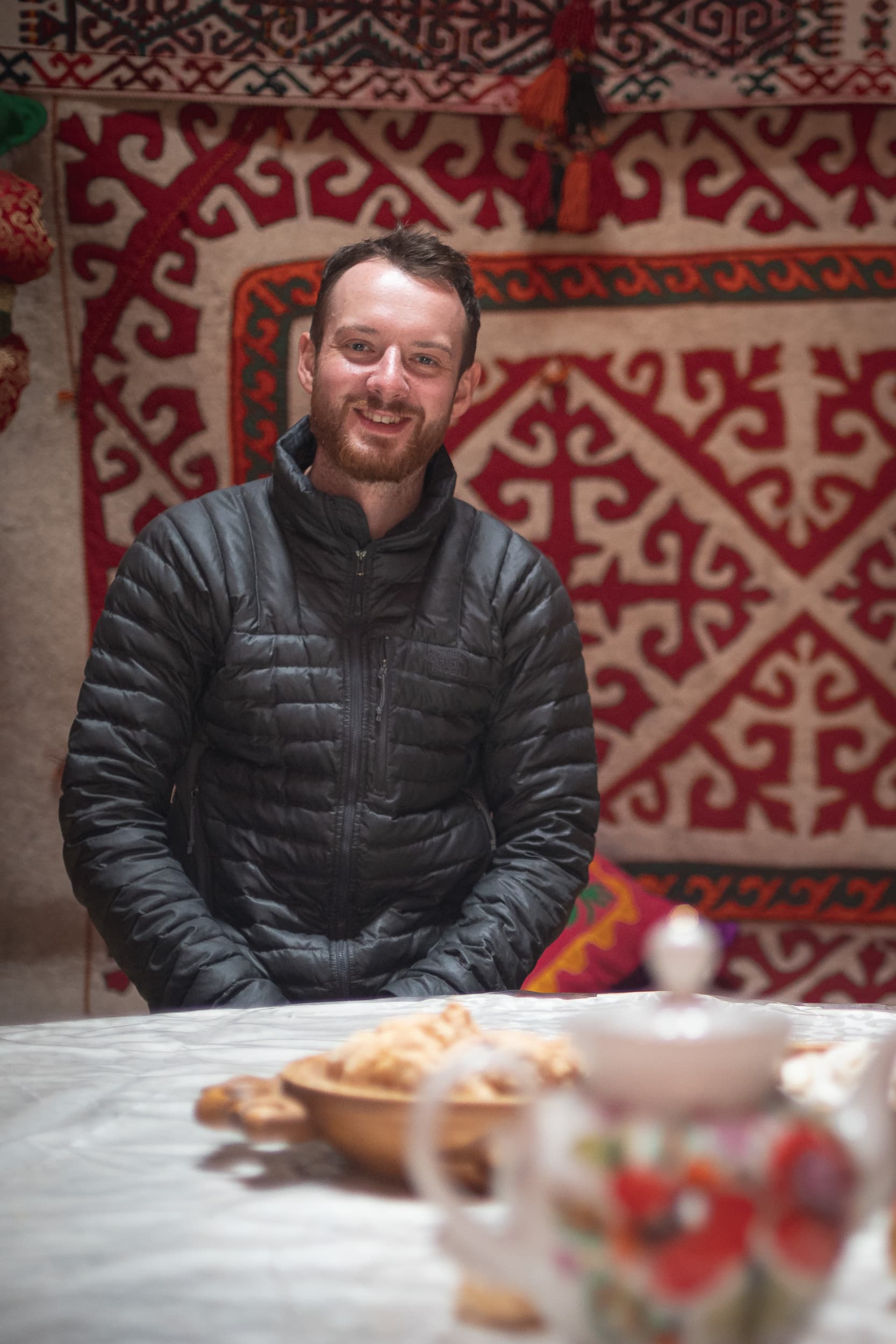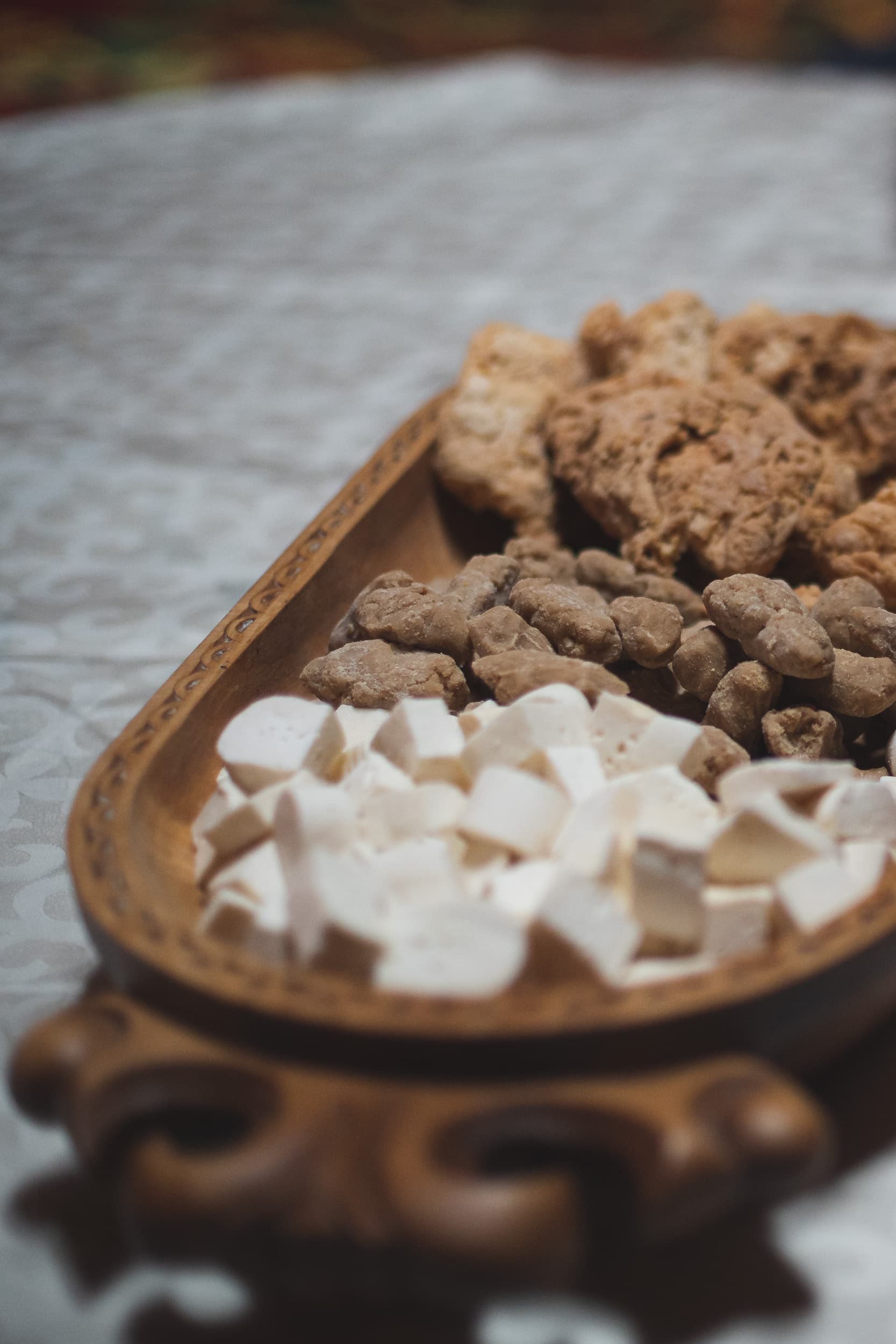 As we left the yurt again, some locals told us that there are two other cyclists on the festival area. We quickly realized who those two cyclists were. A few minutes later we then met the french / Uruguayan couple Kata & Andres again. The two didn't had to wait as long for their ferry as we had and then caught up during the next days on the road. It was great to see the two again!
As a group of five and Kata & Andres still having their bikes with them, we were noticed even more. It didn't take long we were the attraction on the Festival site. What followed was an invitation to one of the bigger yurts, or lets say, invitations to several ones. Almost every yurt we walked by asked us to come in. Finally, we decided to go to the yurt called "TAZ" of Daniel and his Family & friends. Every Yurt had its own name and was owned by different groups, villages or families from all over the country. They came from everywhere to celebrate this Festival, which was in fact a Memorial dinner in honor of "Sisem Ata", one of their ancestors.
In the yurt there were already a lot of people sitting on benches and nicely filled tables full of different kinds of food. We have been offered all kinds of food and snacks, from salty pastries, fruits, grapes, cheese, sweets, cookies and so on. Also there was served a lot of tea. As soon as you have finished your tea, there was someone coming to immediately fill the cup again. There was not only a lot of food but also different singers making music. After a while we left the yurt for a short walk and quickly found ourselves in another one, eating even more food. On one hand we were all happy to have such a selection of snacks after all the cycling, but after the third yurt it was also enough for us.
We left the yurt and the feast behind to get to see some more culture at the Festival site. Two of the main attractions have been Kazakh-wrestling and a horse race. Out there in the desert, they've built a wrestling arena where different, huge and strong men from all of Kazakhstan, battled against each other for the title.
Just a hundred meters behind the arena there was a horse race. The spectacular thing was not the horses but the riders! The riders have been boys in funny costumes.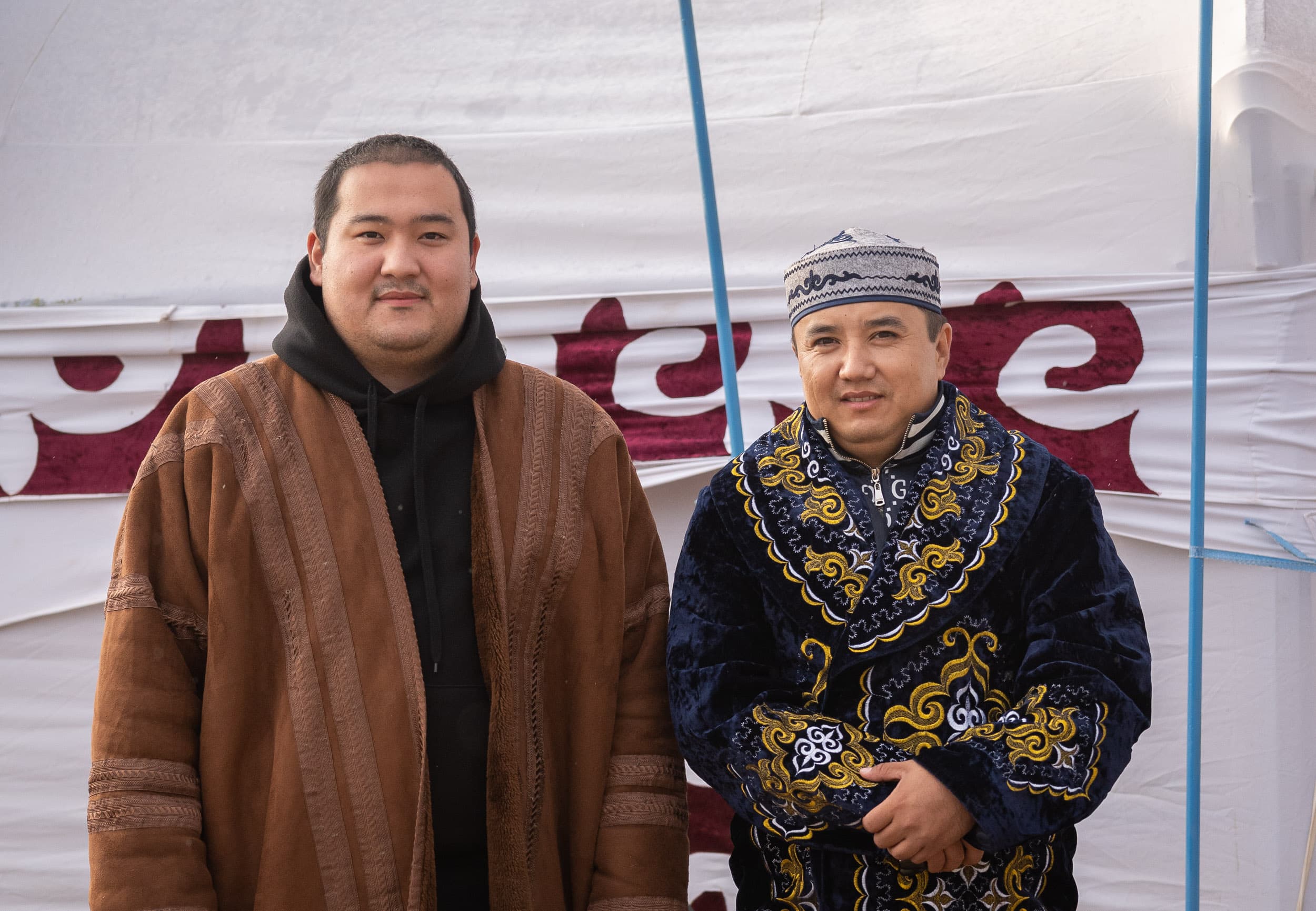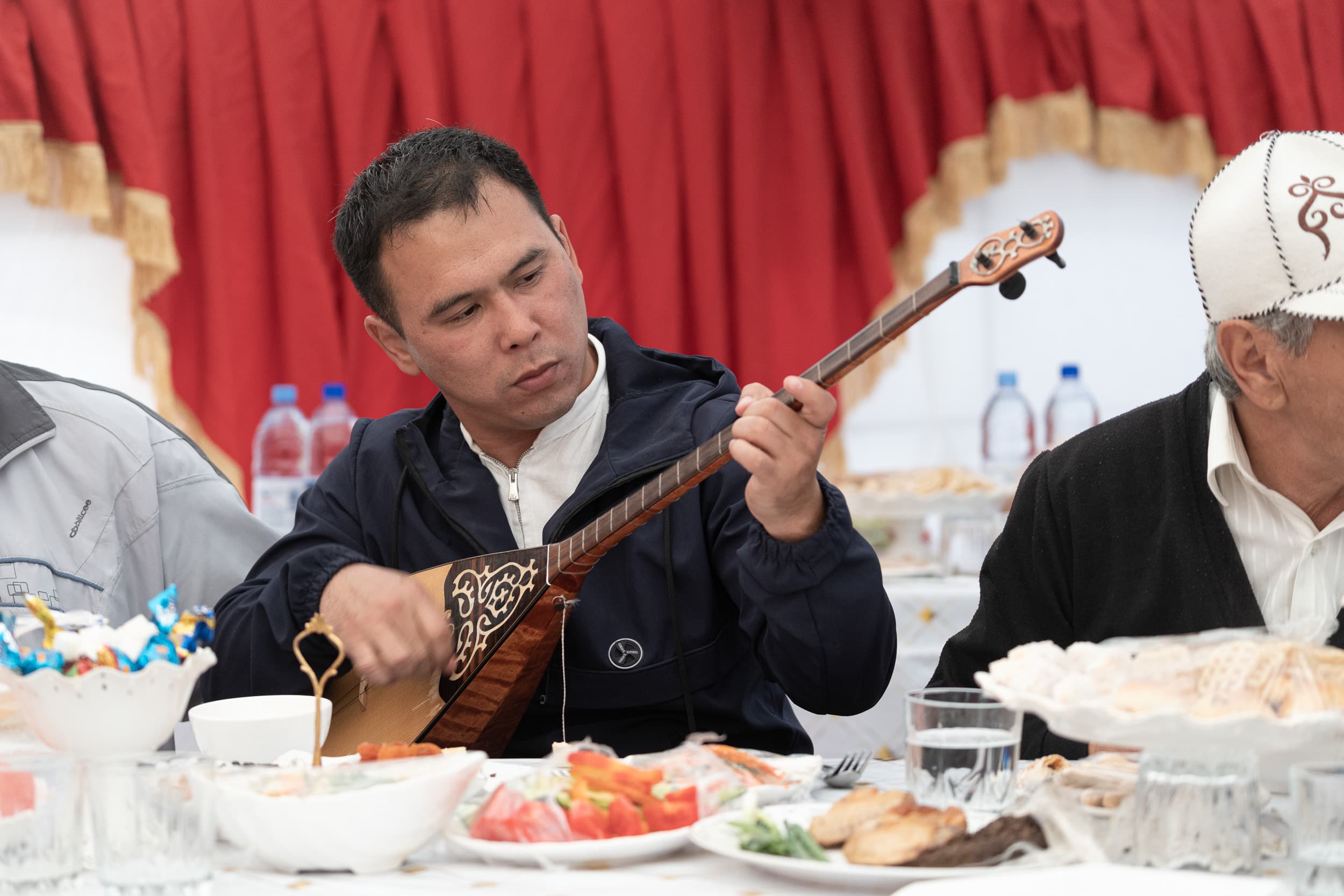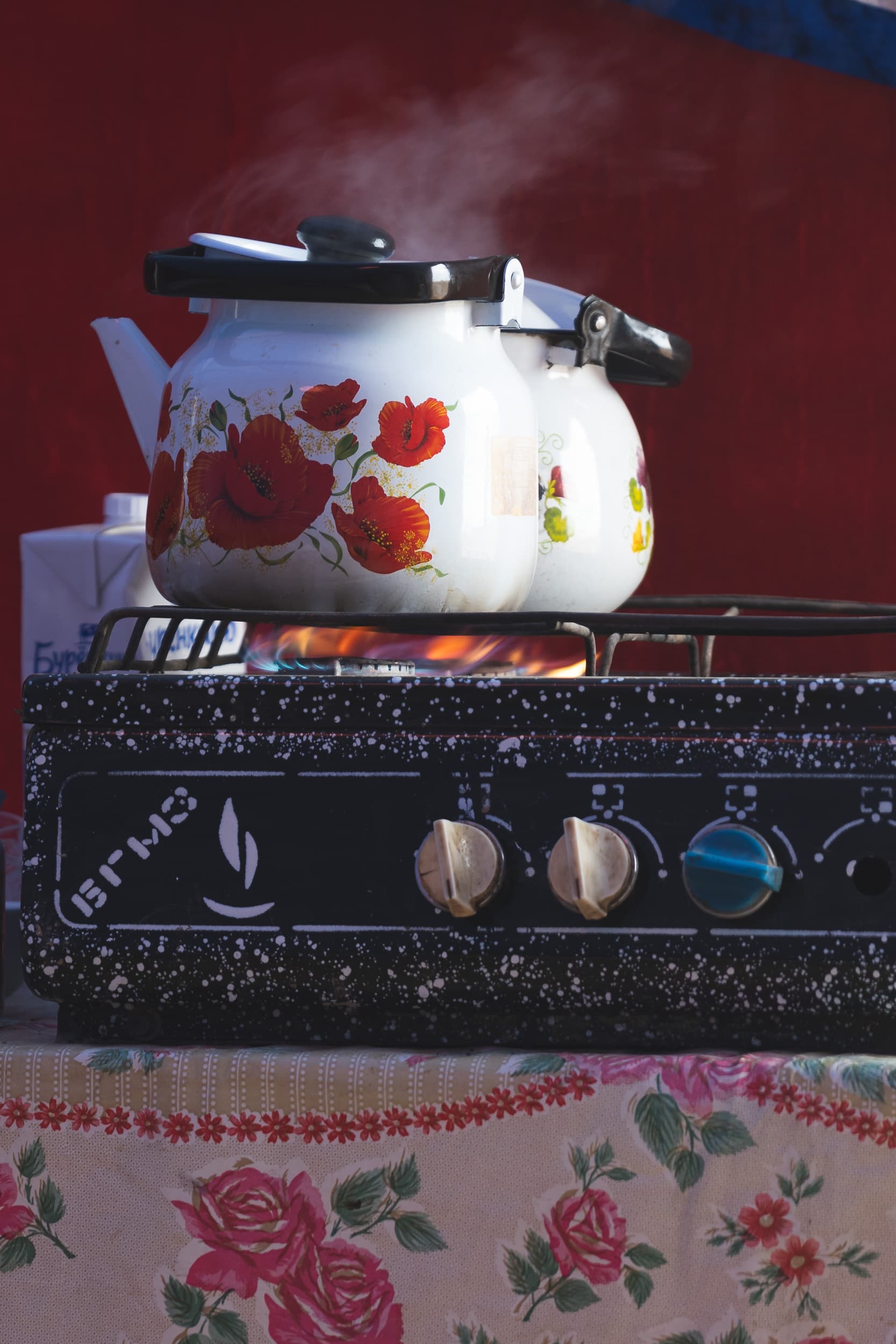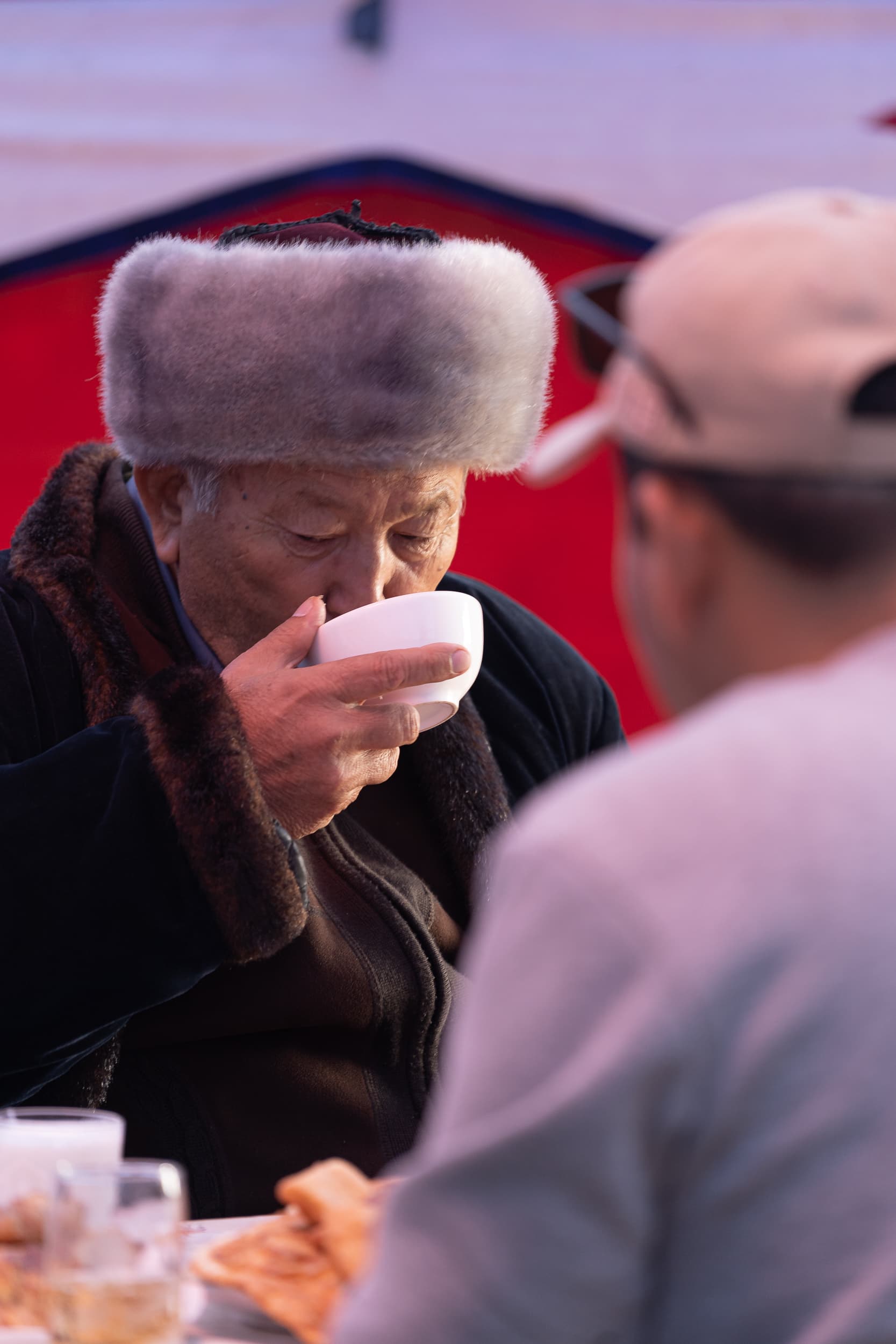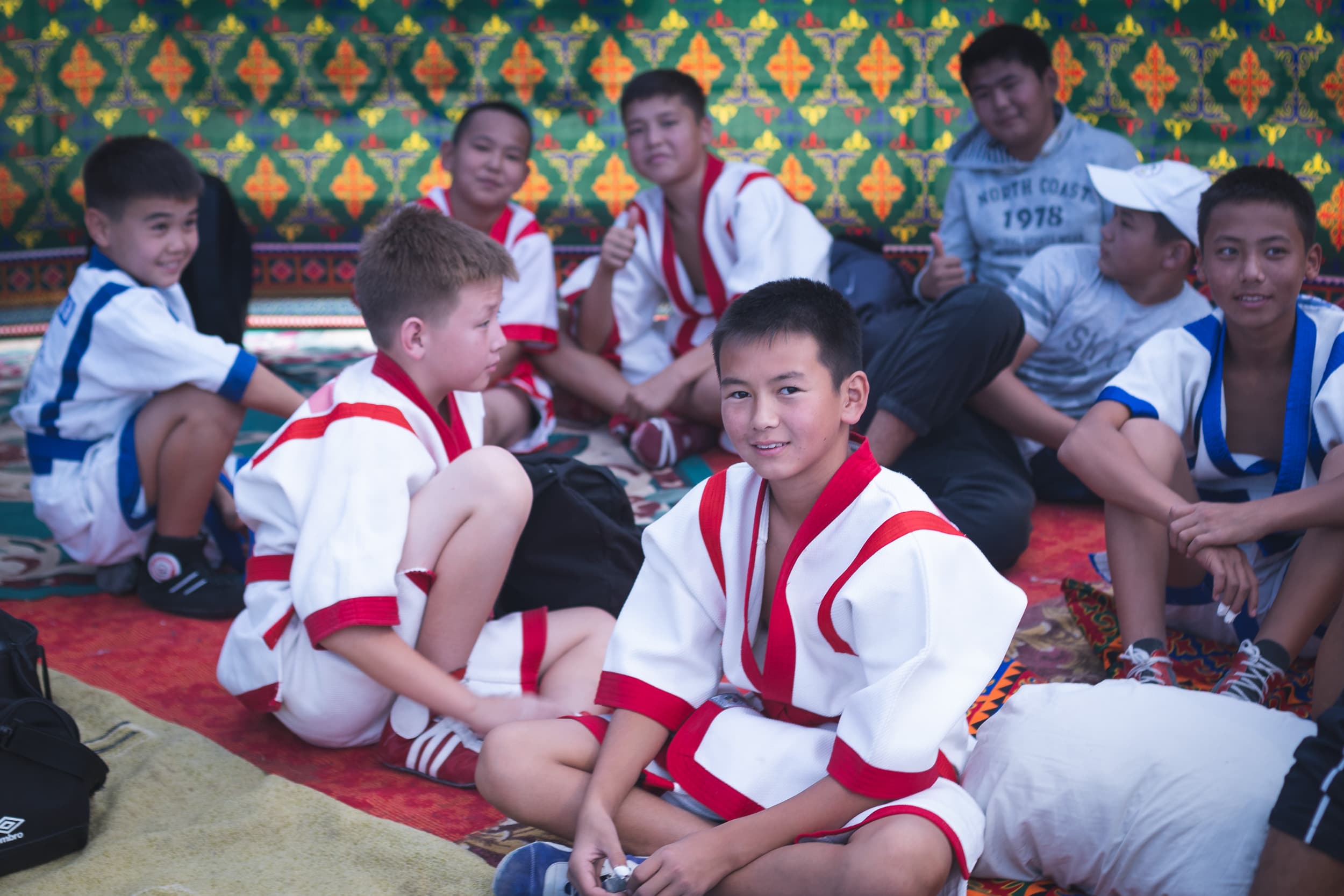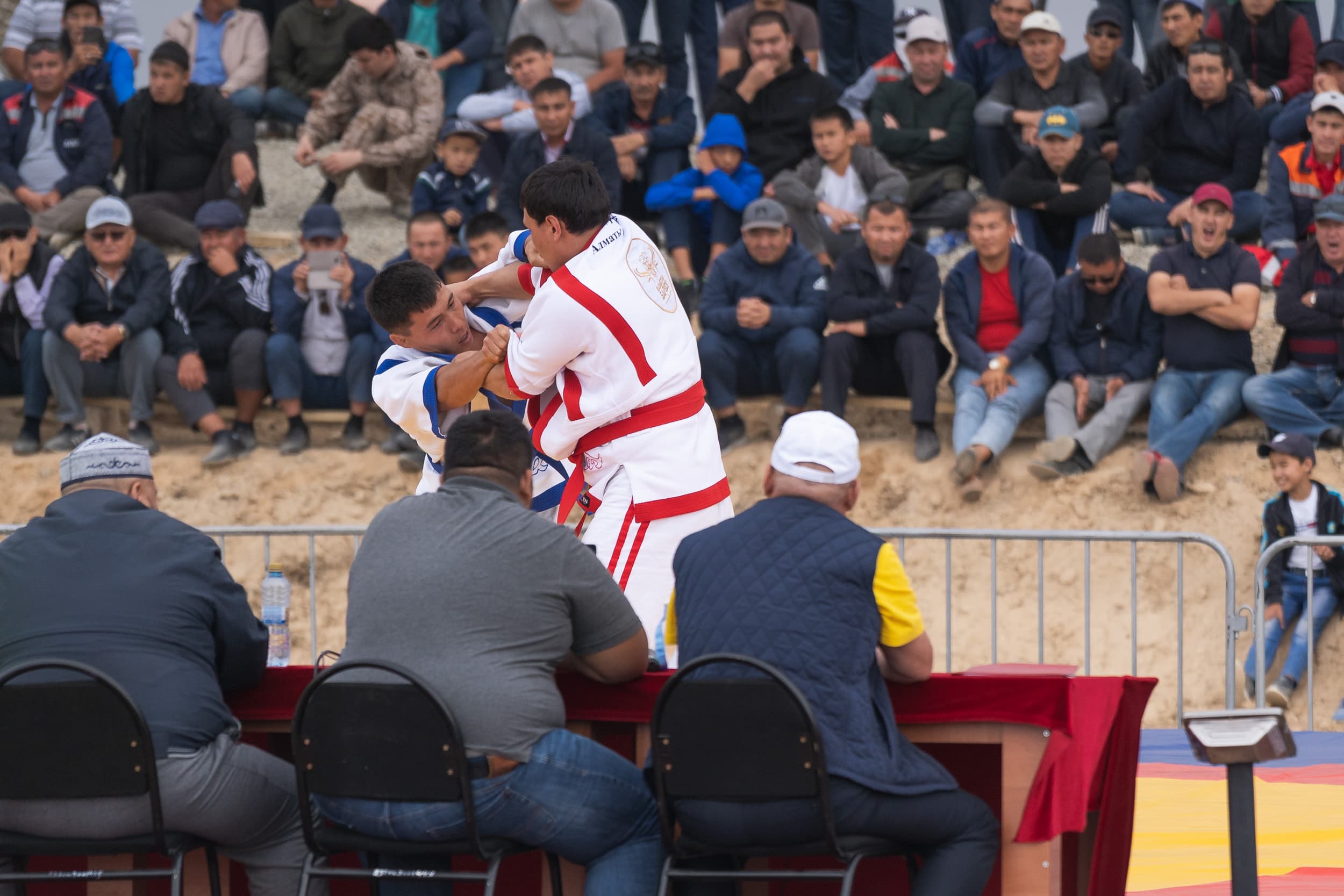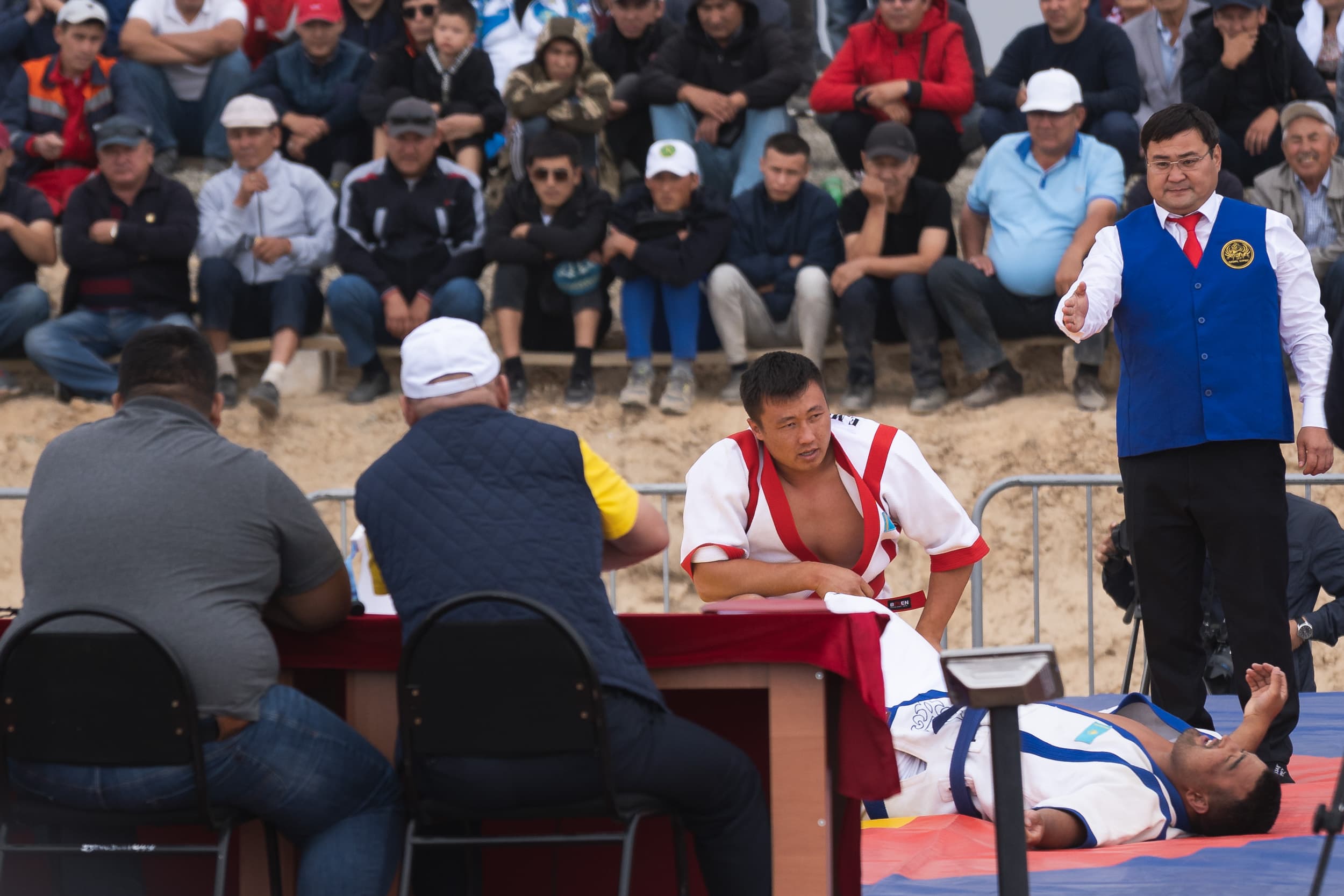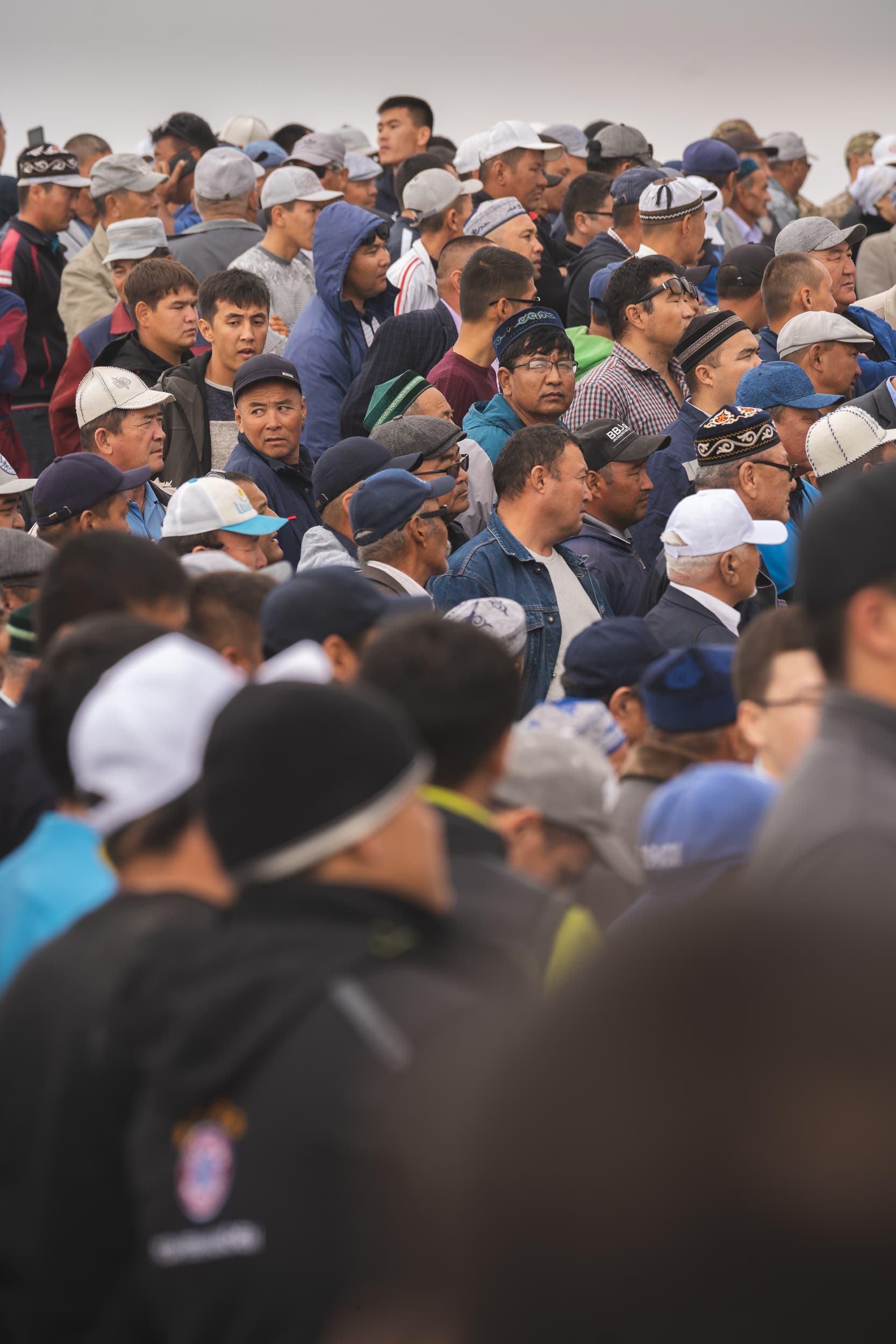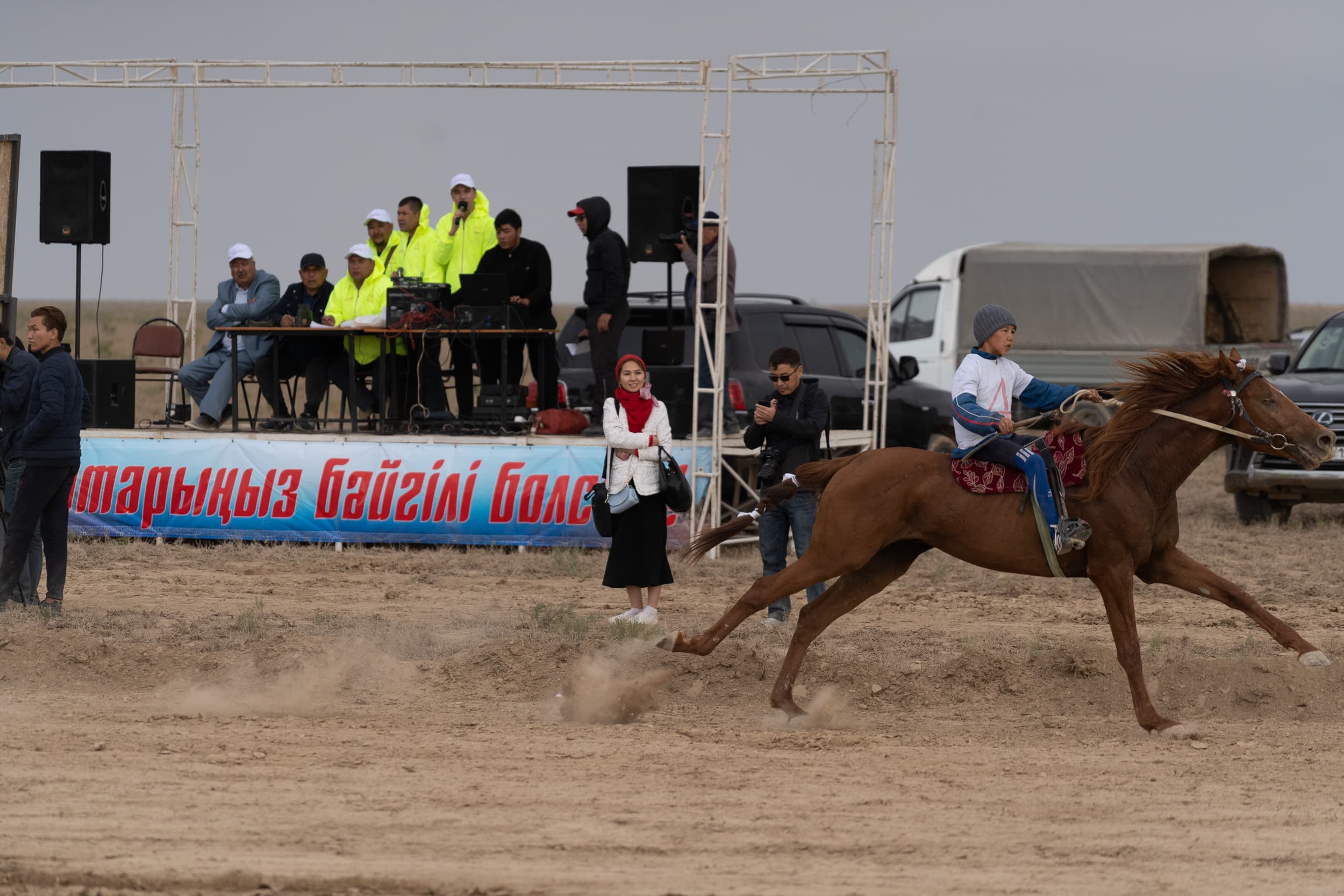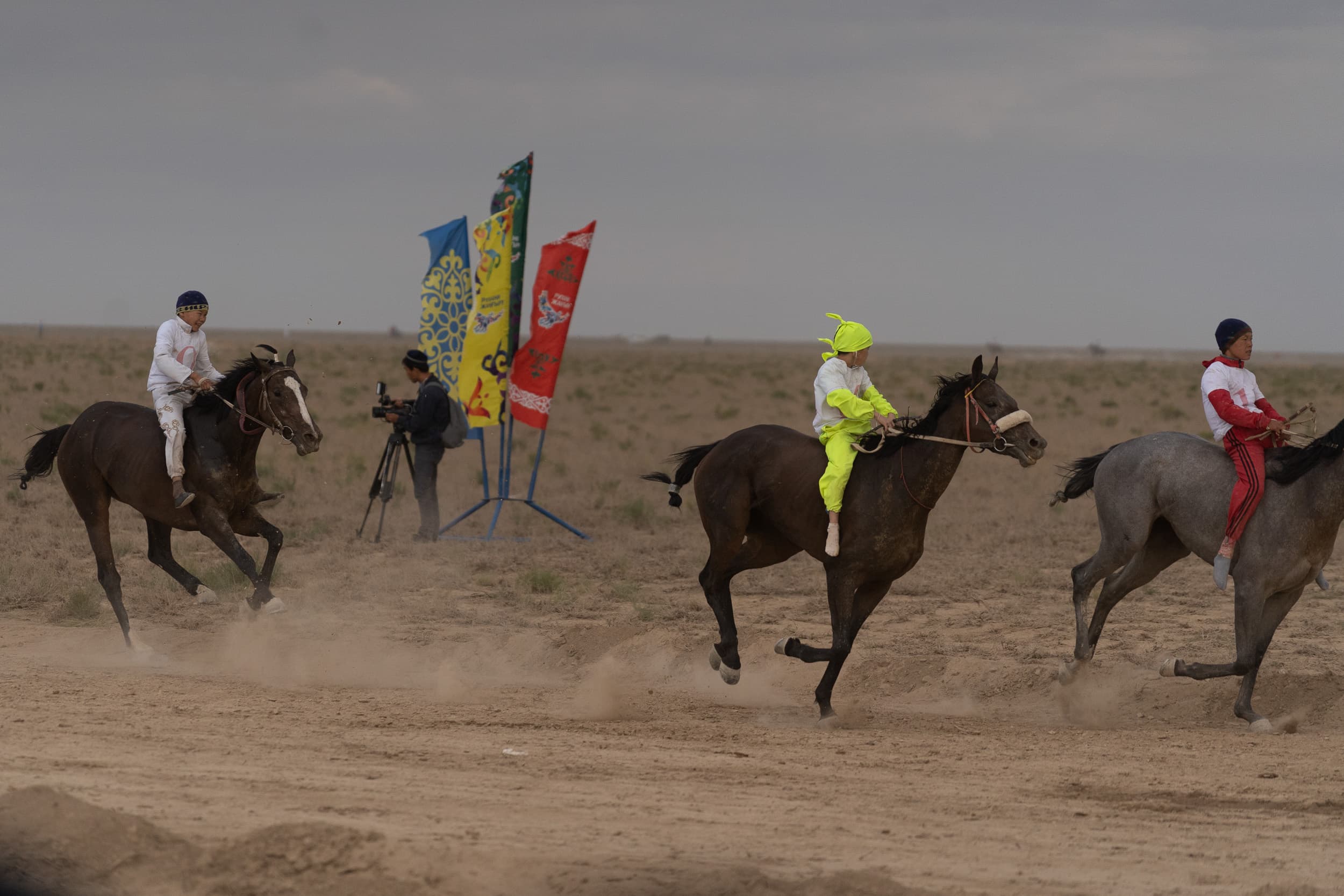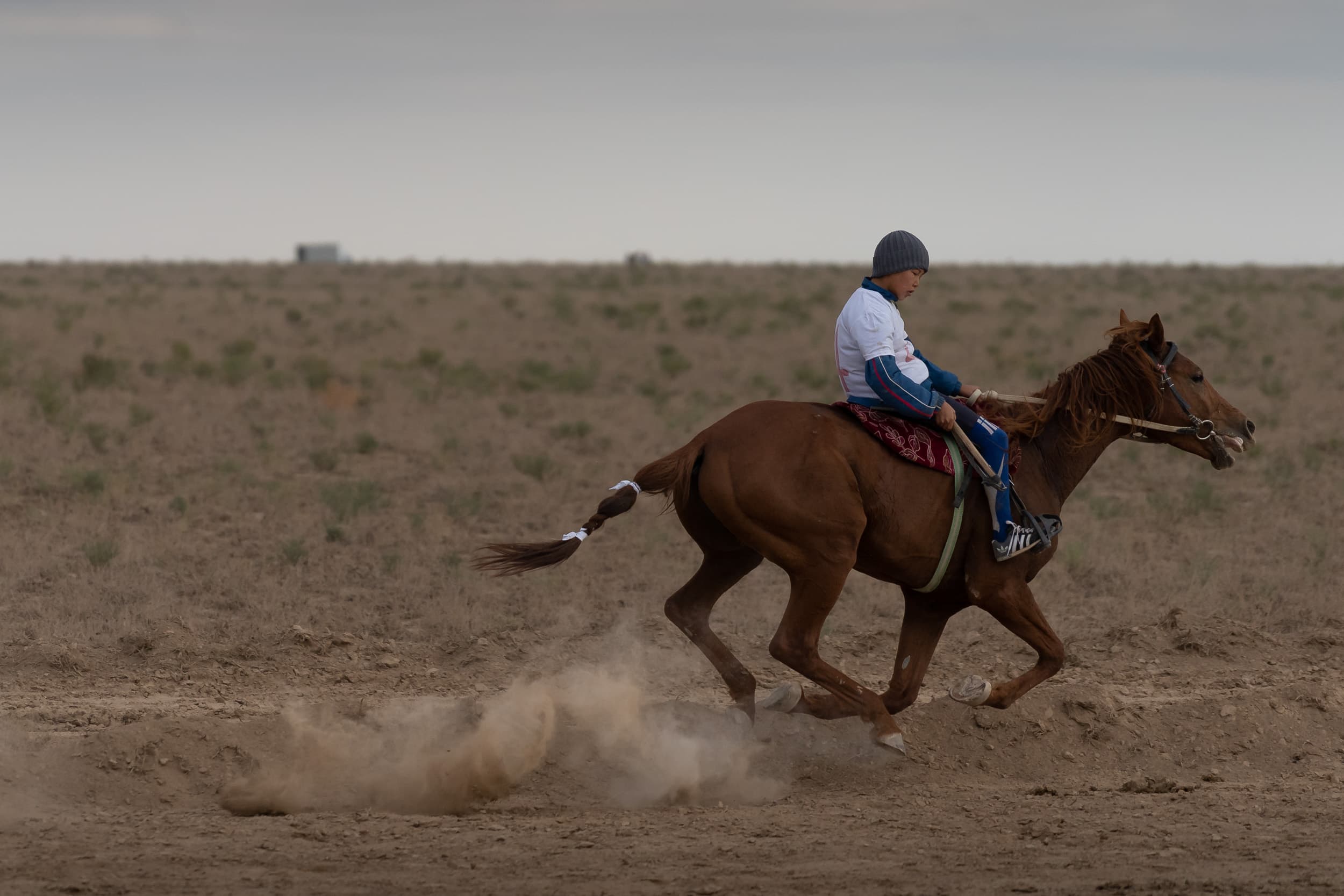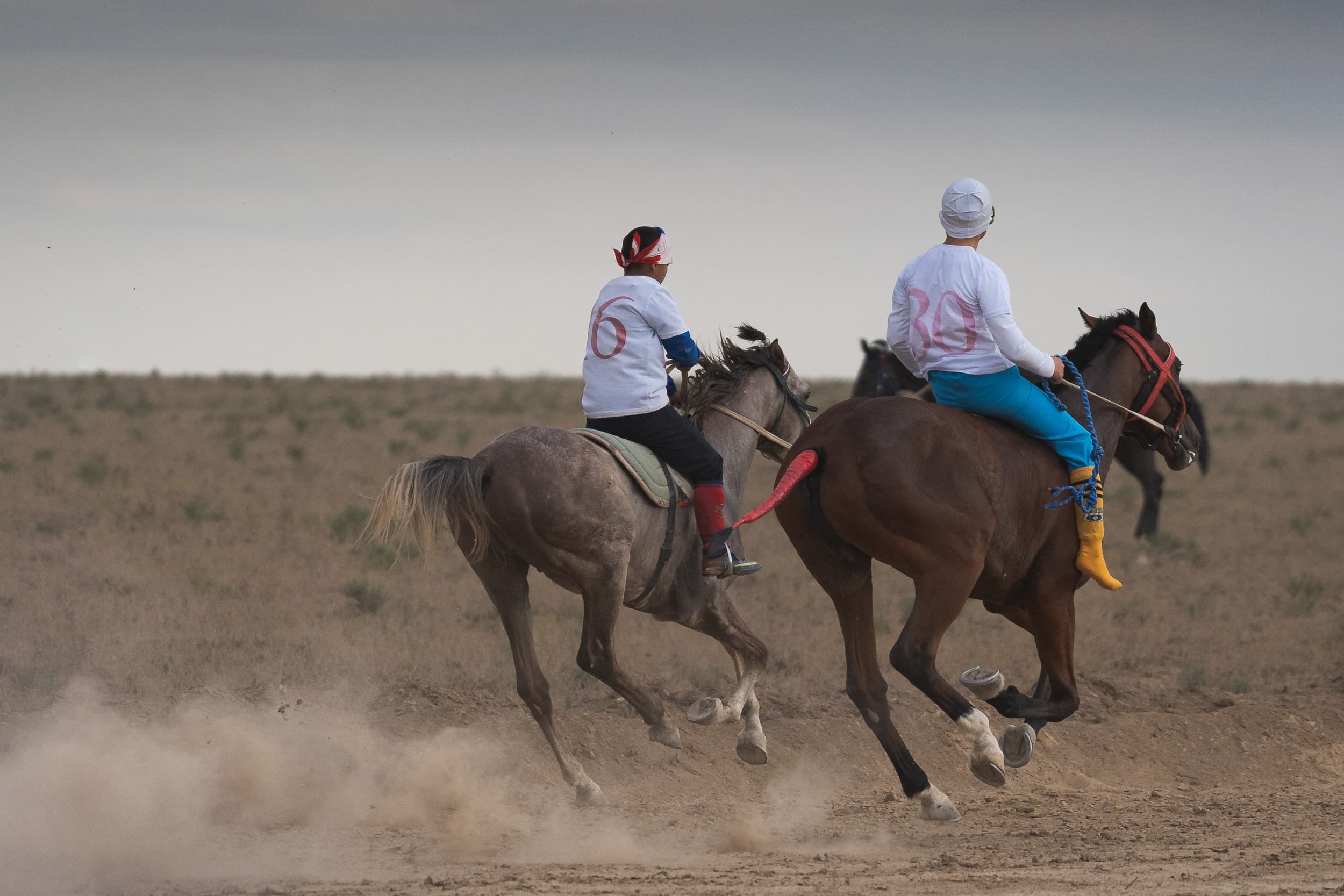 After watching the wrestling and after the end of the horse race, a lot of people who have been watching the sports, returned back to the yurts. As it was already getting dark and as there were much more people walking around at the Festival site, there were also much more people asking us to take a picture with them.
What impressed me was their openness. A lot of them, especially the younger ones, not only asked us to take a selfie, but also to take a picture of them as they saw us walking around with our DSLR's and mirrorless cameras. What I did then was taking portraits of different people and then sending them the picture as a JPG directly via Bluetooth. This way I was also able to give something back.
After it got dark it was time to head back to the yurt of "TAZ" for dinner. We already knew what was waiting for us, as we saw them preparing it when we arrived at the Festival. Plov, Pilaw, Pilau or Palau is an originally oriental dish,  which today, is mostly be found in Iran, Azerbaijan, Central Asia, and Russia. The version of central Asia contains steamed rice, carrots, onions, meat (a whole sheep in our case), and sometimes dried fruits.
The rice was served on huge metal plates, with big chunks of meat on top. I renounced on the meat, but the rice was super delicious. What followed next, however, definitely spoiled my appetite a little. They served the whole sheep-head on an extra plate. The head is considered a delicacy, and as we were the special guests, he was meant for us. Full of joy they put the plate right in front of us. For sure, it was meant very nicely and in itself a beautiful gesture, but also quite special to be stared at by a sheep's head while eating the plov.
Some of us tried a bit of the ear, but for me, I was happy as the head disappeared to the table next to us. Definitely, a funny story that I will remember for a long time I guess. After the dinner, some more tea and trying camel and horse milk for the first time, we went back to Say-Otes to get some sleep and to end a super nice I will appreciate forever. I was amazed by the hospitality of the Kazakh people, how they keep their traditions and their celebratory mood and openness. It was a truly amazing experience and a real coincidence to be at the right time, at the right place to part of a traditional happening like that.
At this point, I would like to thank all the lovely people we met in Say-Otes and at the Festival and for giving us such a warm welcome!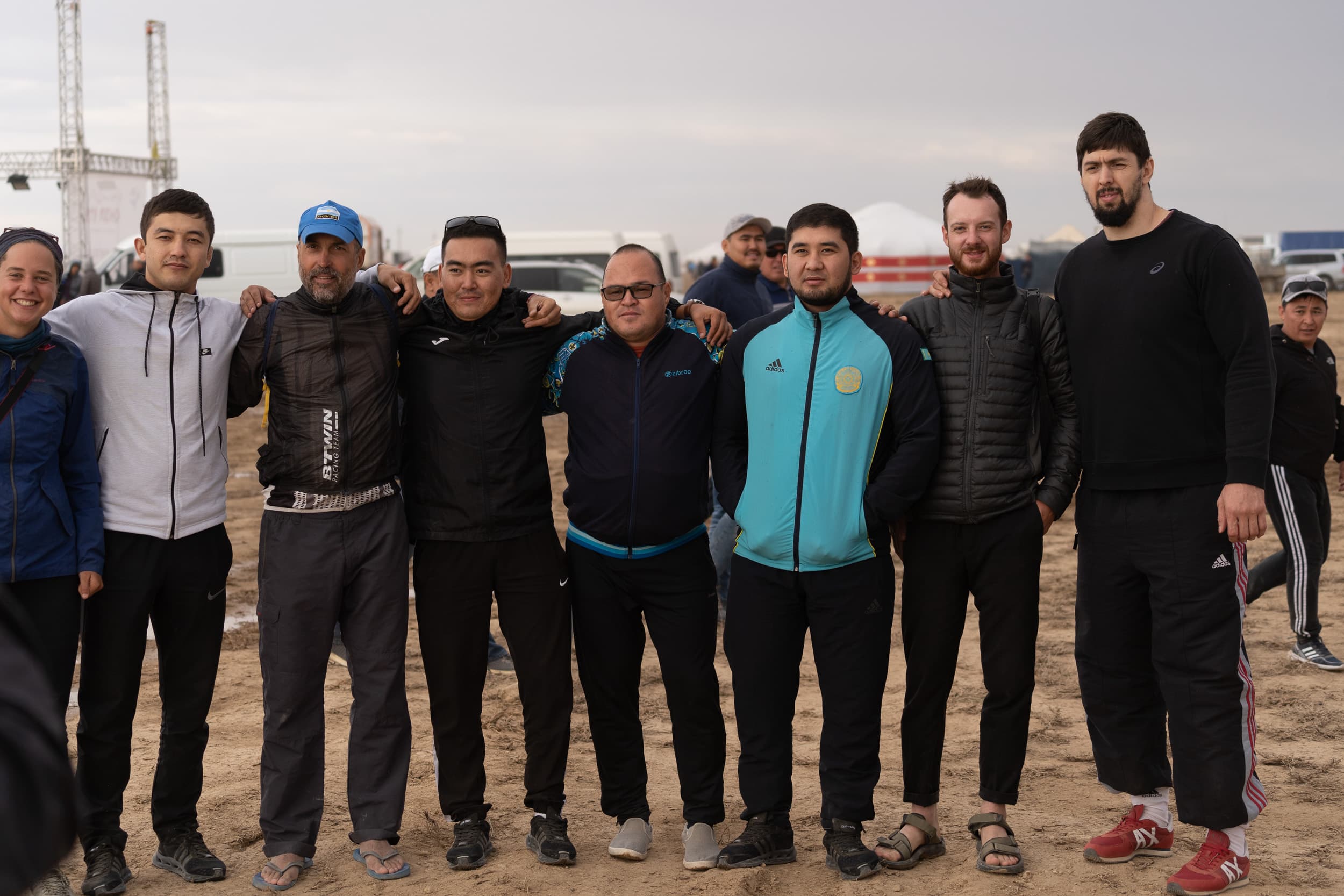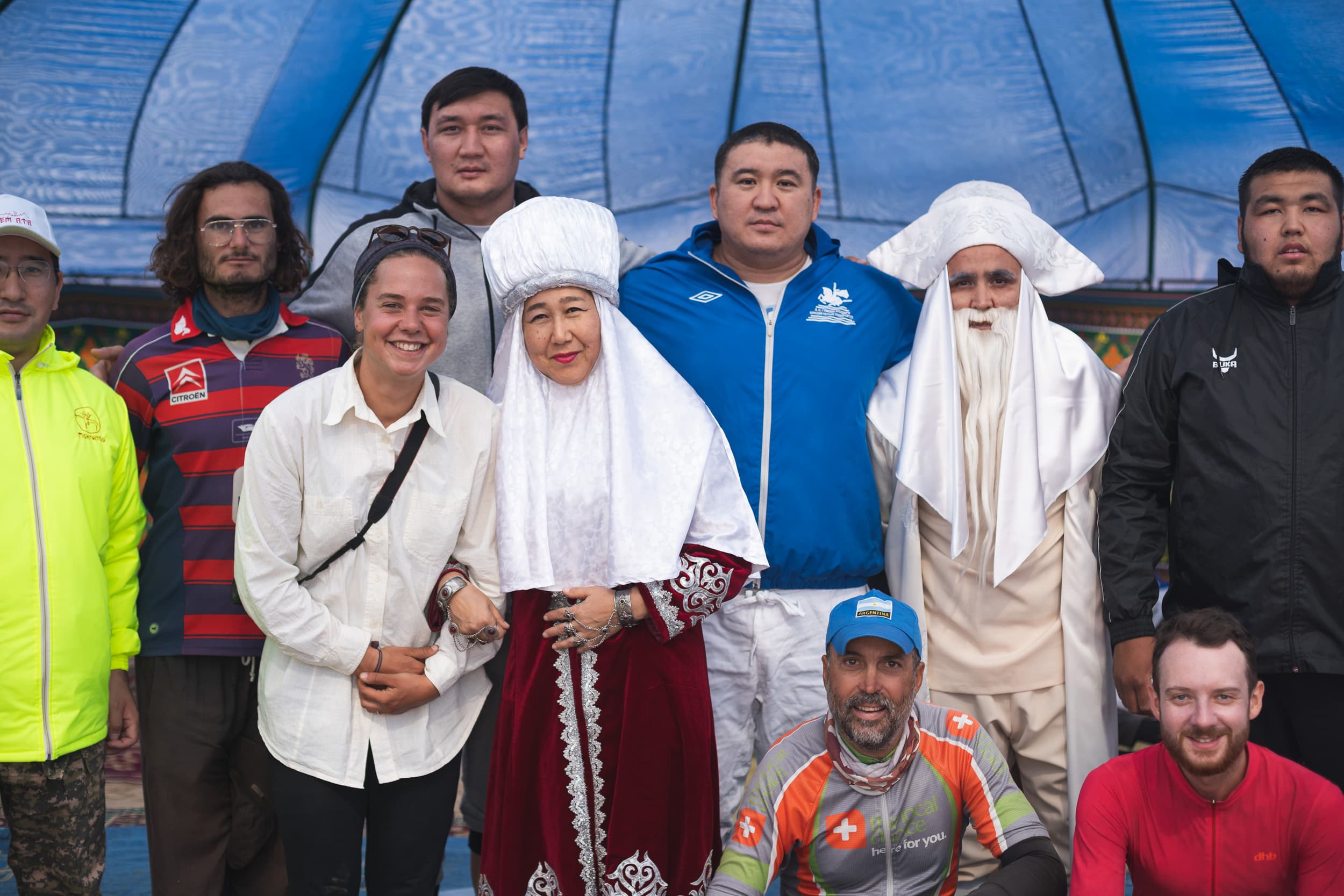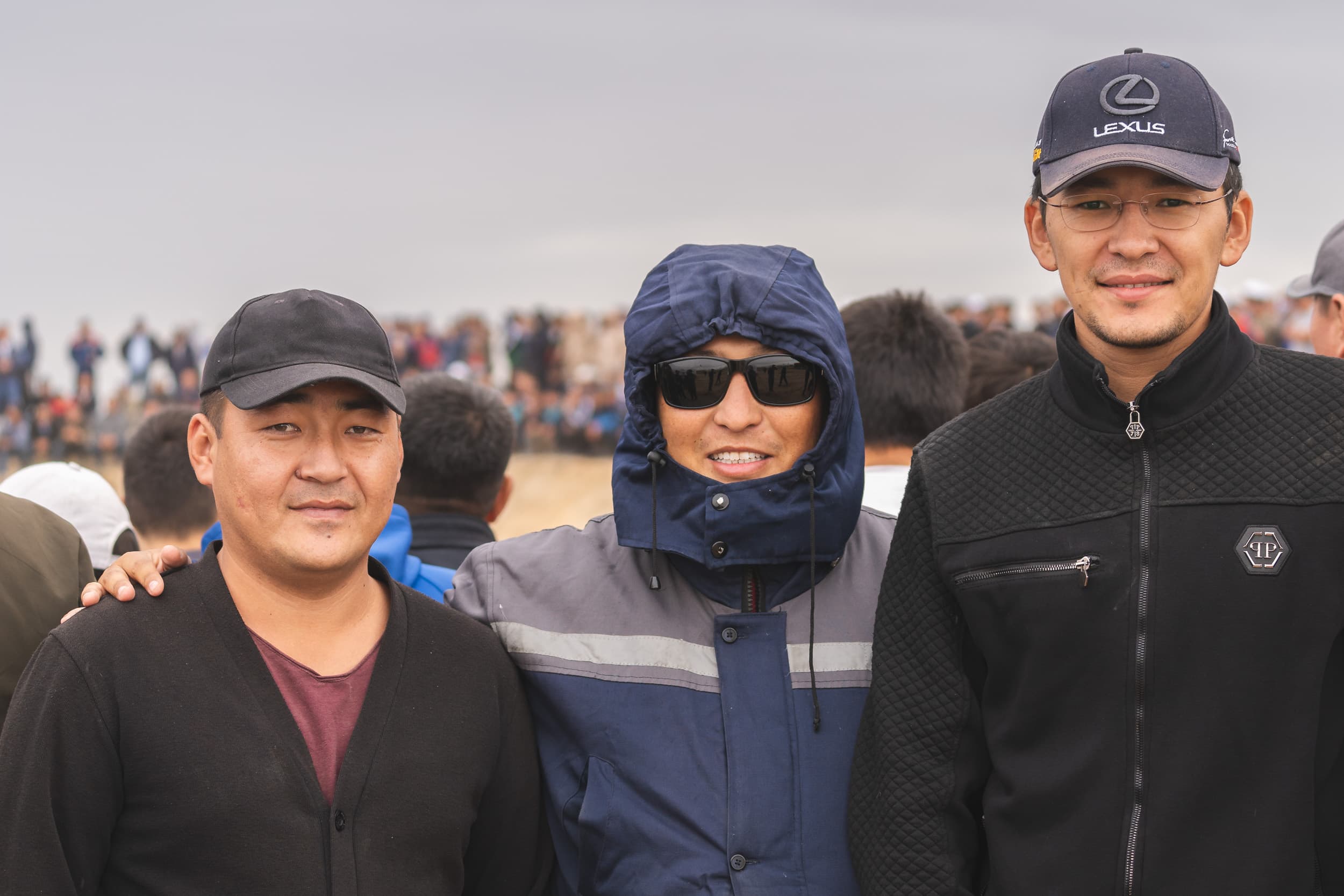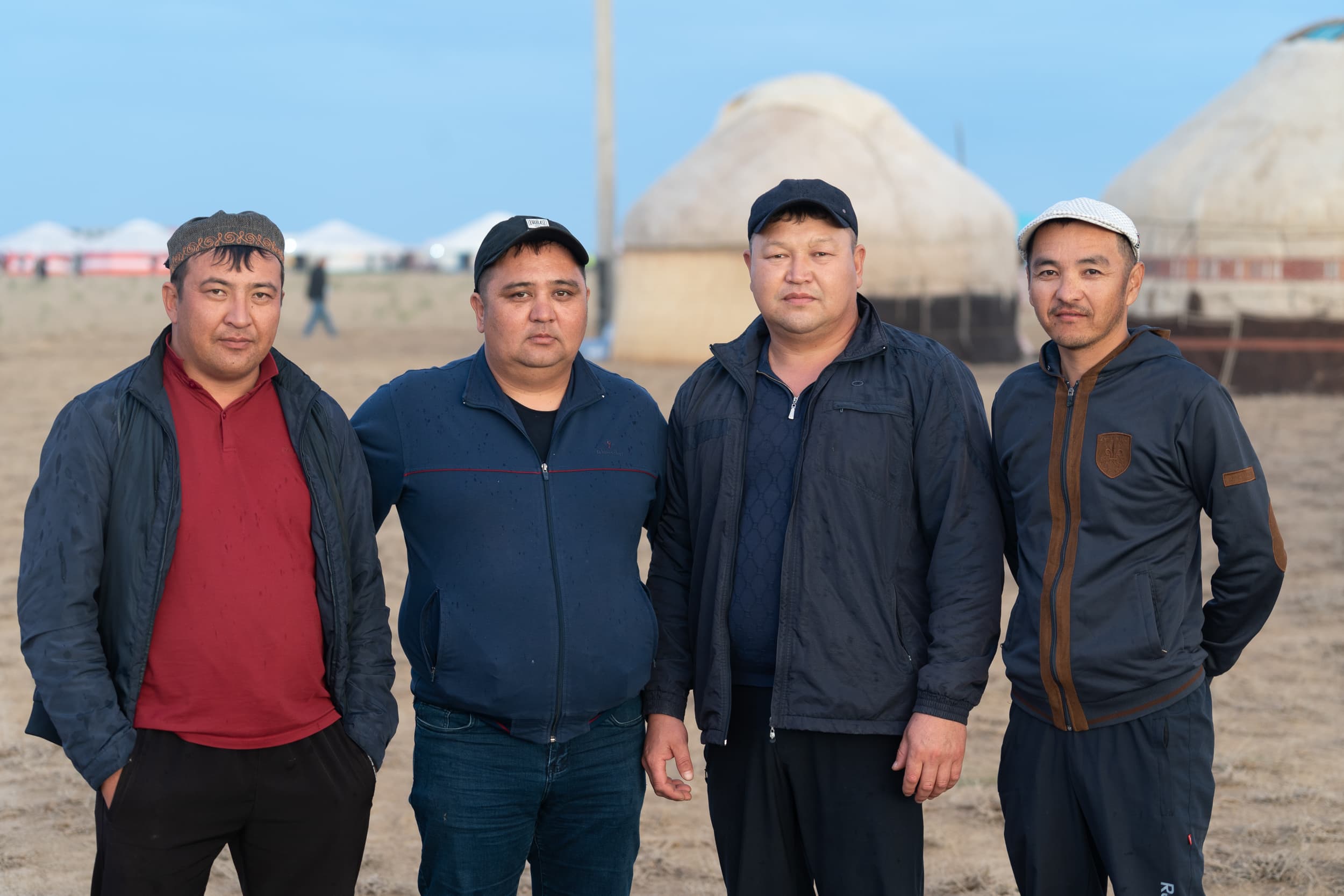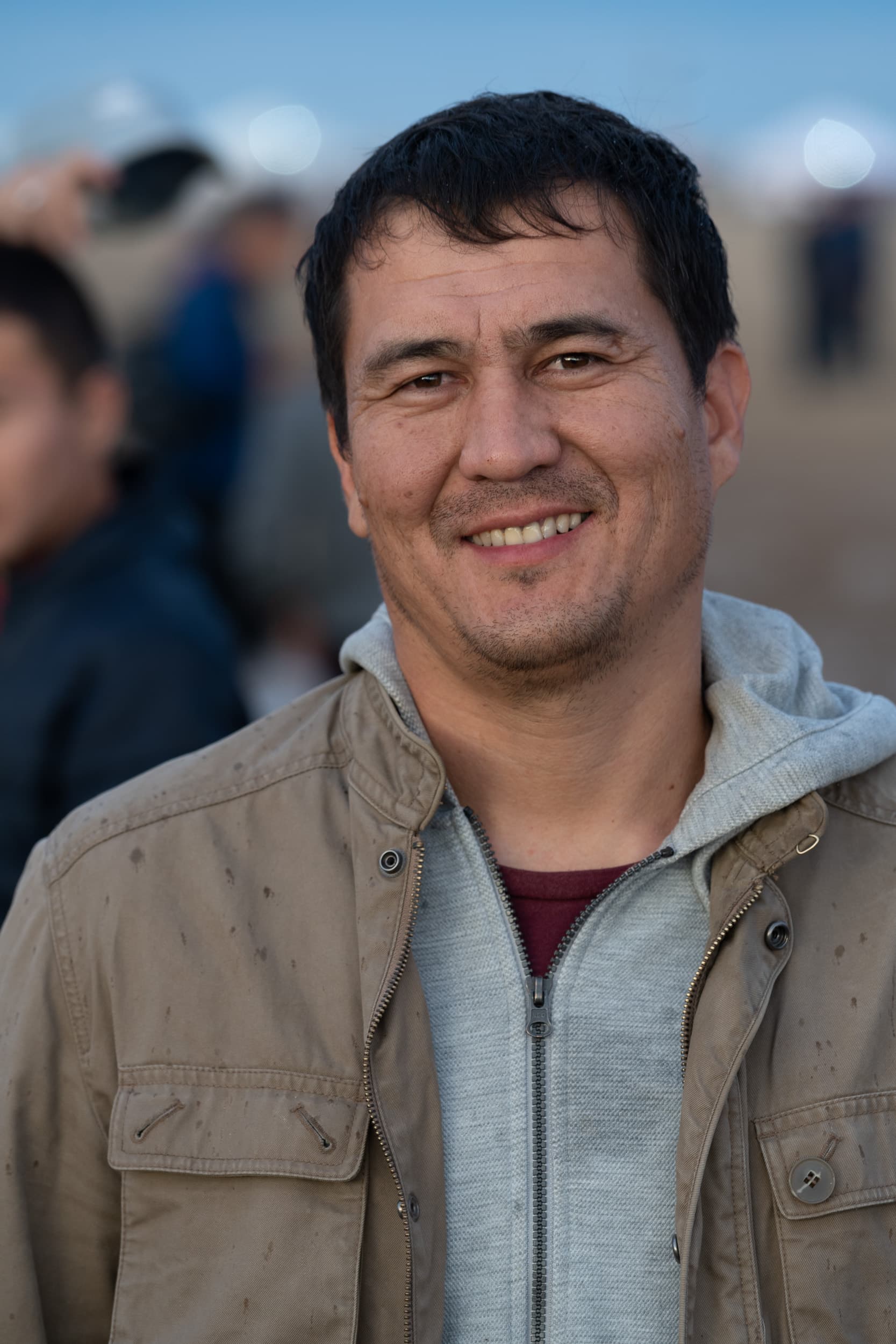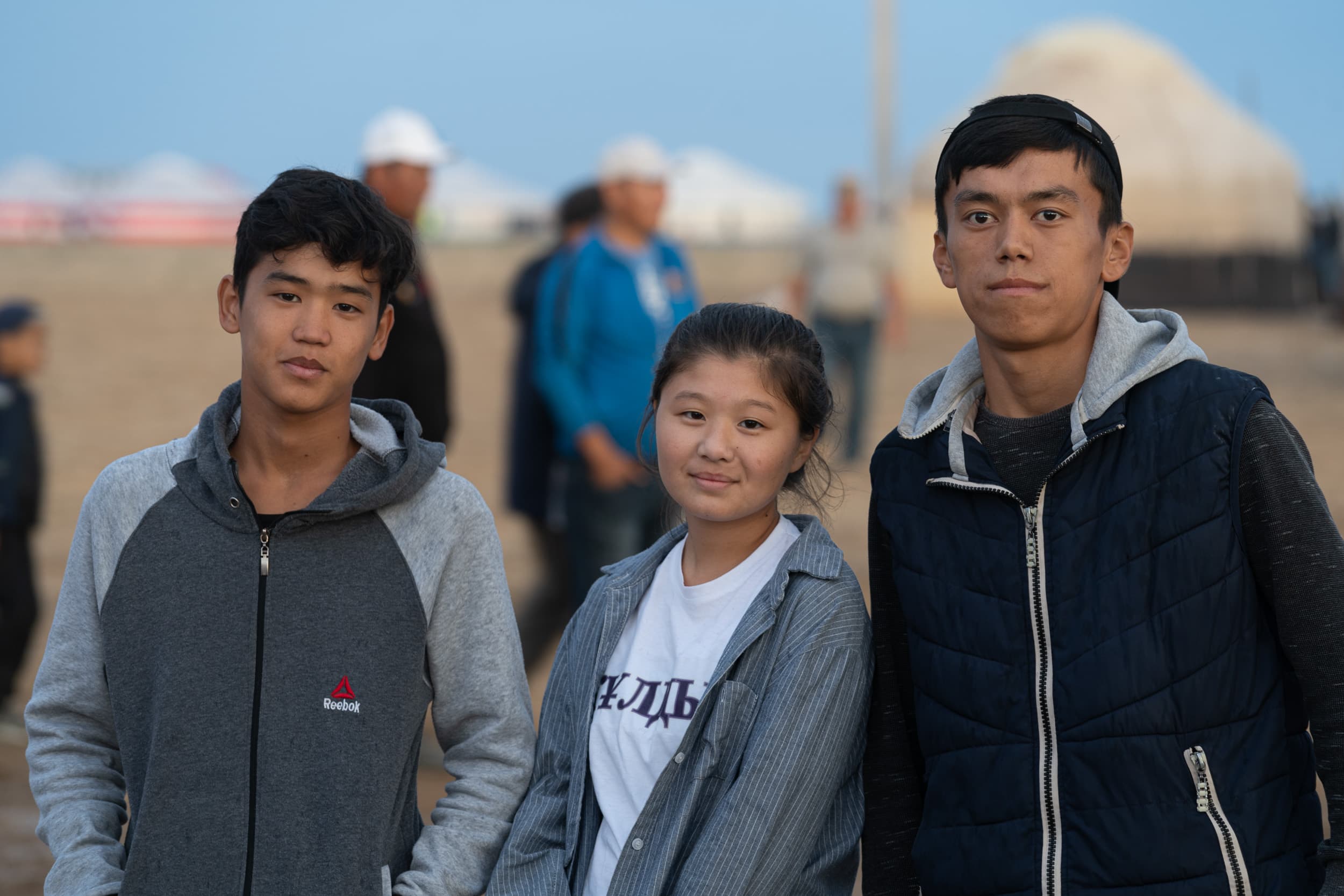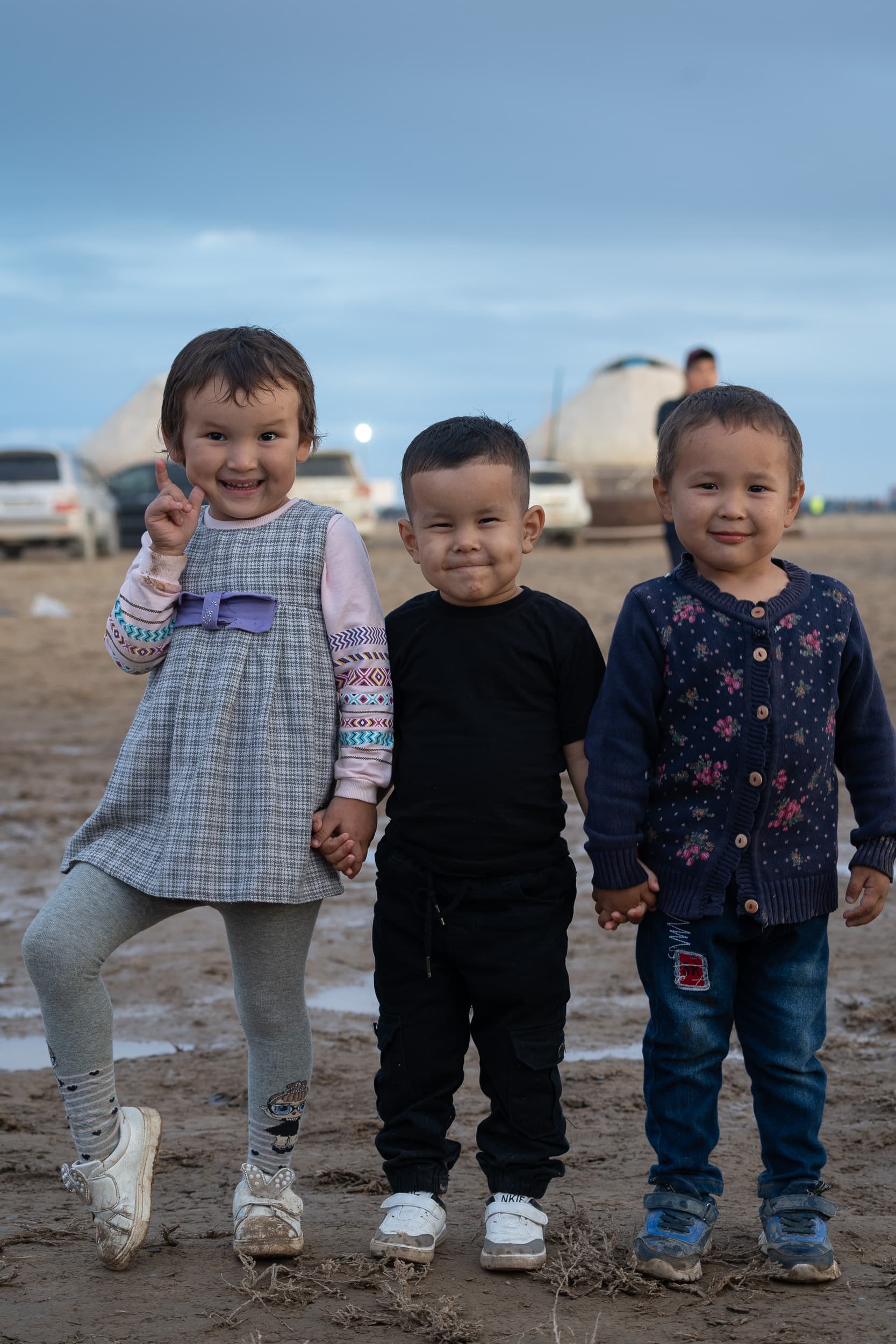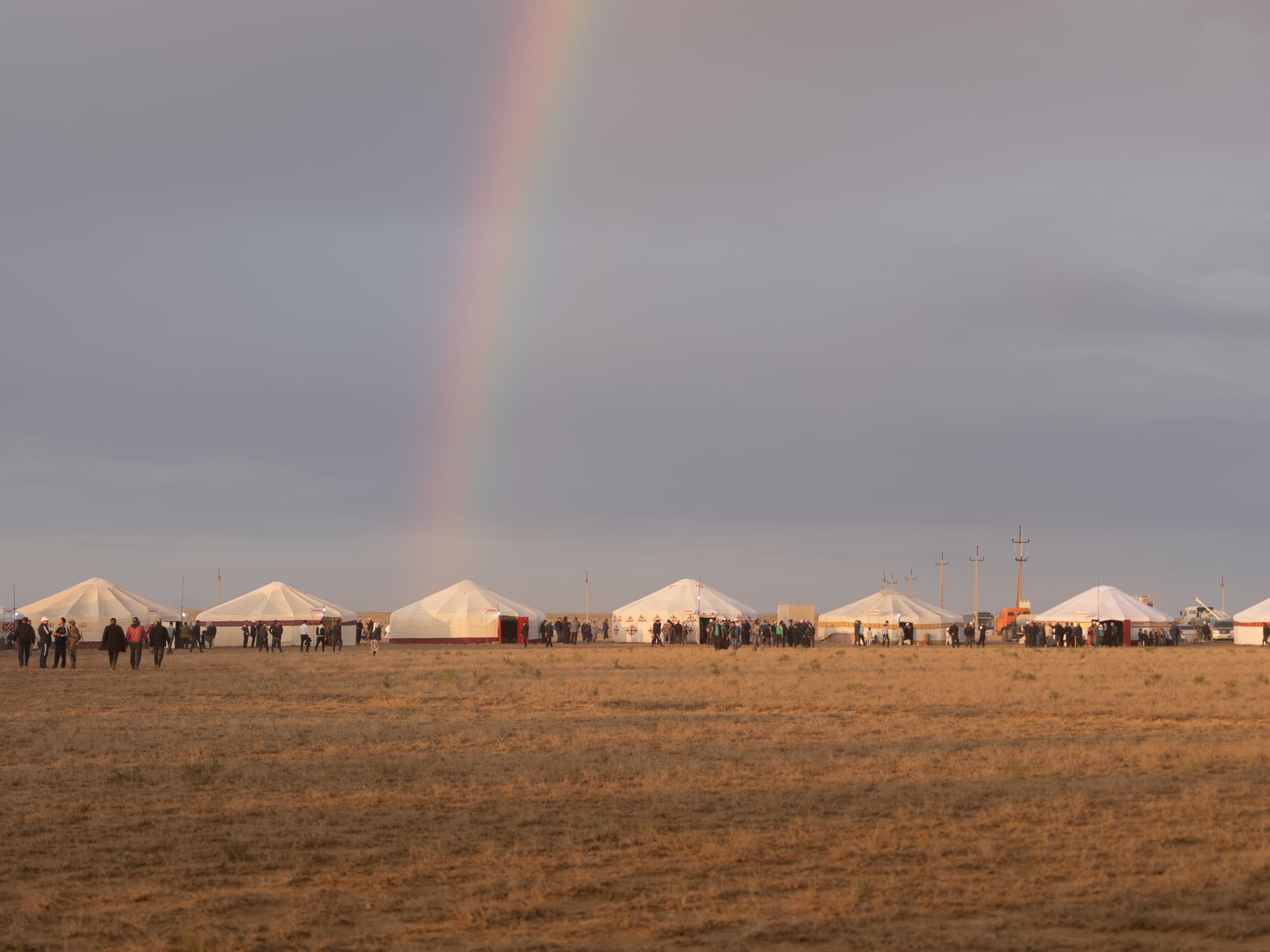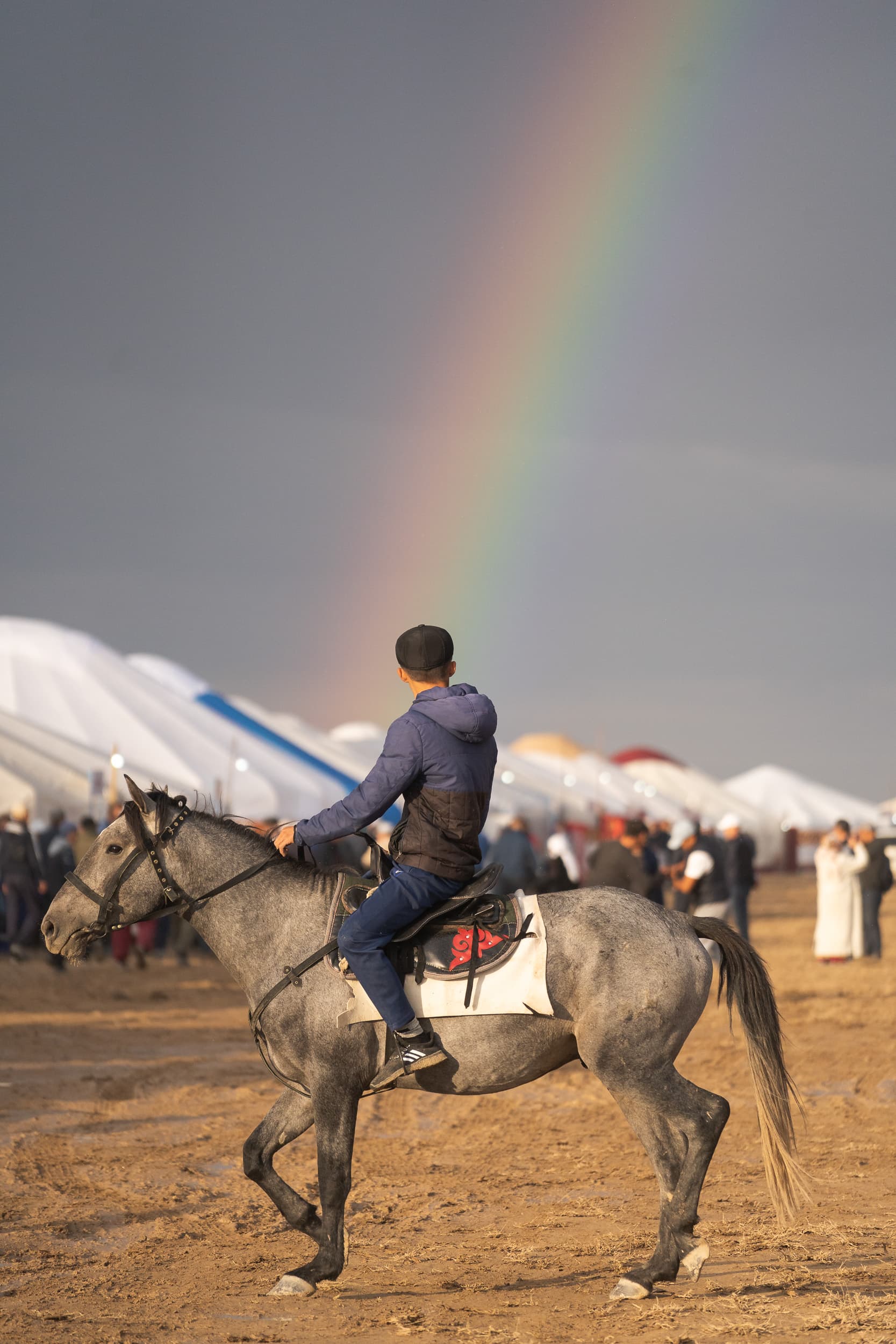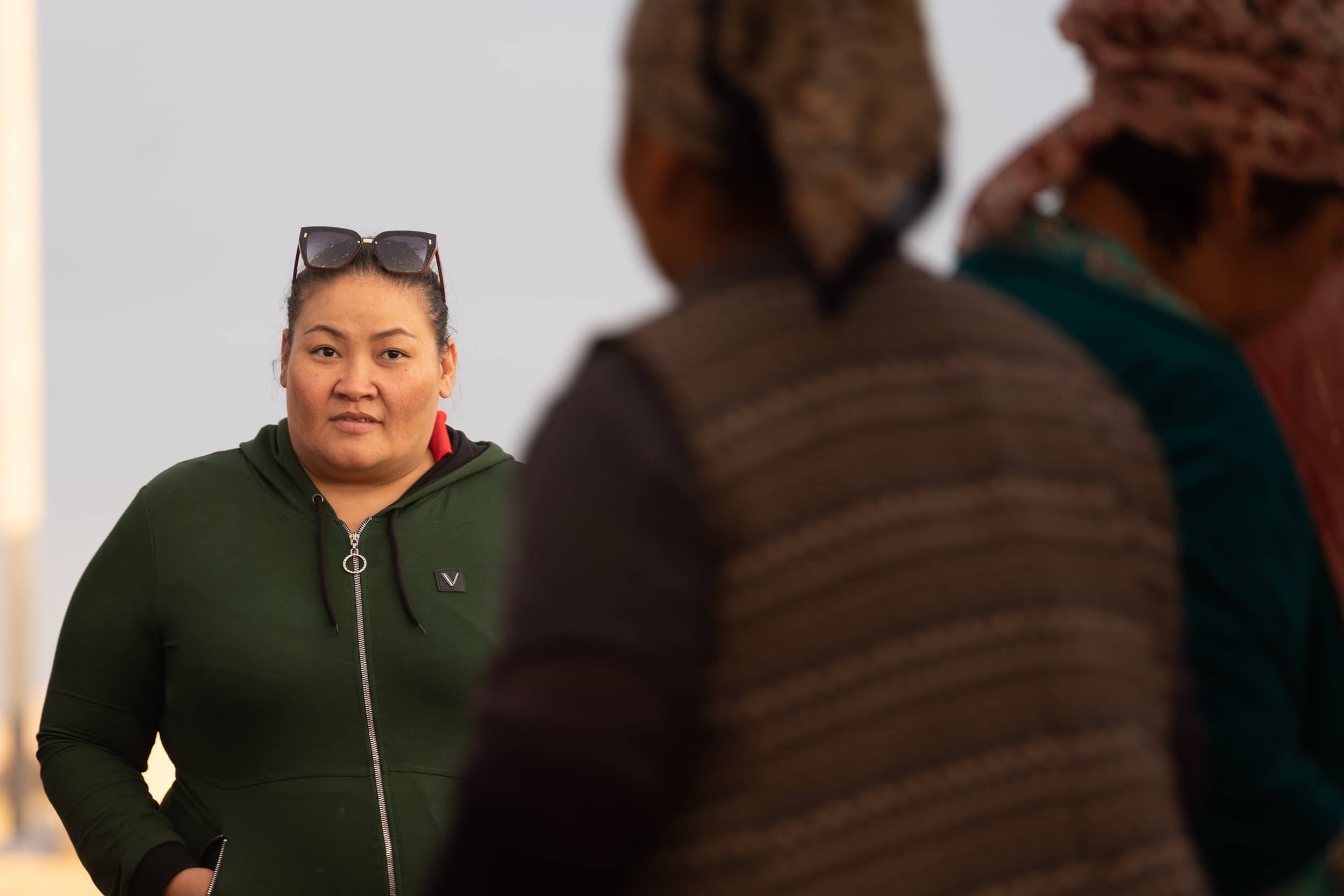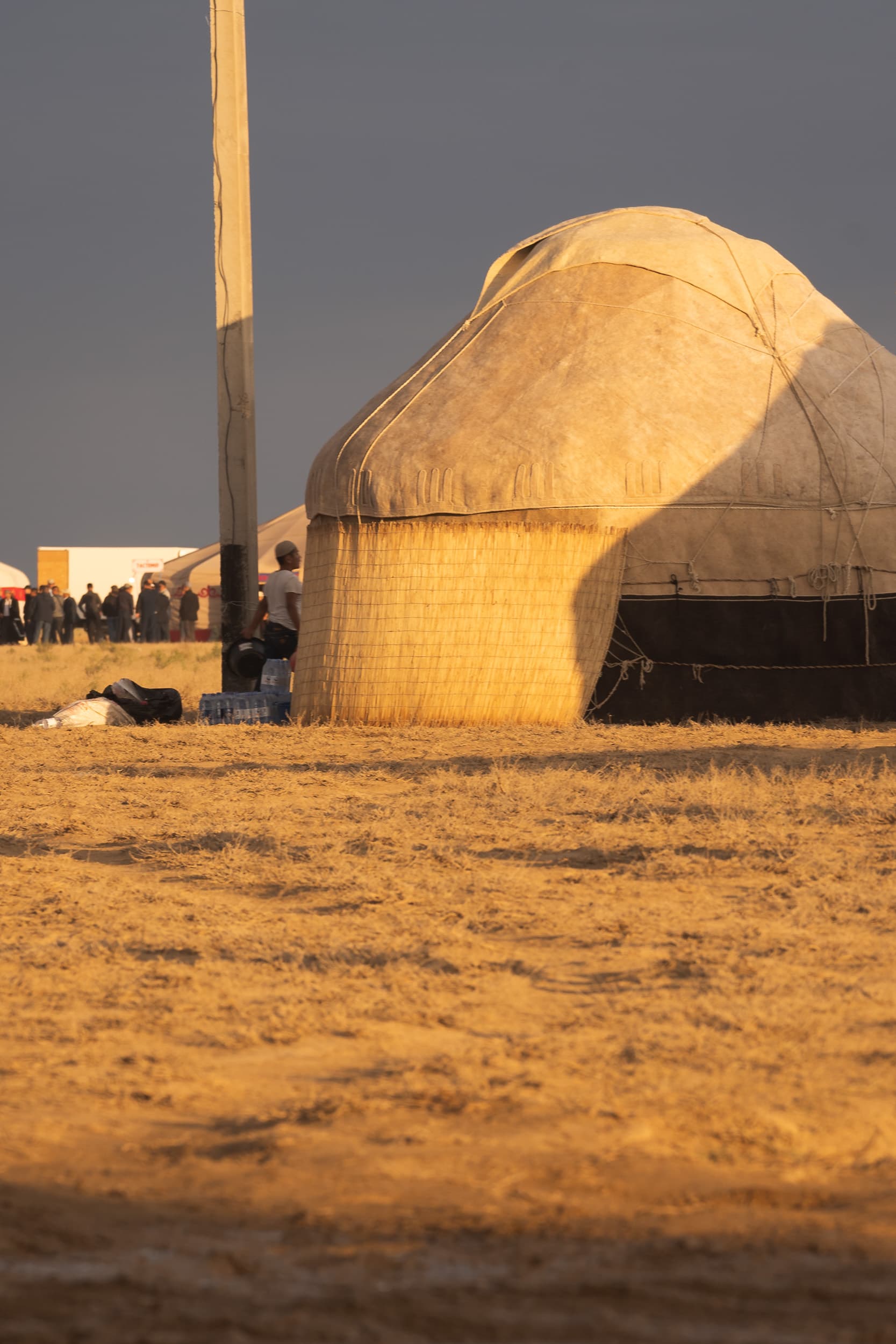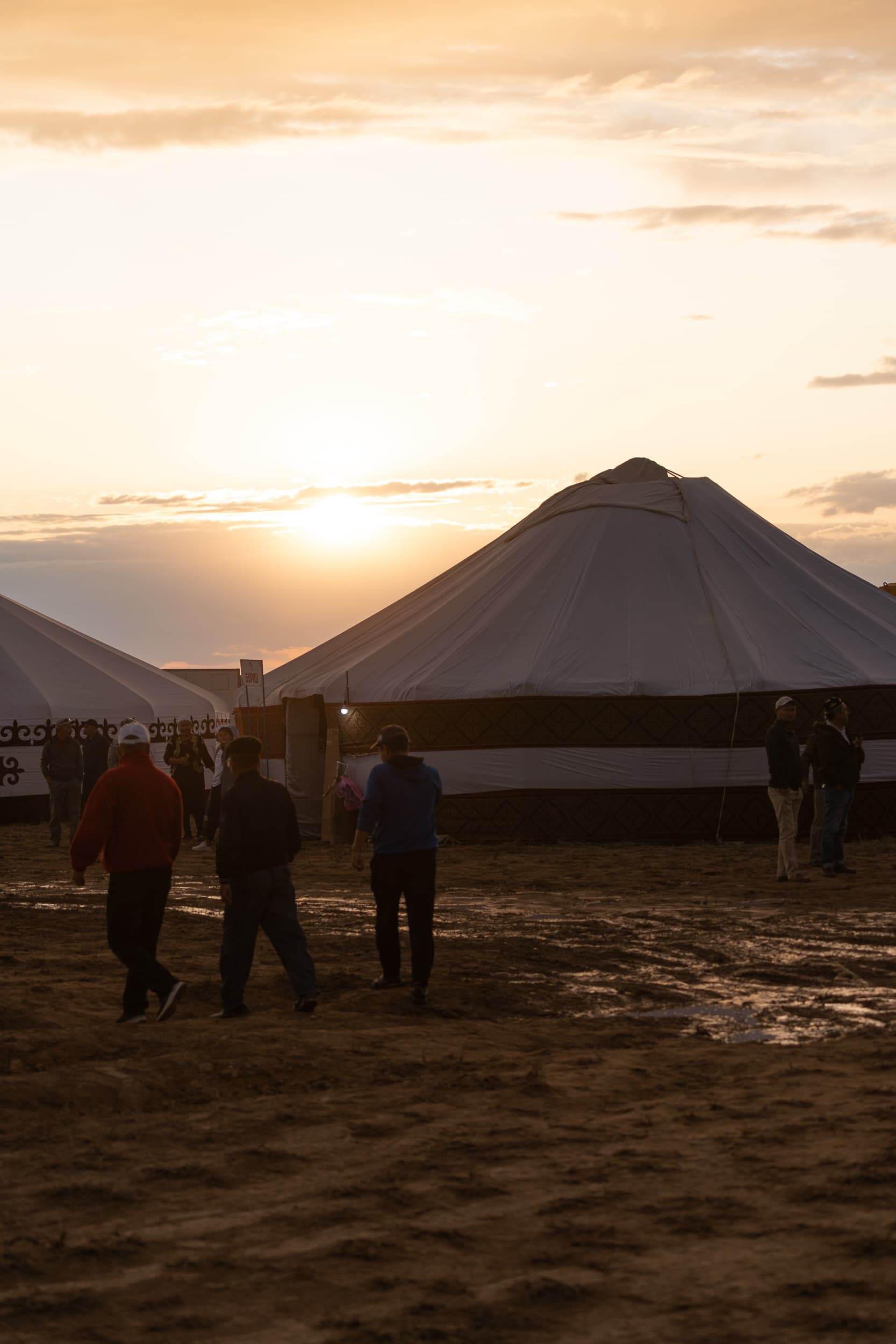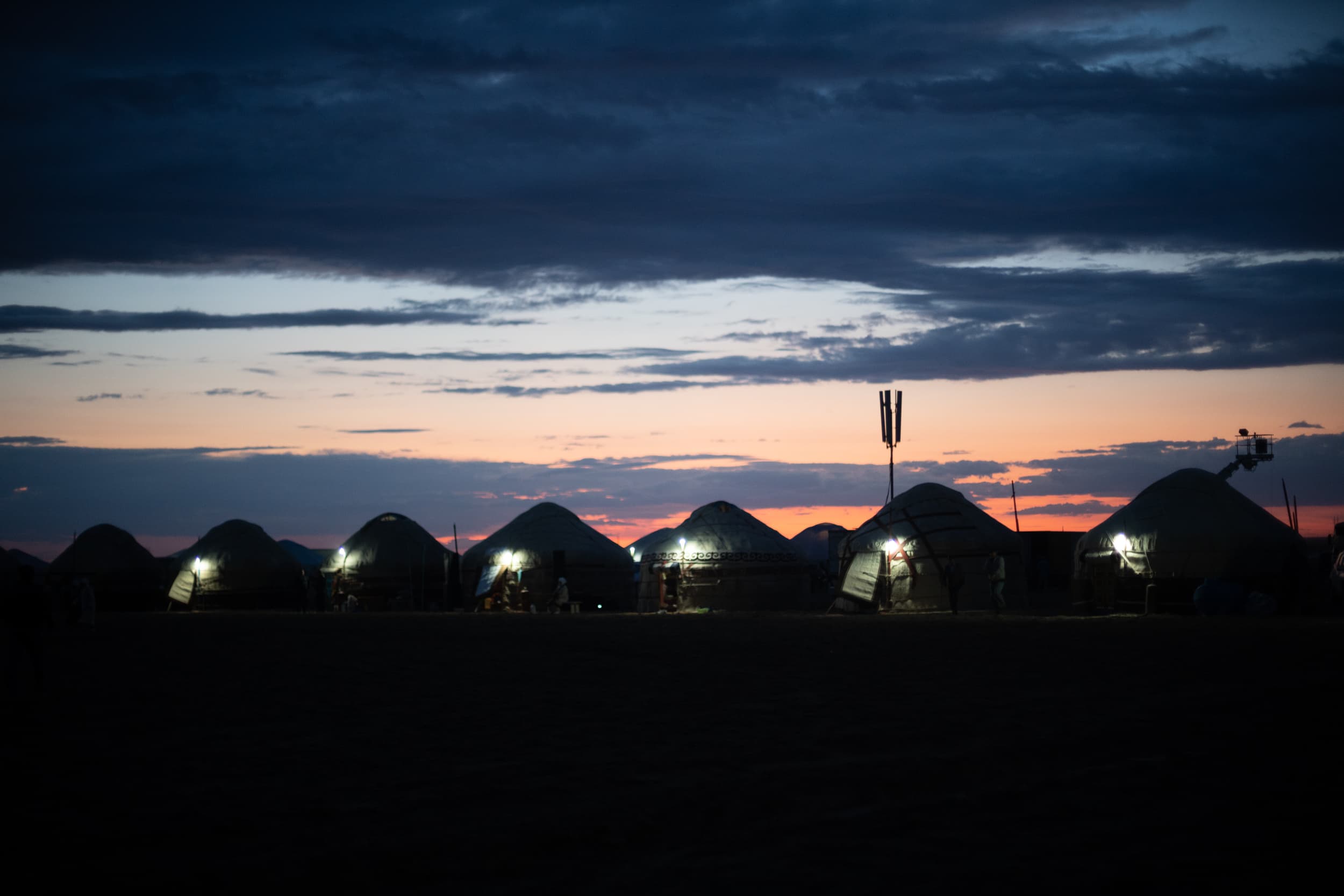 During the next two days, as our team of five, we cycled another 188km's to the last big city of Beineu where we had another day off. We used the time to write about our experiences at the Festival, to clean our bikes and to prepare for the upcoming ride through the Kyzylkum desert of Uzbekistan.
After a final 90km ride, we stood on the border with Uzbekistan, looking back on the last week and saying goodbye to a country, that gave you more than you would have initially expected.
Thank you Kazakhstan!
Until next time,  on the Uzbek side of the Desert
Fabian
Special thanks to all of you for being part of my journey:
Favio, Andrew, Siril, Kata, Andres, Daniel, Batyr