Cycle touring Iran, an experience I will appreciate and remember for the rest of my life. But let's start from the beginning!
Iran, so as Turkey, was a set country from the beginning when choosing my cycle touring route through Asia. About no other country, I previously heard so many interesting and good stories from other cyclists. As in western media, Iran is mostly only reported negatively and in a political context, I wanted to explore and get to know the country on my own and form my own opinion about it.
On the 31.07.2019 I crossed the border to Iran in Astara. When I did, the border checkpoint was crowded with Iranian people going back to their country, most of them had huge bundled packages full of goods with them. I had about the same amount of luggage with me, just all loaded on a bicycle, so the attraction was guaranteed! I was then quite surprised when a customs officer called me and opened me a side door to be able to skip the crowds.
It was not only that, but when he handed me over my stamped passport, I also got a hand full of Iranian sweets and a happy "Welcome to Iran!". "Was that just luck?", I was not sure, but it was definitely the most welcoming entry to a country I ever had. On the other side of the checkpoint, once again, everything was new again, the Arabic script, the smells, the crazy traffic, and much more. It was great!
Less than 10 minutes later and as I was cycling through the Iranian Astara, a passing family in their car asked me to stop. They were super happy to see me on my bike and wanted to know where I'm from, where I'm going, and much more. A few minutes later in the conversation, I was invited to visit their home, to join them for food and even spend a night.
I was smiling and I realized that the sweets an hour before haven't been just luck. There I became aware of all the stories I previously read about Iran "This is it, this is the unique kind of hospitality everyone wrote about". After just a few minutes and as a stranger, I got invited to someone's home, something which is hardly imaginable in Switzerland. It was a new experience to me, and at the same time it felt incredibly amazing.
Unfortunately, I had to decline the invitation because it was only 10:00 o'clock in the morning and cause, on the other hand,  I already had a Warmshower.org- host in Talesch 80km away. The first few kilometers cycling in Iran were not only very interesting but also quite tough because of the weather. As I was cycling in northern Iran and along the Caspian sea, the temperatures have been still around 43 degrees but at the same time, it was also super humid. In some roadside shops, I was happy to see they were selling frozen bottles of water, which gave me ice-cold water for an hour or so. Also on the way to Talesch i stopped for the first Iranian Restaurant and the first Iranian Kebabs with salad and the famous and indispensable portion of Persian rice.
In Talesch it was Teymour and his family waiting for me. Teymour accepted my request the day before, even though his wife was returning home after surgery from the hospital on the same day as my planned arrival. Regarding these circumstances, I didn't feel comfortable to cause them additional efforts while hosting me. Instead, they insisted on hosting me, which once again, showed me what importance hospitality has in Iran.
Together with Teymour and his family, I spent a wonderful 2 Days. We went to the city to buy delicious pistachios and dates, we made a trip to the nearby mountains to have some tea and freshly made kebabs, and we had a lot of awesome homemade food with all the family members which came by to visit Rooshanak being back from the hospital. As Teymour is a Ph. D. in teaching English and as he runs his own private English school, I was able to visit 2 different classes and answering questions about my bicycle journey. As luck would have it, it also turned out that our friends Matt and Jasi from Pedalpromise, have been hosted by Teymour and his family as well a few years back on their way to Australia.
It was my first experience being hosted by an Iranian family, and it couldn't be any better![/vc_column_text][/vc_column][/vc_row]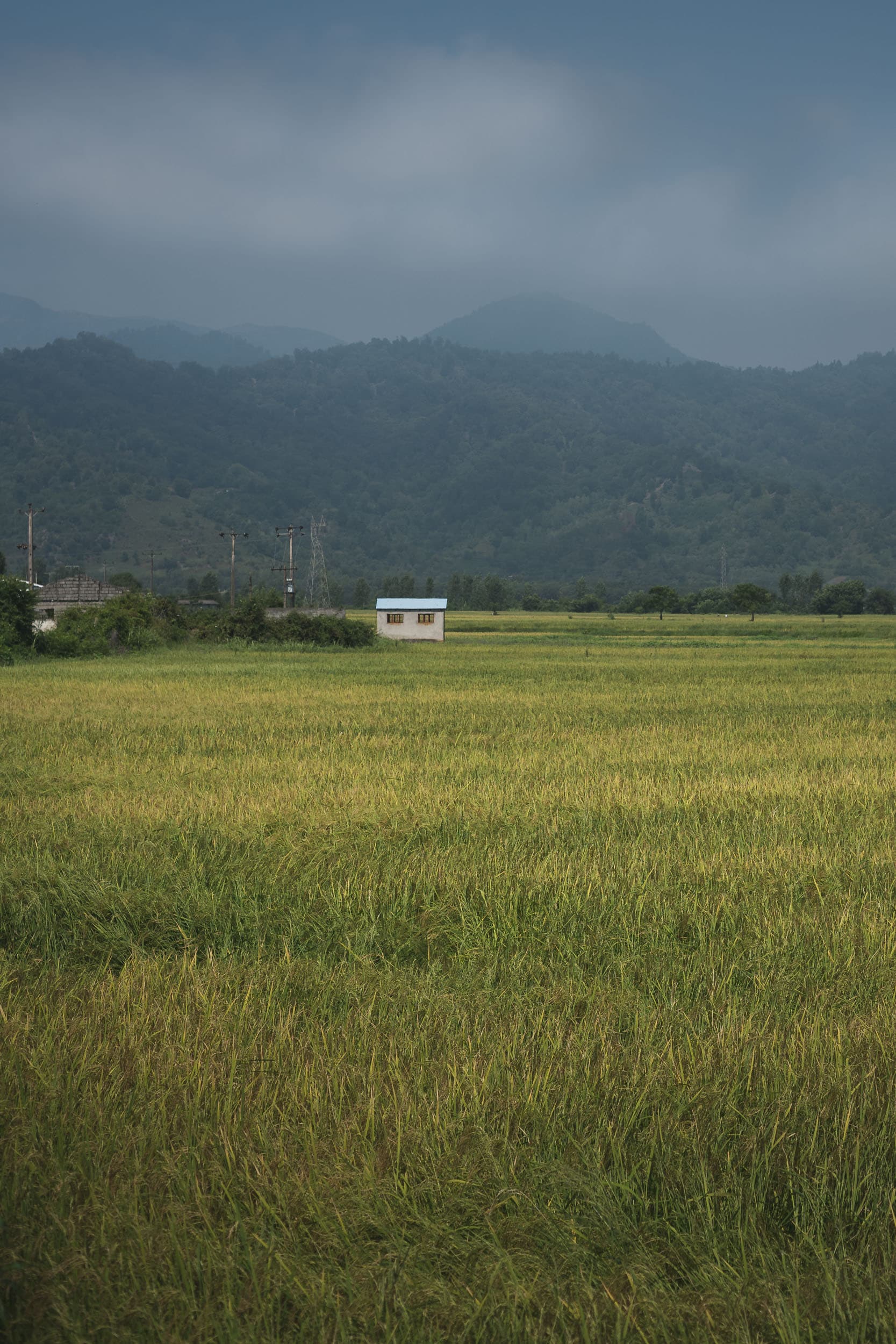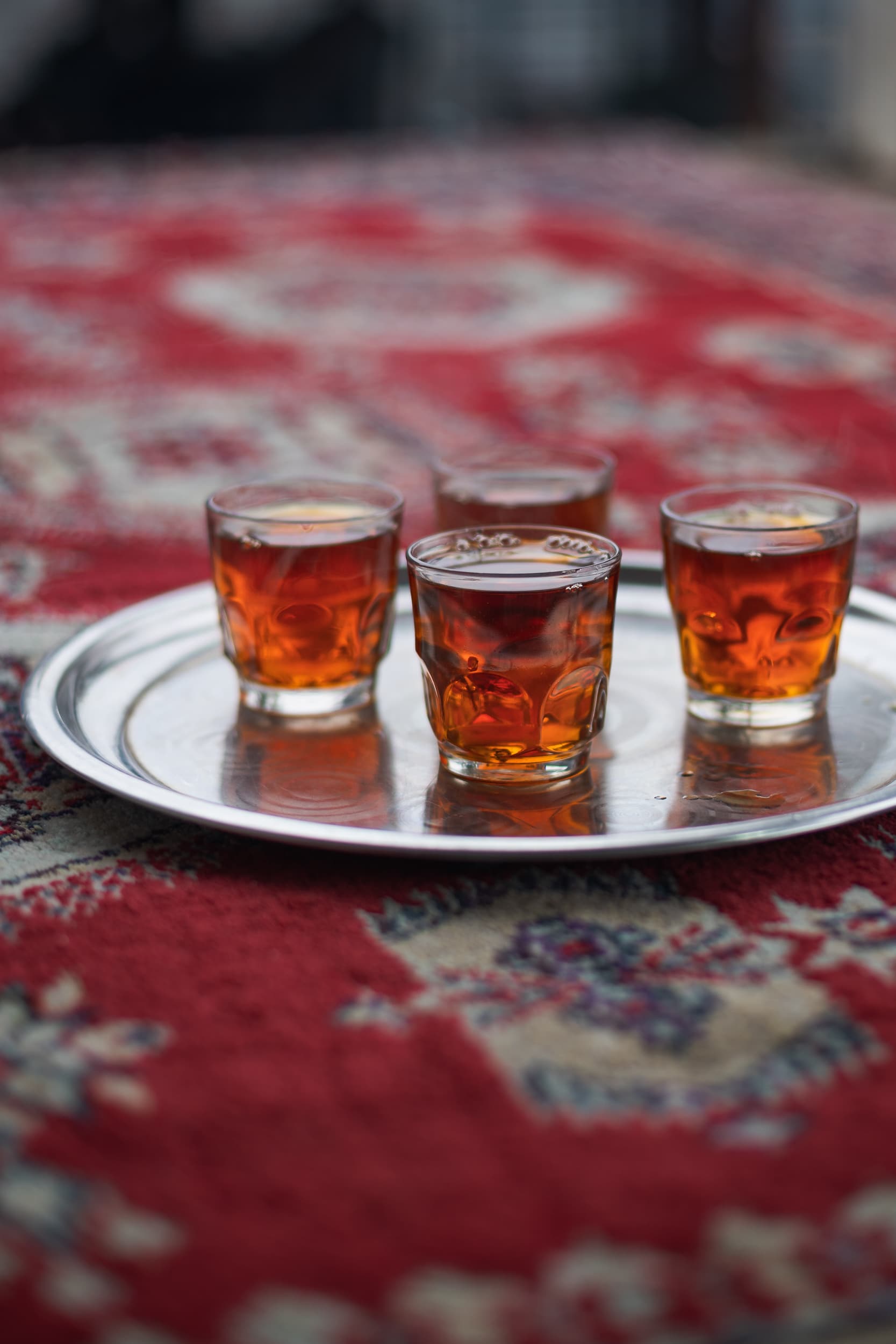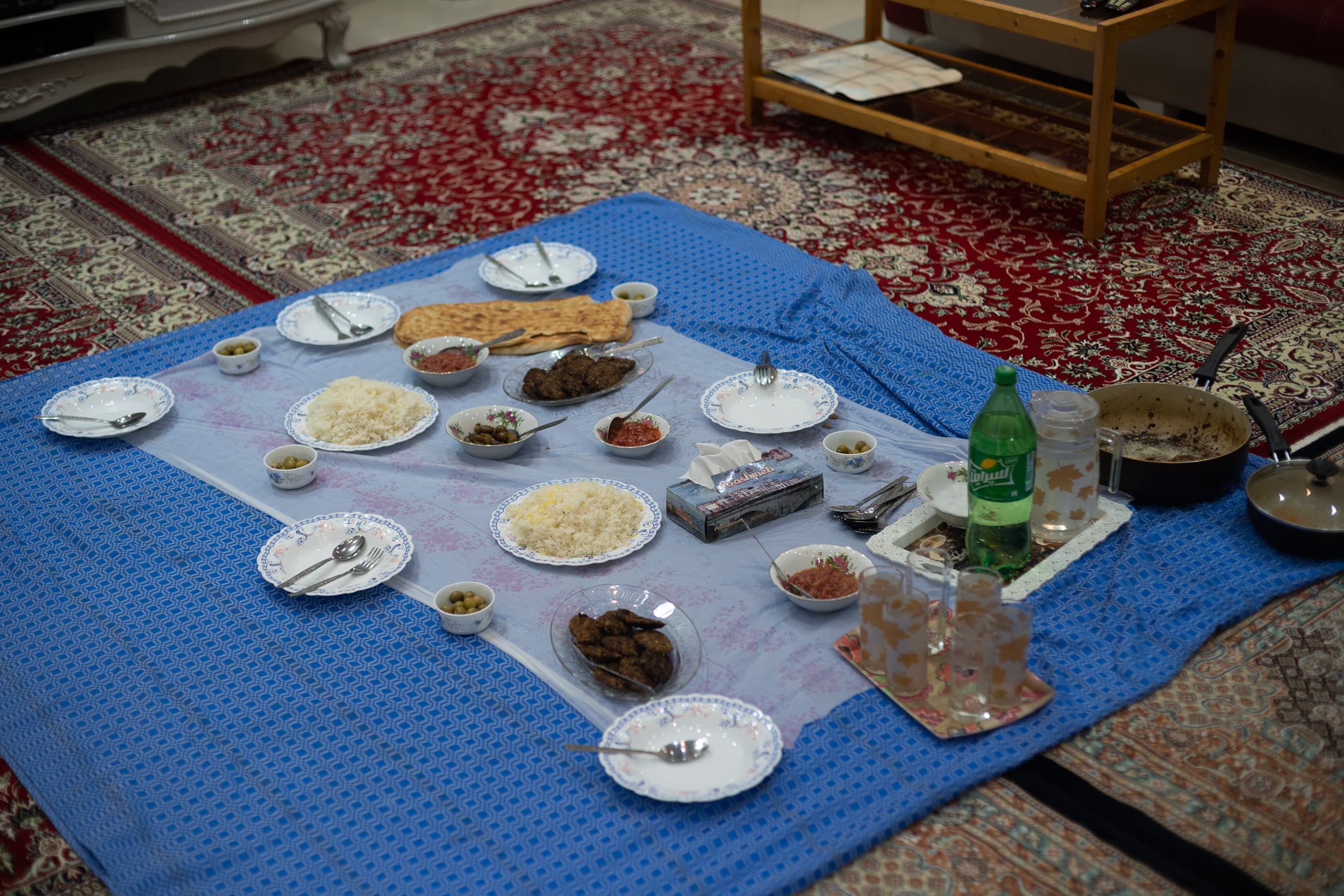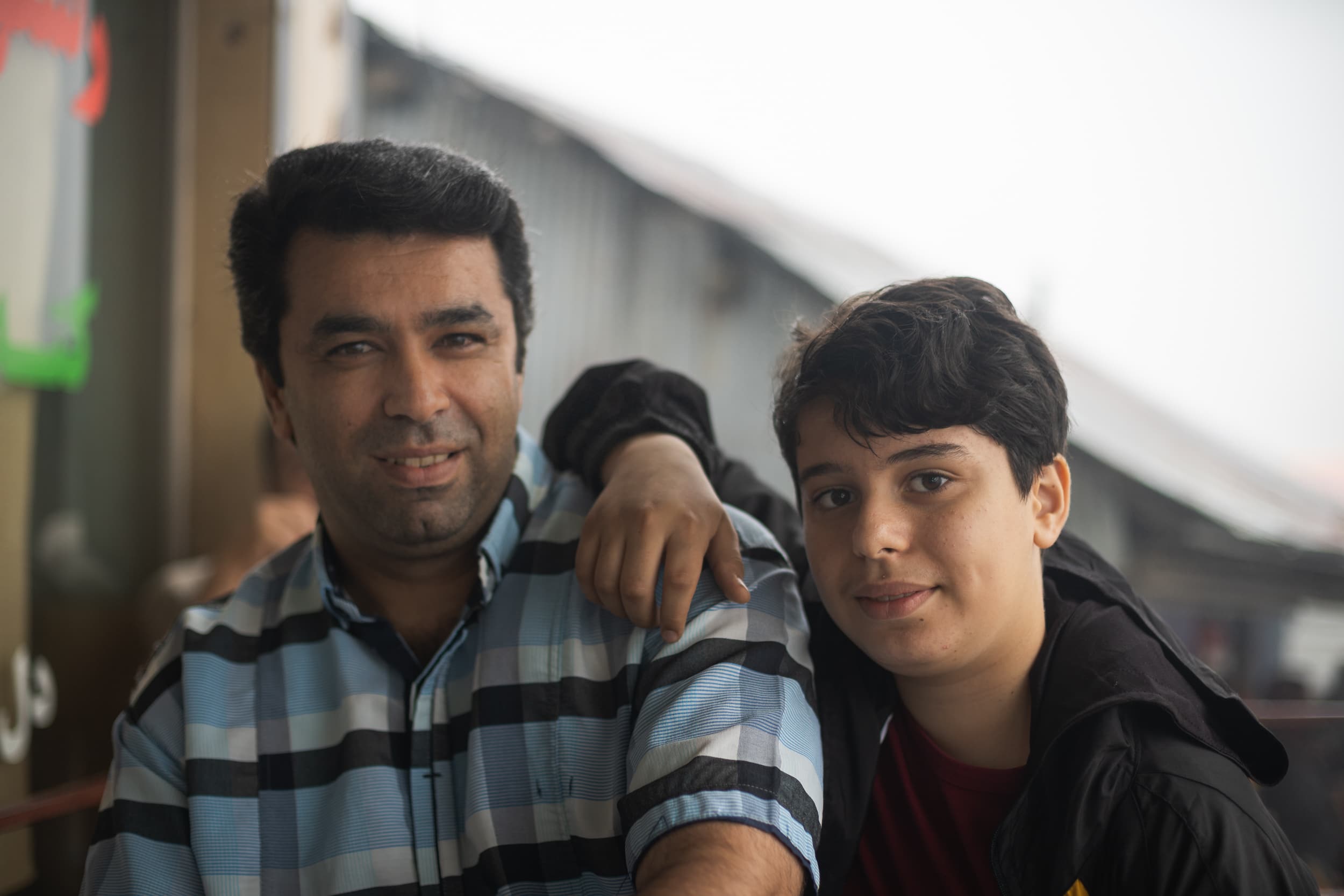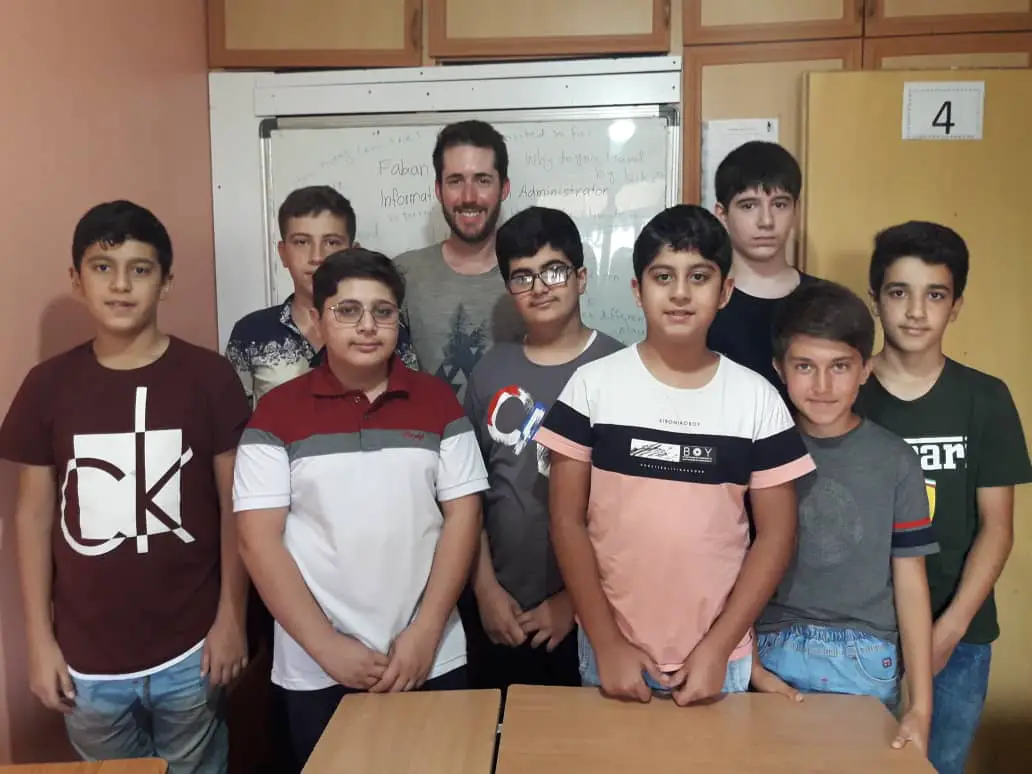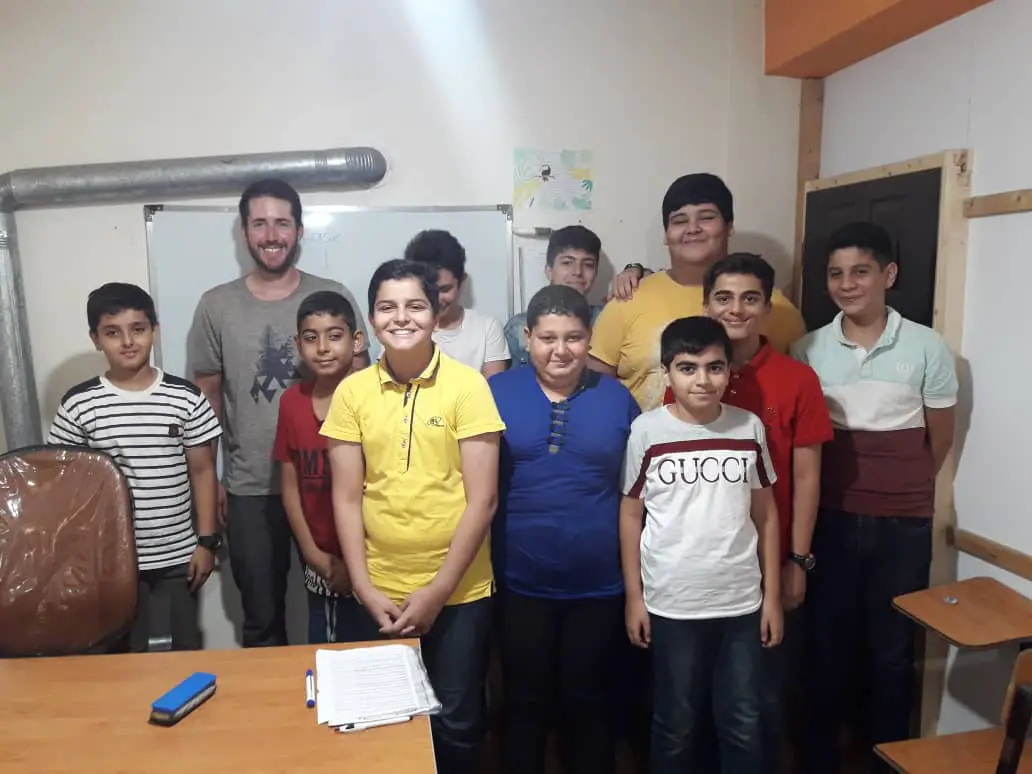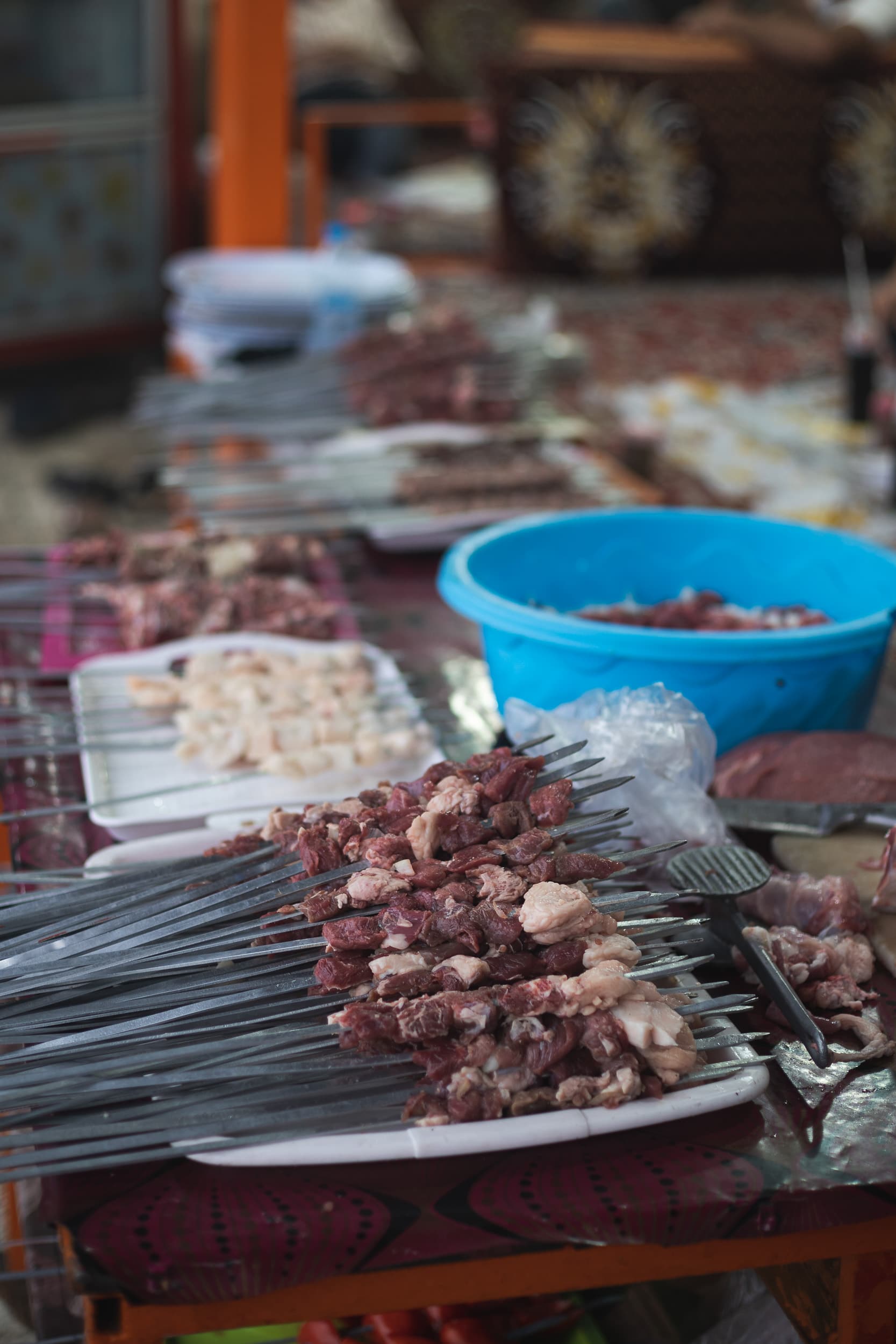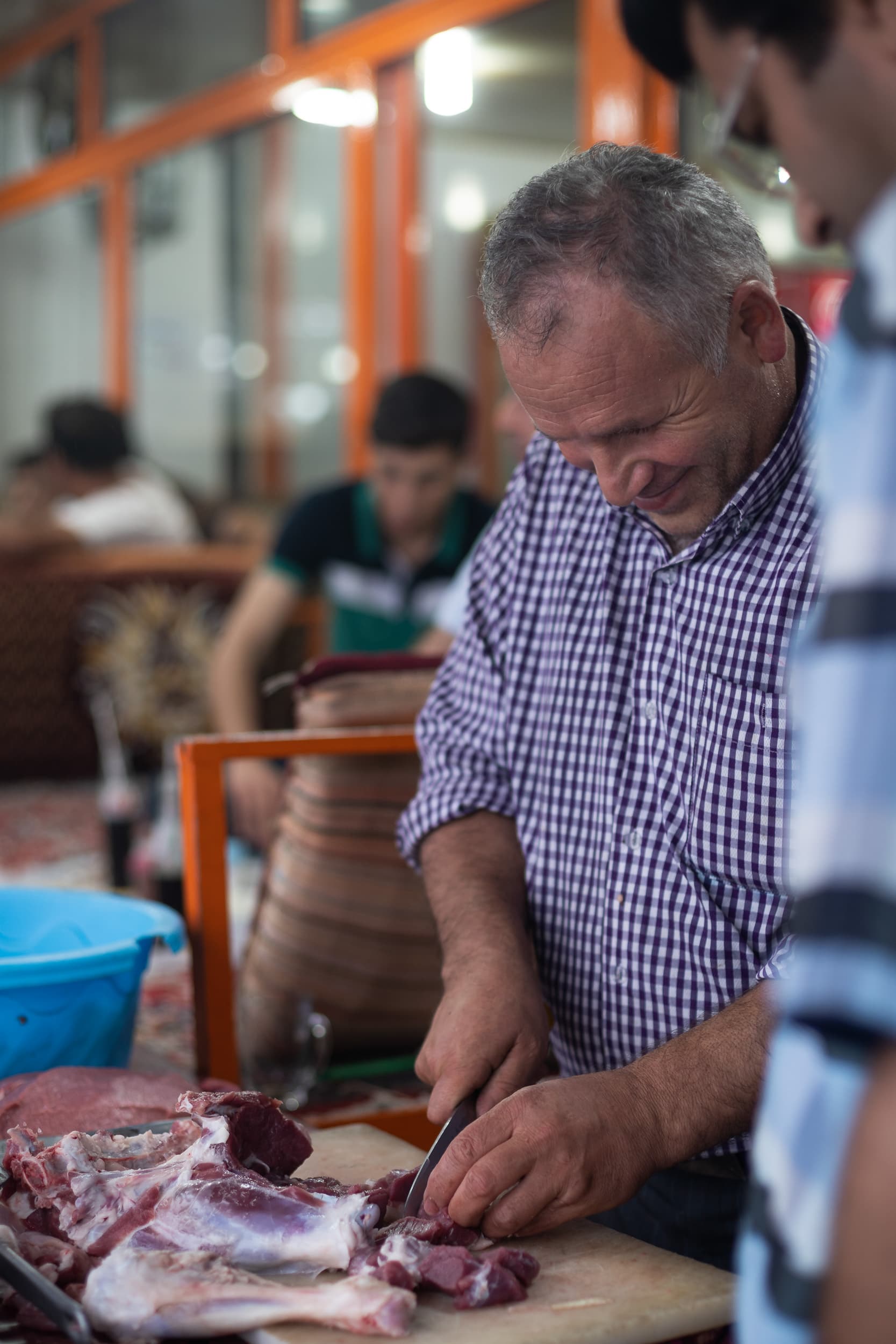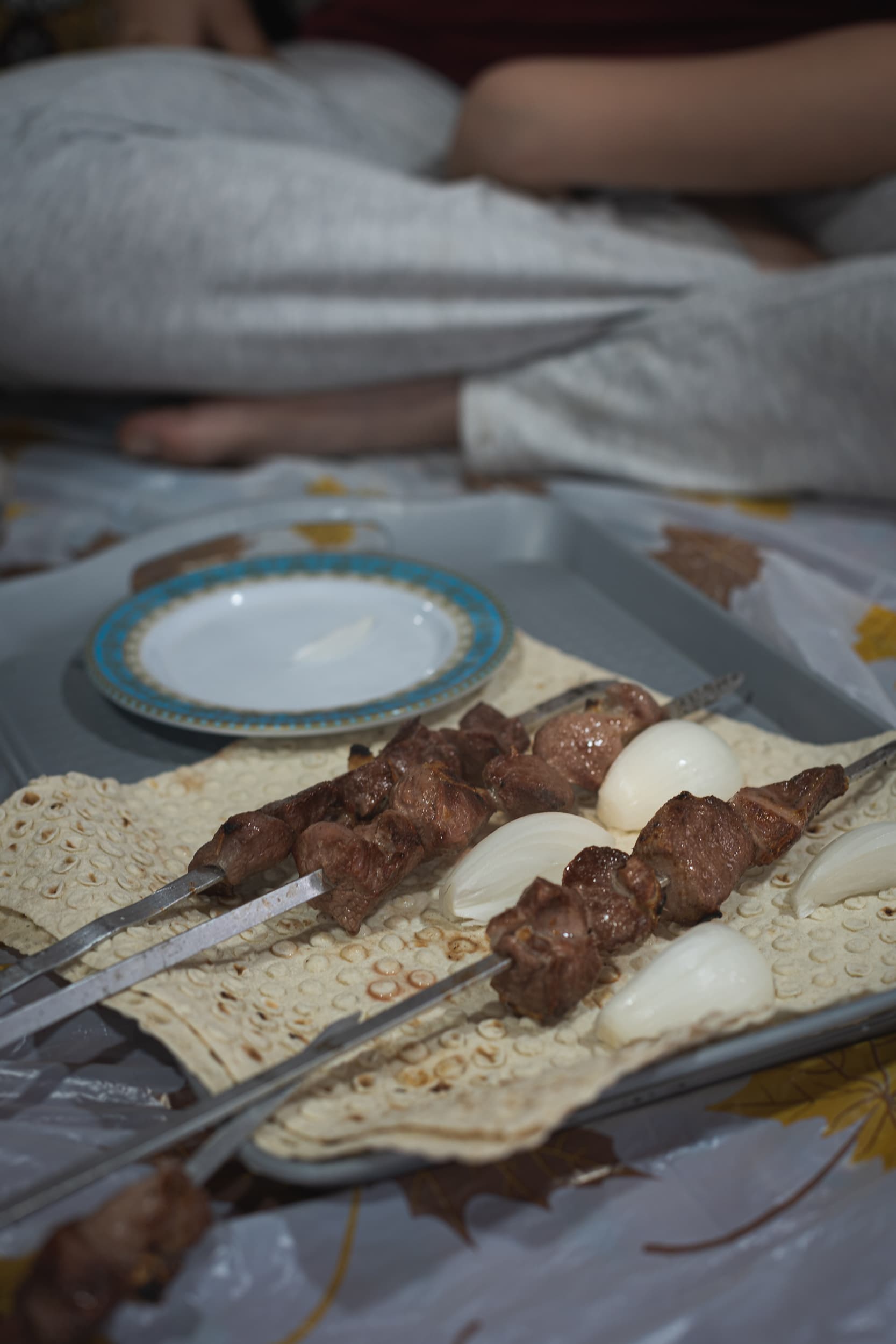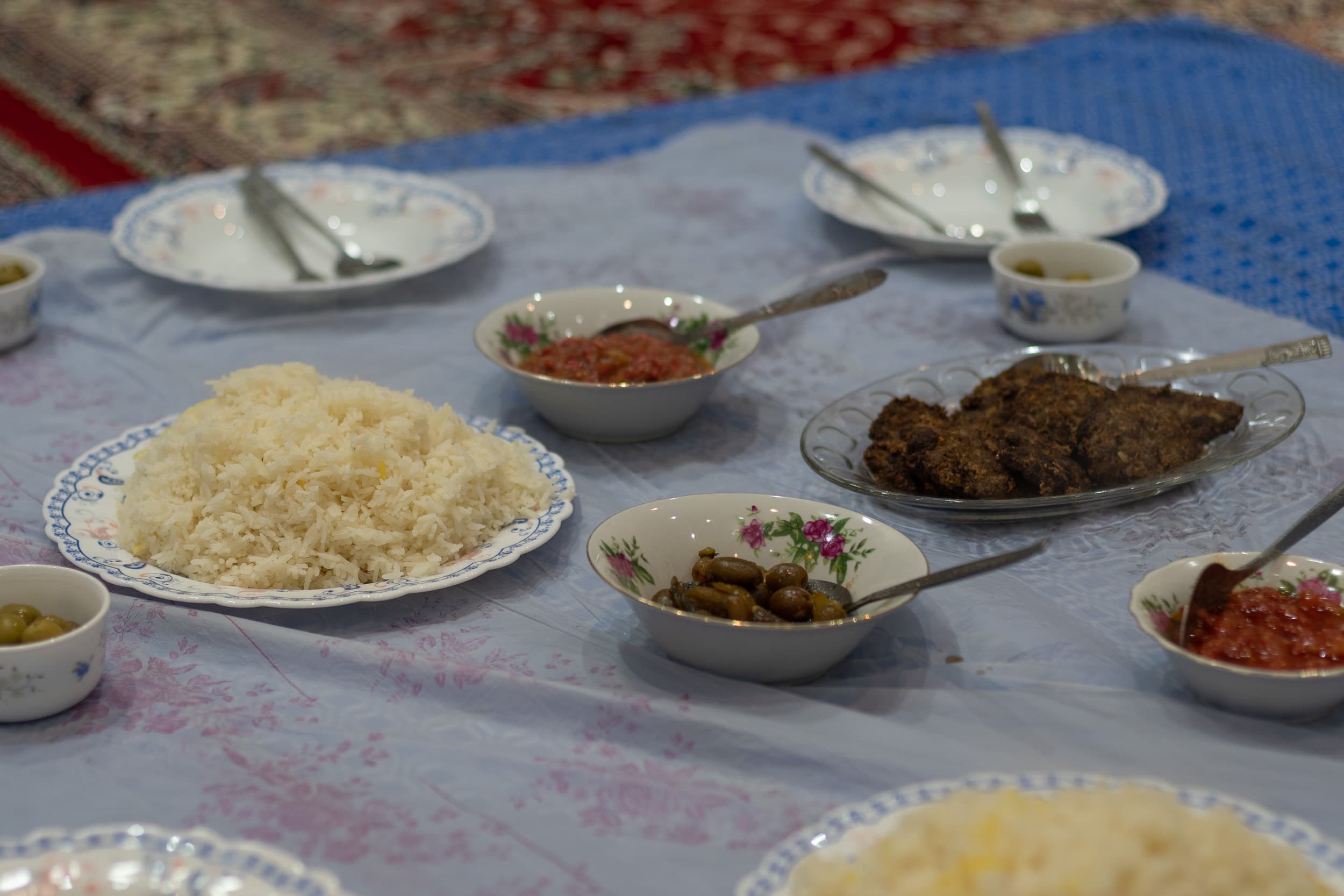 Cycle touring Iran
After this lovely stay with the Rahmati family, it was time to move on. There was a long ride waiting for me, as I decided to cycle all the way to Lowshan and up a mountain valley in one day. Near the city of Rascht, I was stopped by another family in a car. This time it was Amir with his parents and his brother on their way home from the colder Gilan mountains, the place I've been 2 days before together with Teymour. They first offered me to try some cookies which were famous in this area of Iran, and then invited me directly to their home in Karadsch, when I'm cycling through the city on my way to Tehran. Amir, who was just a few years younger than me, gave me his number and social media accounts and we stayed in contact the next few days.
The further I cycled through the mountains towards Lowshan, the more the landscape and climate changed from lush green, humid and jungle-like scenery to dry, sparse and deserty nature. Around 2pm that day I had 130km's on the bike computer and this although the rough Iranian traffic conditions. Cause one thing was for sure, the Iranians were by far the craziest car drivers I ever saw. With sometimes hair-raising overtaking maneuvers, I had to be very concentrated all-day long, and my mounted rear-view mirror became my best friend. Nevertheless, I made it! Around 8pm I arrived in Lowshan at my next Warmshower-host, after 181km's on the bike.
The friendliness and warmth while cycle touring Iran never seemed to end. Not a day passed without random people stopping me on the road to give me watermelons, sweets, lunch, or cold water bottles. When I stopped at a restaurant to have a cold ice-tea, they offered me salads or kebabs for free. After two more days on the bike, a lot of climbing during super hot days and another great Warmshower-stay with Korush and his family in Qazvin, I reached Karadsch, the last big city before the capital Tehran.
Here, I happily was going to meet Amir again. The family was super excited to have me as their guest, and the anticipation was no different on my side. Zahra, Amir's mother, was a very good cook and prepared us some different, typical Iranian dishes for dinner. We all gathered together in front of the TV, as they asked me to show a few pictures, videos and to tell some stories from the trip so far. For me, it was great to share the great and difficult stories I had so far and for them to hear from person to person about other countries and their culture.
As for Iranians, traveling and getting Visas is very difficult and associated with a lot of effort. As you can imagine, for a lot of Iranians it becomes almost impossible to travel to further countries than the surrounding ones. The difficult situation, politically so as economically, doesn't make things any easier. I've heard from a lot of Iranian people, that receiving a guest from abroad and hearing their stories, is a bit like traveling themselves.
So for me, it was also great to hear the stories of my hosts, the daily challenges, future plans, their view on life, and their remarkable and never diminishing optimism regarding the situation they're in.
The next day I left Karadsch late in the afternoon around 4 pm to be able to spend some more time with Amir and the family. I went on for these last 50km's to Tehran with mixed feelings. In one hand it was sad to say goodbye to good friends again, and on the other hand, someone special was going to visit me pretty soon in Tehran and for some time while cycle touring Iran.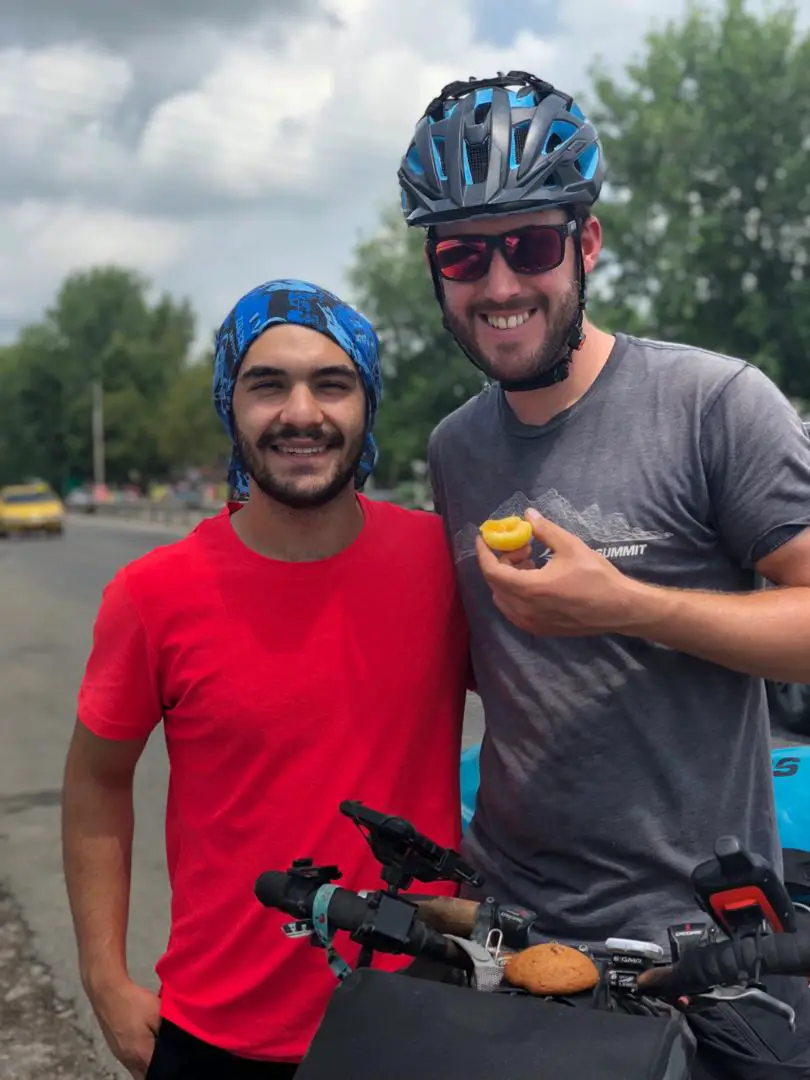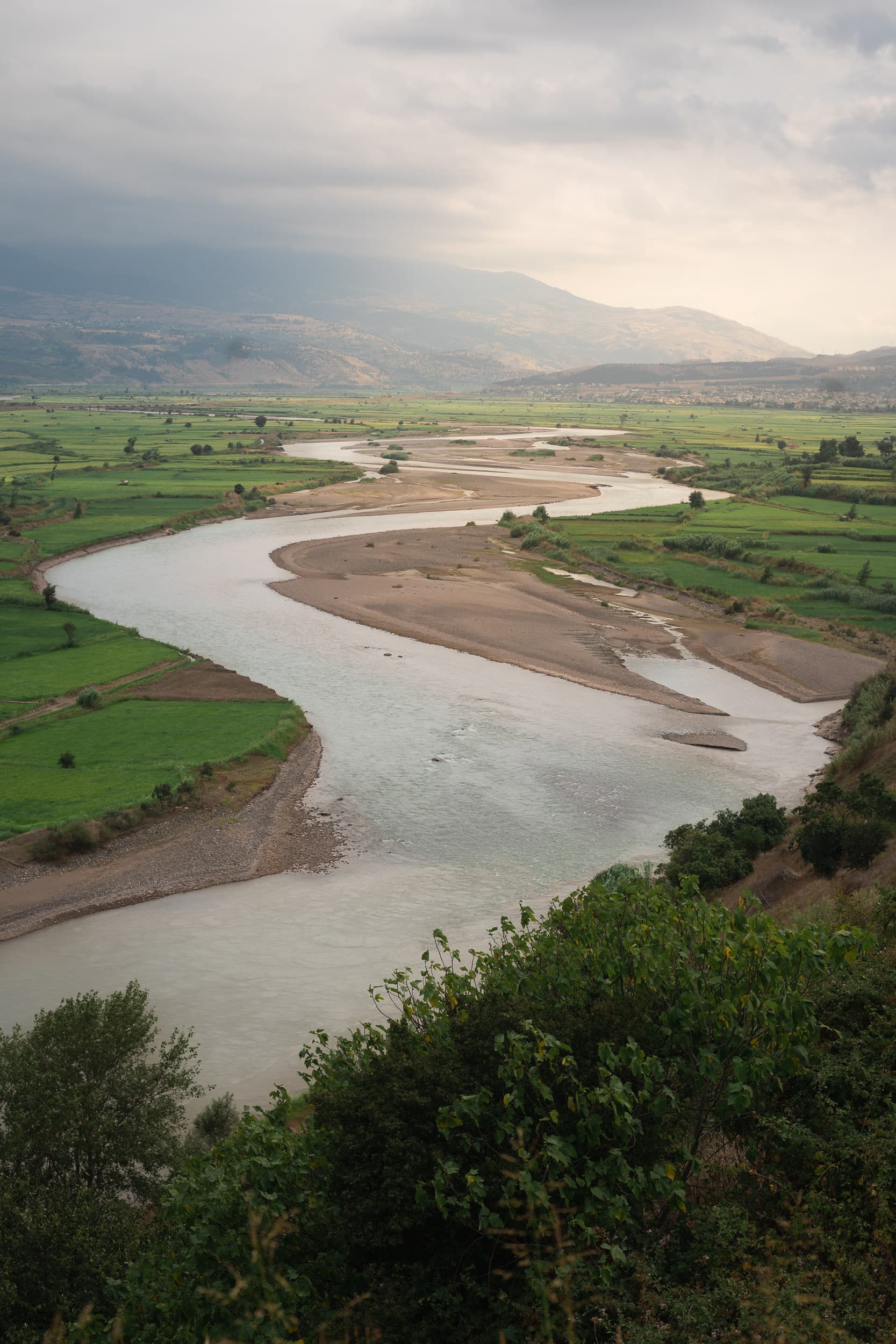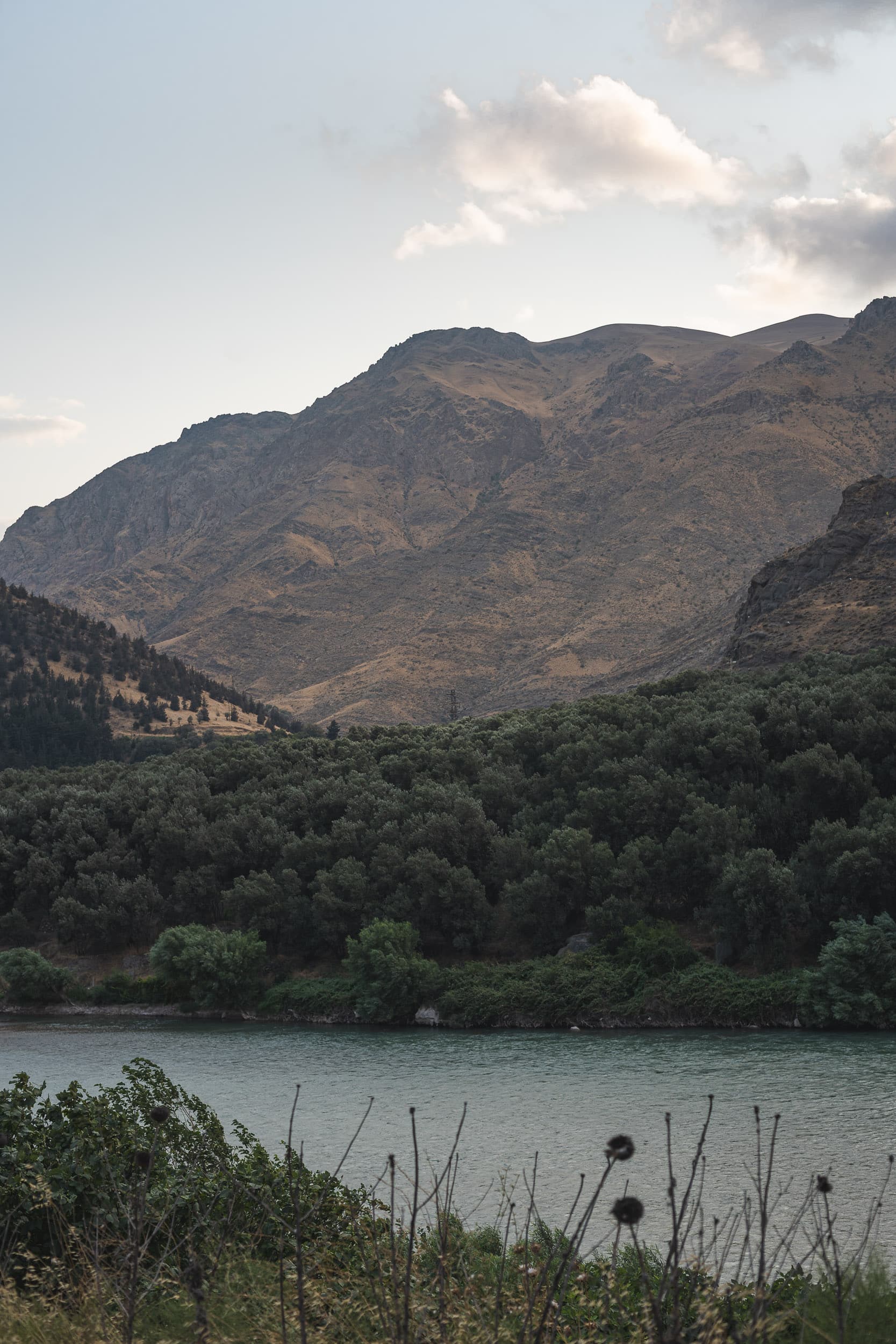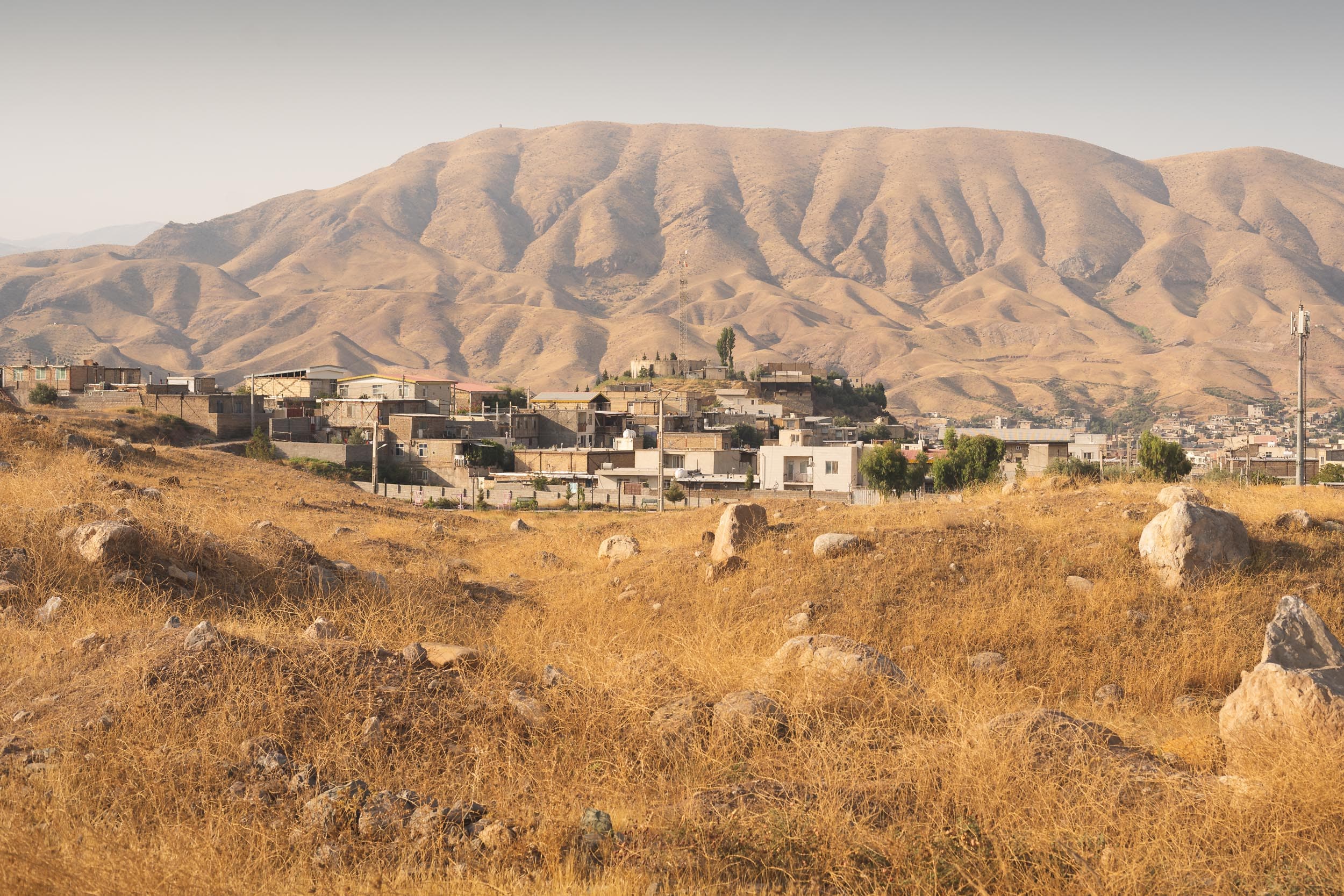 Tehran
This last 50km ride into the city center of Tehran was by far the craziest approach to a city I ever had. Though, at the same time, it was also quite unique and fun cycling into this massive metropolis. 2 tracks became 3, then 4 and suddenly there were cars everywhere around me. The traffic was just one: massive! Hundreds of cars honking, the air was getting hotter, stuffier and stinkier the closer I got towards the center.
The last 20km have been on one straight highway road, but with a lot of entrances coming from the right and left. It didn't feel there was any traffic rules, or at least I couldn't recognize any. Cars and motorbikes passed me from both sides and I ended looking in the rearview mirror at least as much as looking straight ahead. Even though it was super stressful, after a while it felt like going with the flow. I couldn't go right or left anyway, there was traffic all around, so I was pushing the pedals and just went nearly as fast as the cars did, so less of them could overtake me.
After a total of 4 hours, I arrived at my hostel and haven't felt this alive in a long time. On the first days in Tehran, it was time to relax and prepare two visa applications. One for the upcoming 5-day desert crossing through Turkmenistan and the other one for a 60day visa for China. After a lot of paperwork, 3 visits at the Chinese embassy, and probably a total of 8 hours in the queue, I had my Chinese visa in my passport. Regarding the Turkmenistan Visa, however, I had to wait another week to get the results of the application.
The rest of the time I spent messaging with my friends back home, eating great Persian food, and having several cappuccinos at the nearby coffee shop. What I was waiting for the most however was day number 4 in Tehran. My girlfriend Irina decided to visit me for two weeks in Iran and joining me cycling back to the north towards Gorgan. I picked her up at the airport at 6 AM on the 11.08.2019. It has been only 2 months now since I saw her last at my short visit to Switzerland, though I was super happy to see her again! Packed in a big bicycle carton-box, she brought my Trek Crossbike with her, as well as a pair of old panniers so as a handlebar bag. But not only that. She also brought a new pair of 2inch Schwalbe Marathon Plus Tour tires.
It was time to change my back tire, which had a long 6cm cut in it since Paravani Lake in Georgia, and which I sparsely repaired with a few layers of duct tape. In Tehran, for the next few days, we prepared both our bikes and visited some attractions such as the historical Golestan palace, the Tabiat bridge, and of course the busy Tehran grand bazaar with its 4000+ shops. Another highlight was visiting relatives of my swiss / Iranian friend from Switzerland. We have been able to visit my friend's uncle living in northern Tehran and spend the night with him and his family. We went out to an awesome restaurant with a large buffet full of Persian delicacies, listened to live music from Iranian singers, and smoking hookah meanwhile.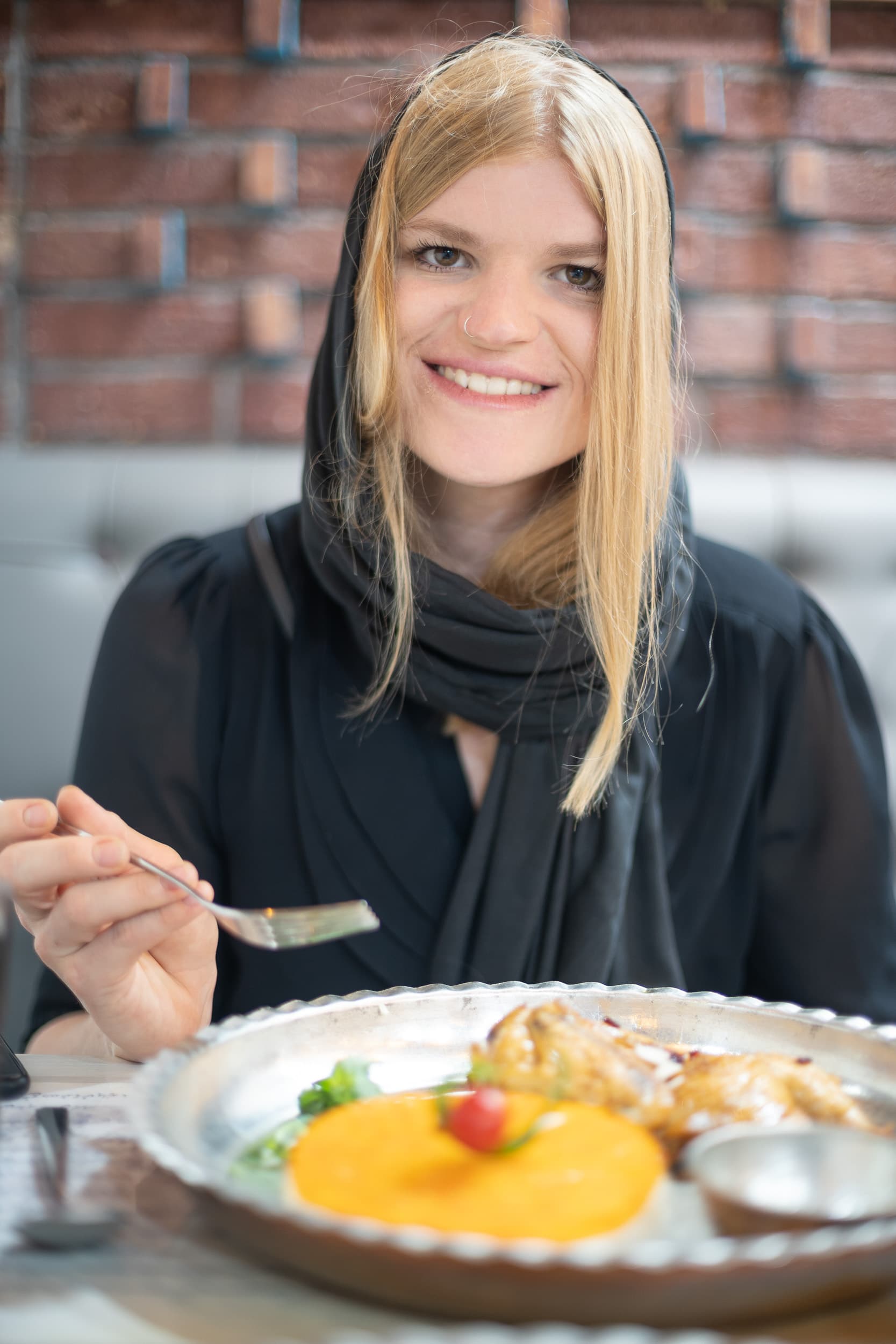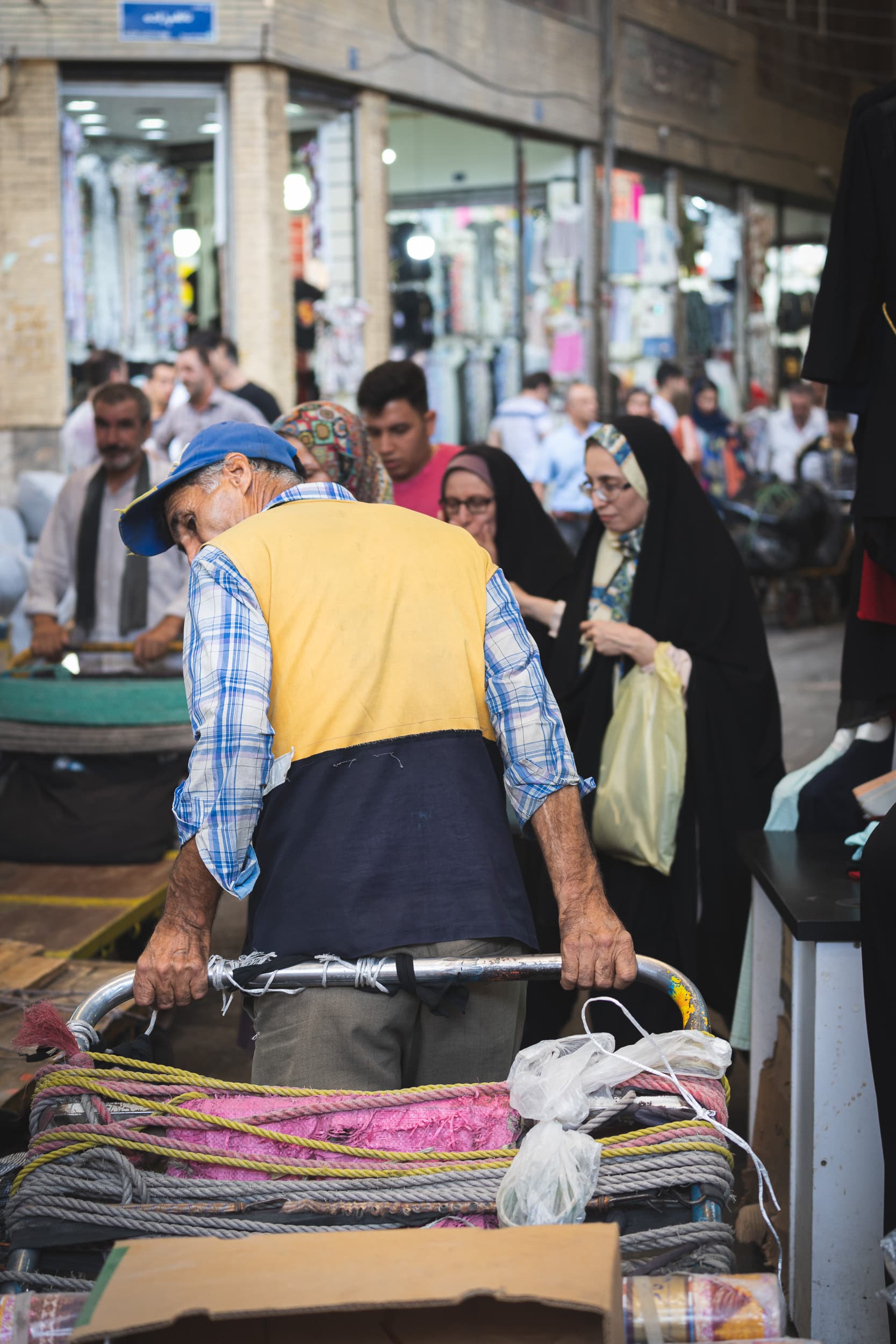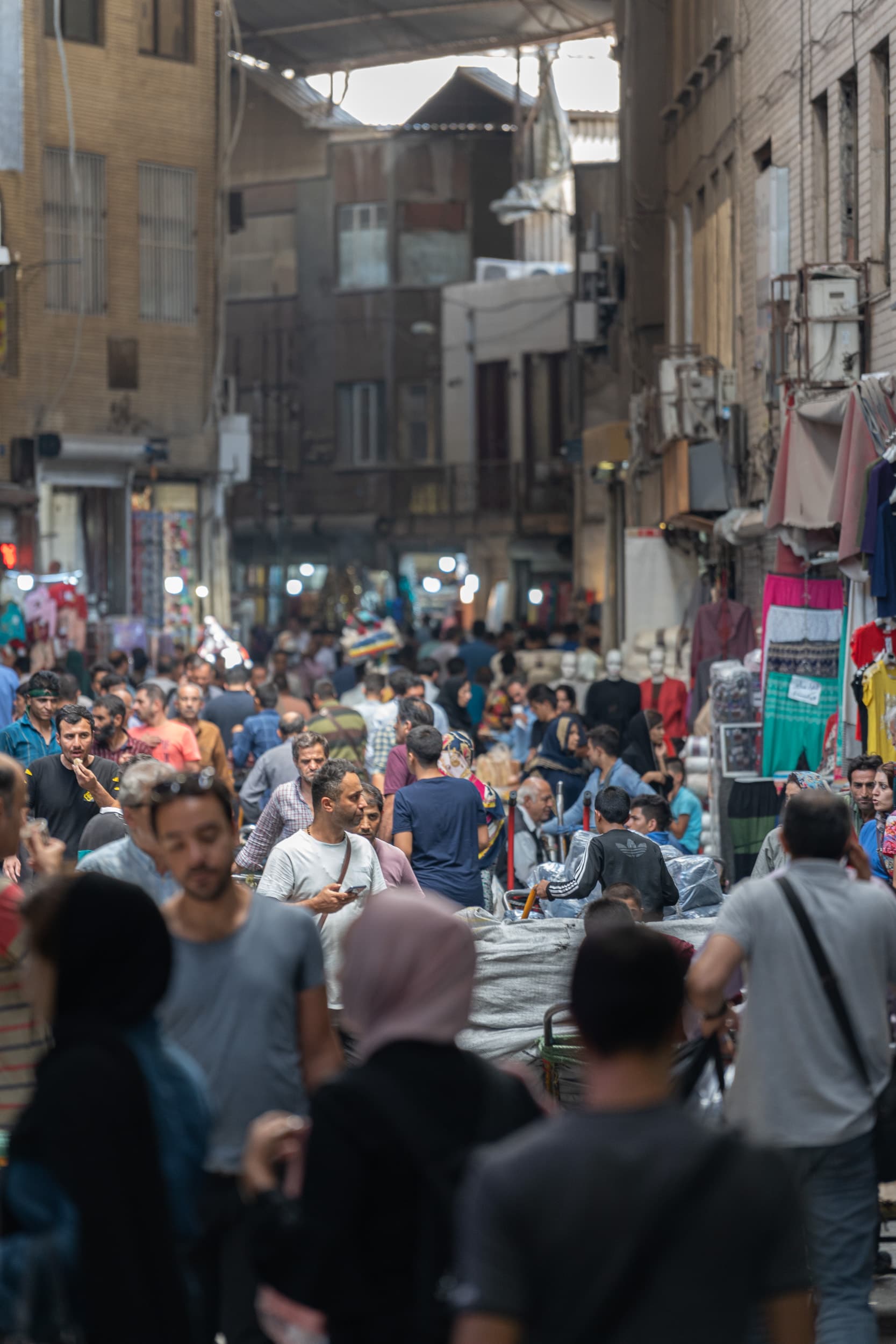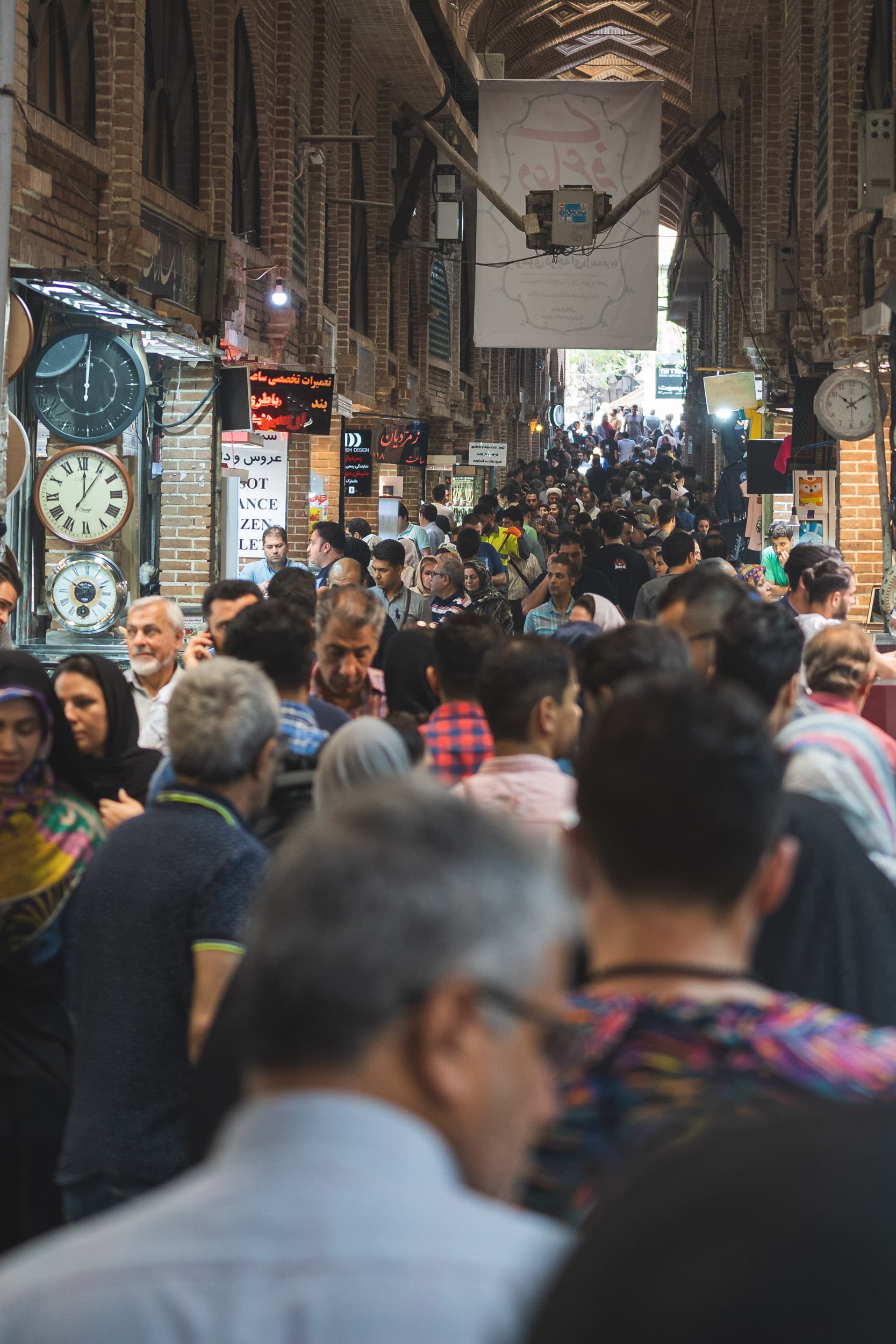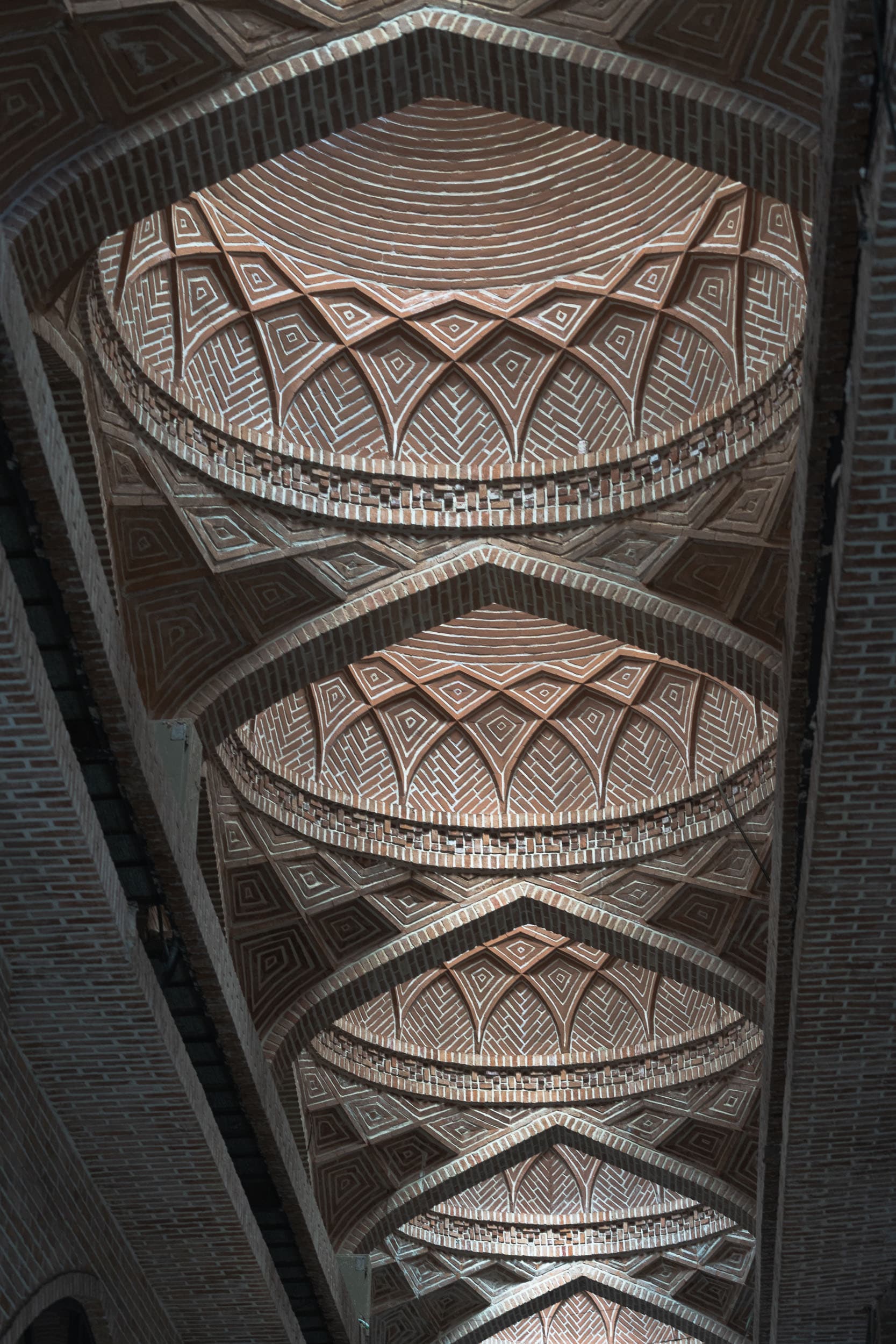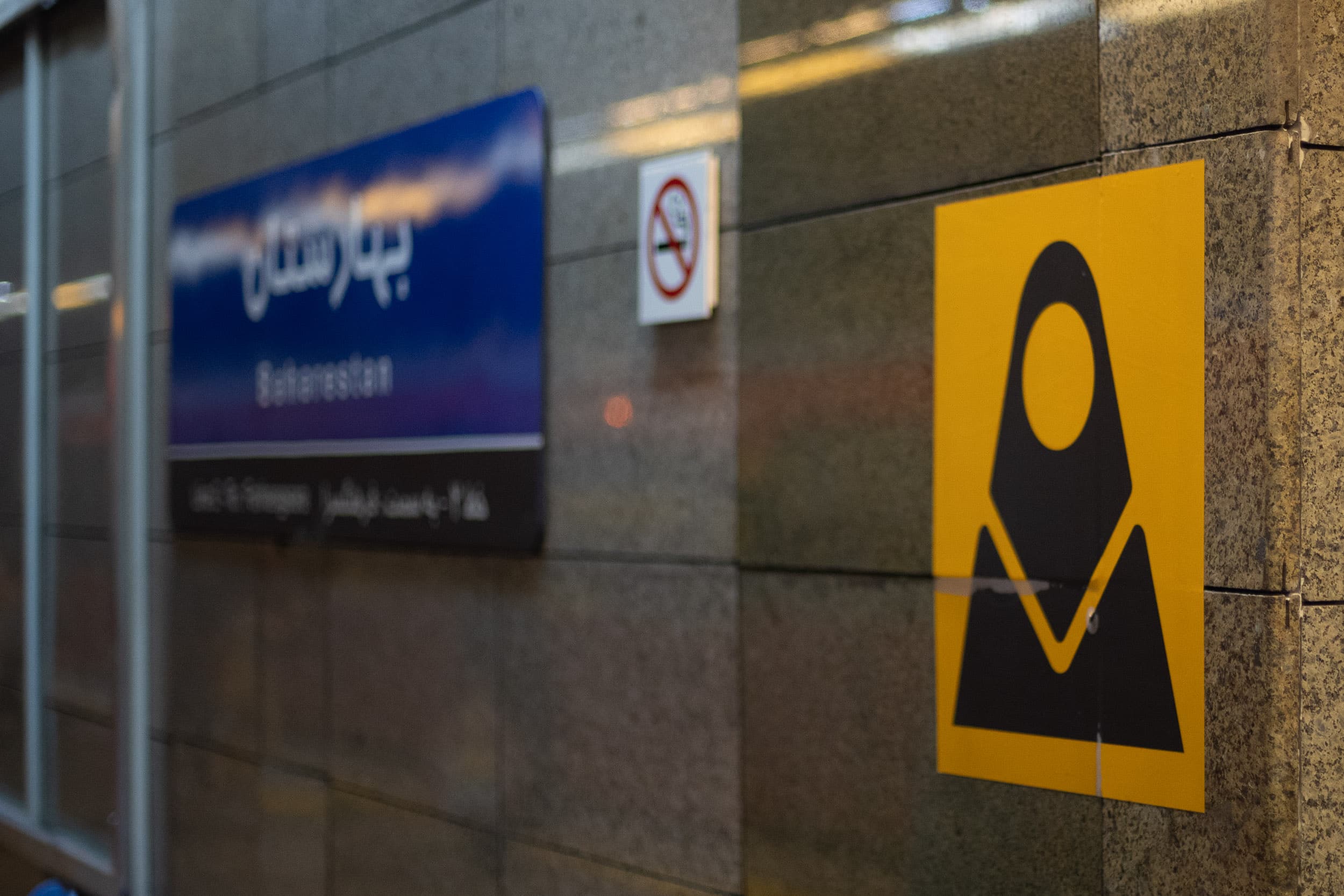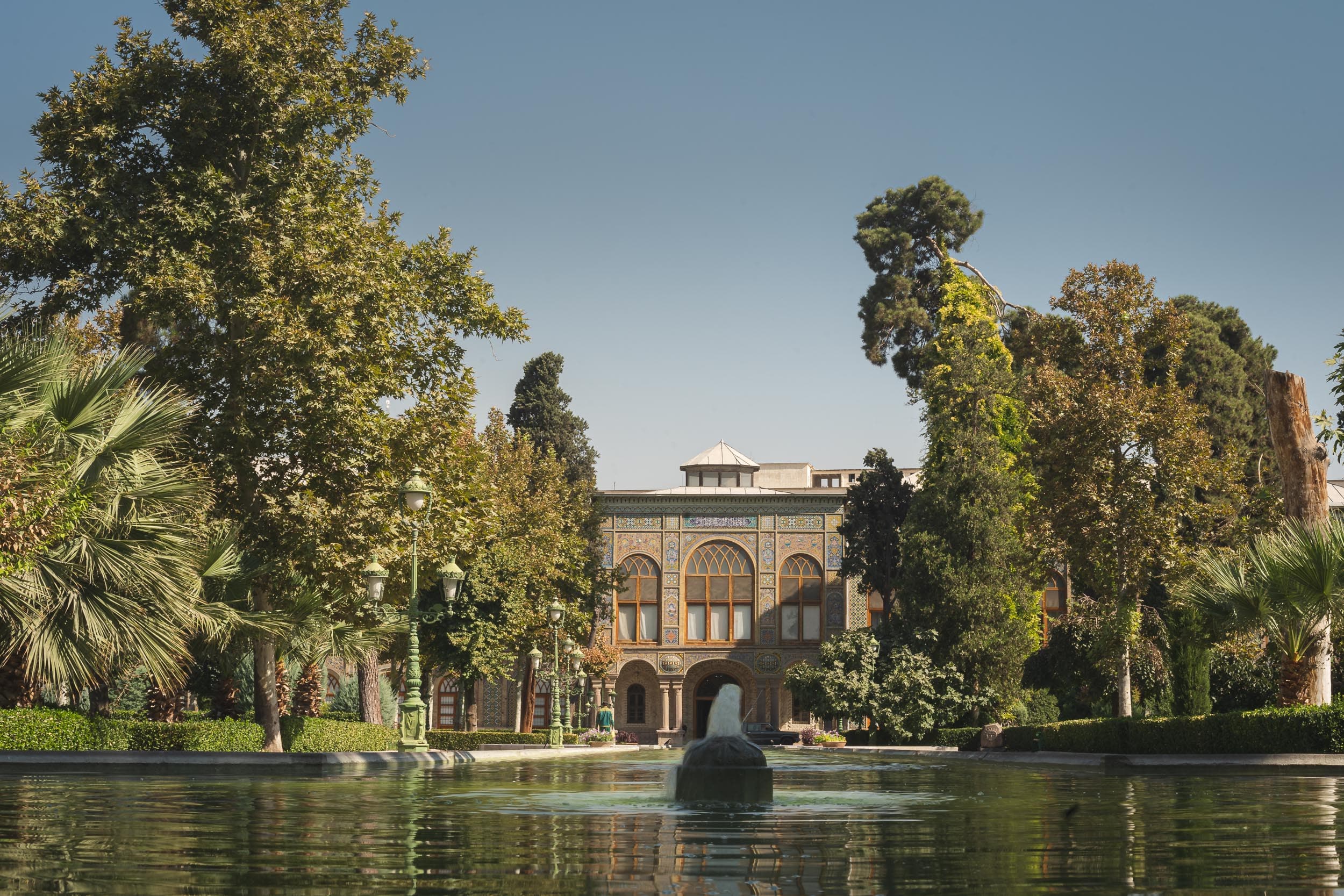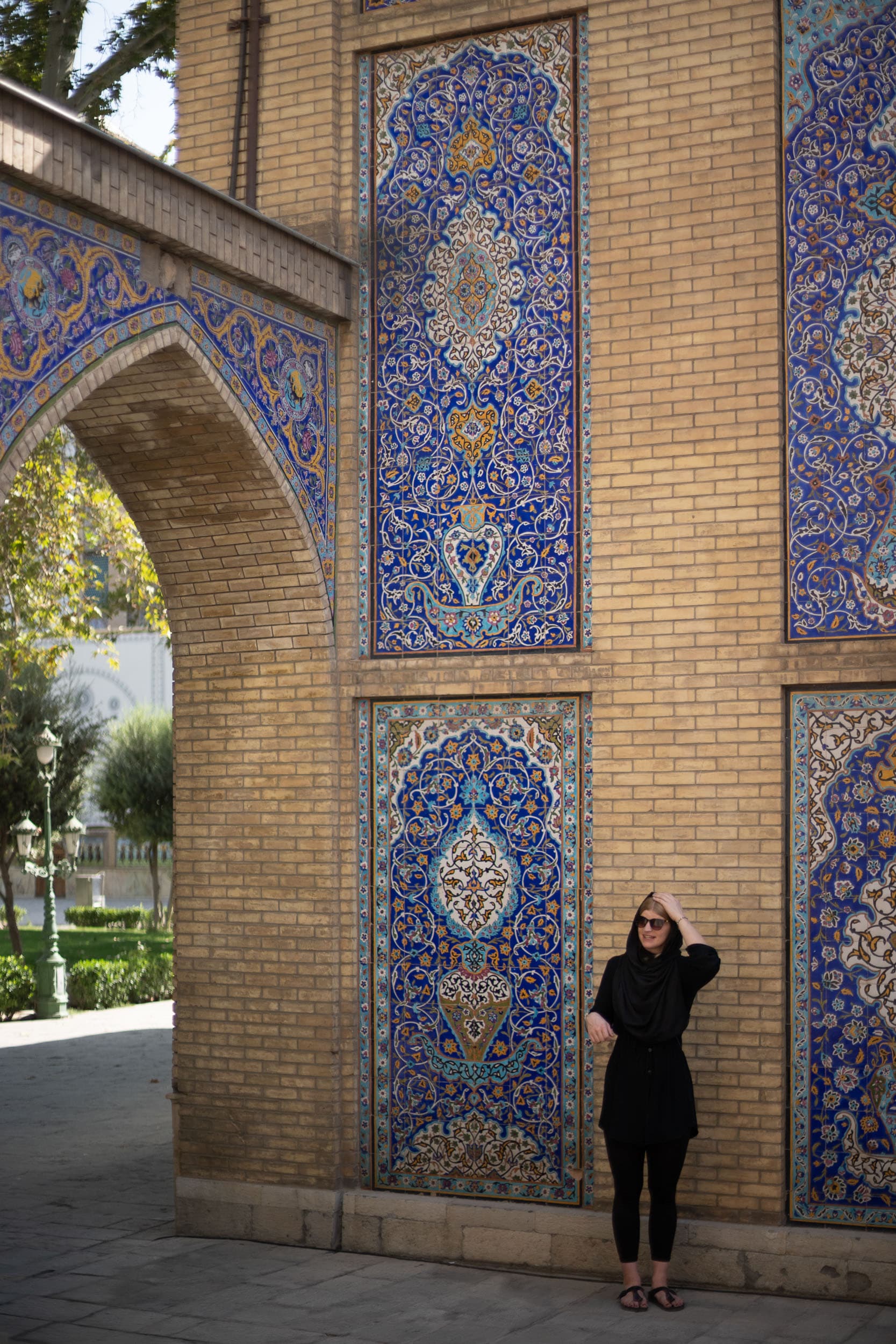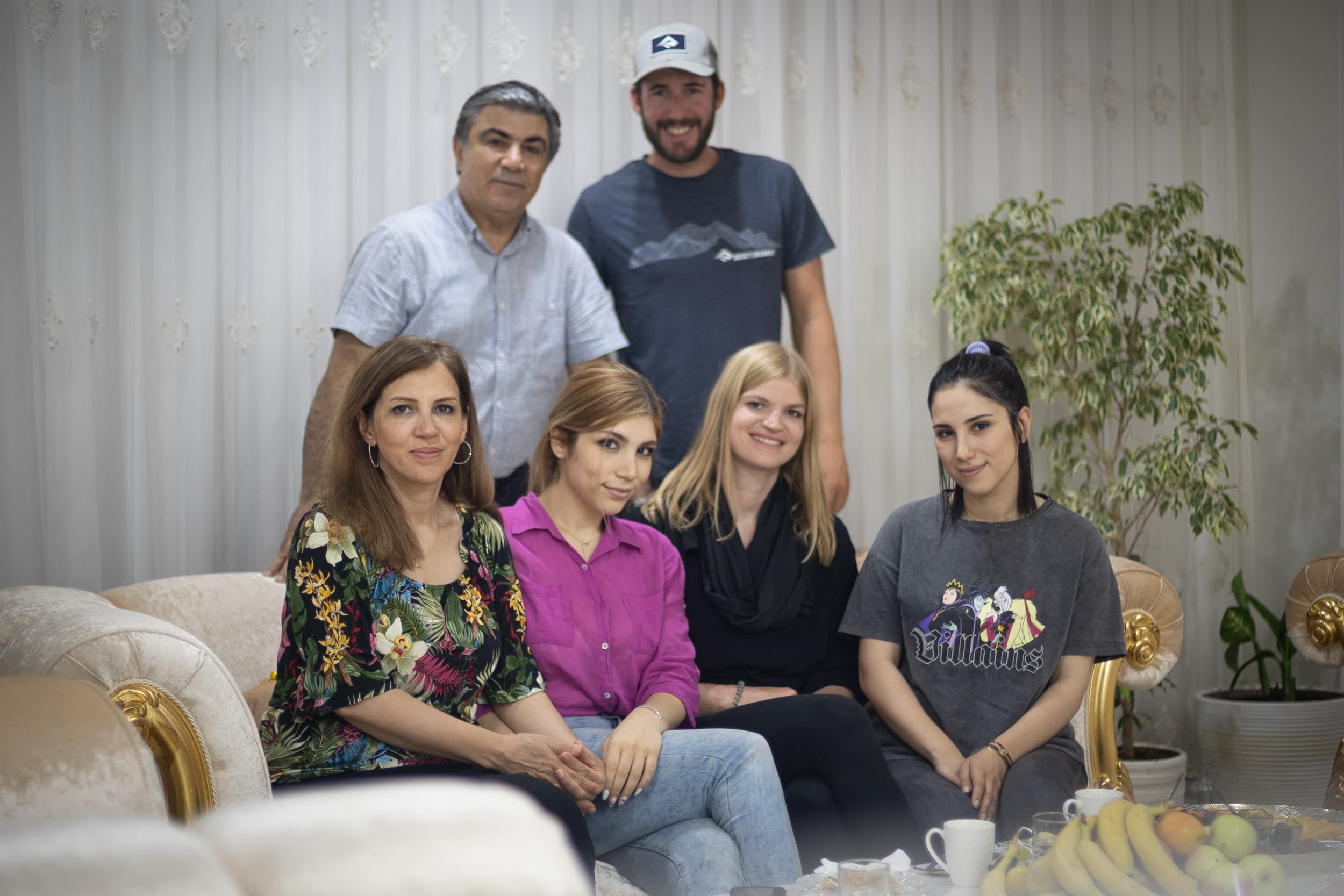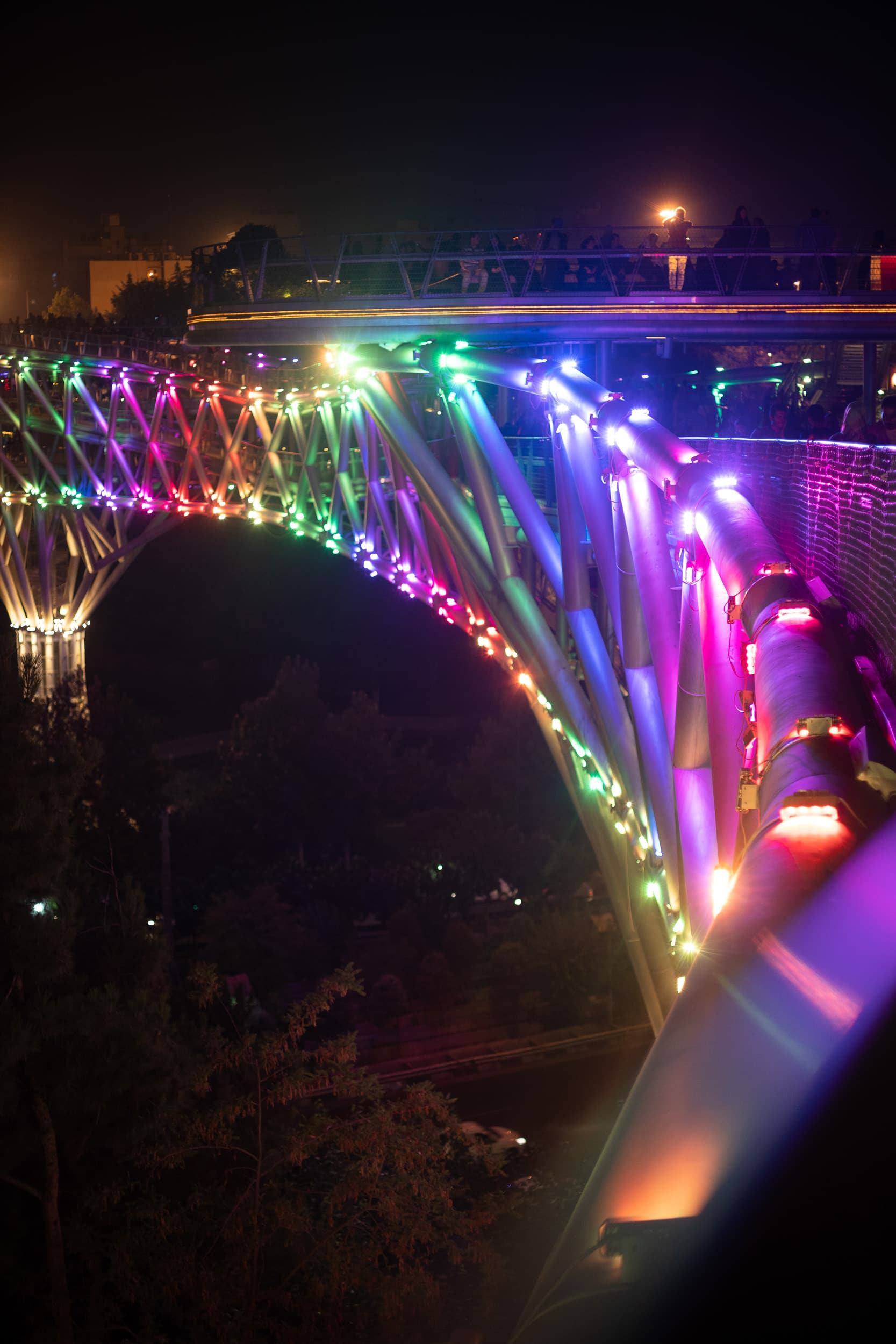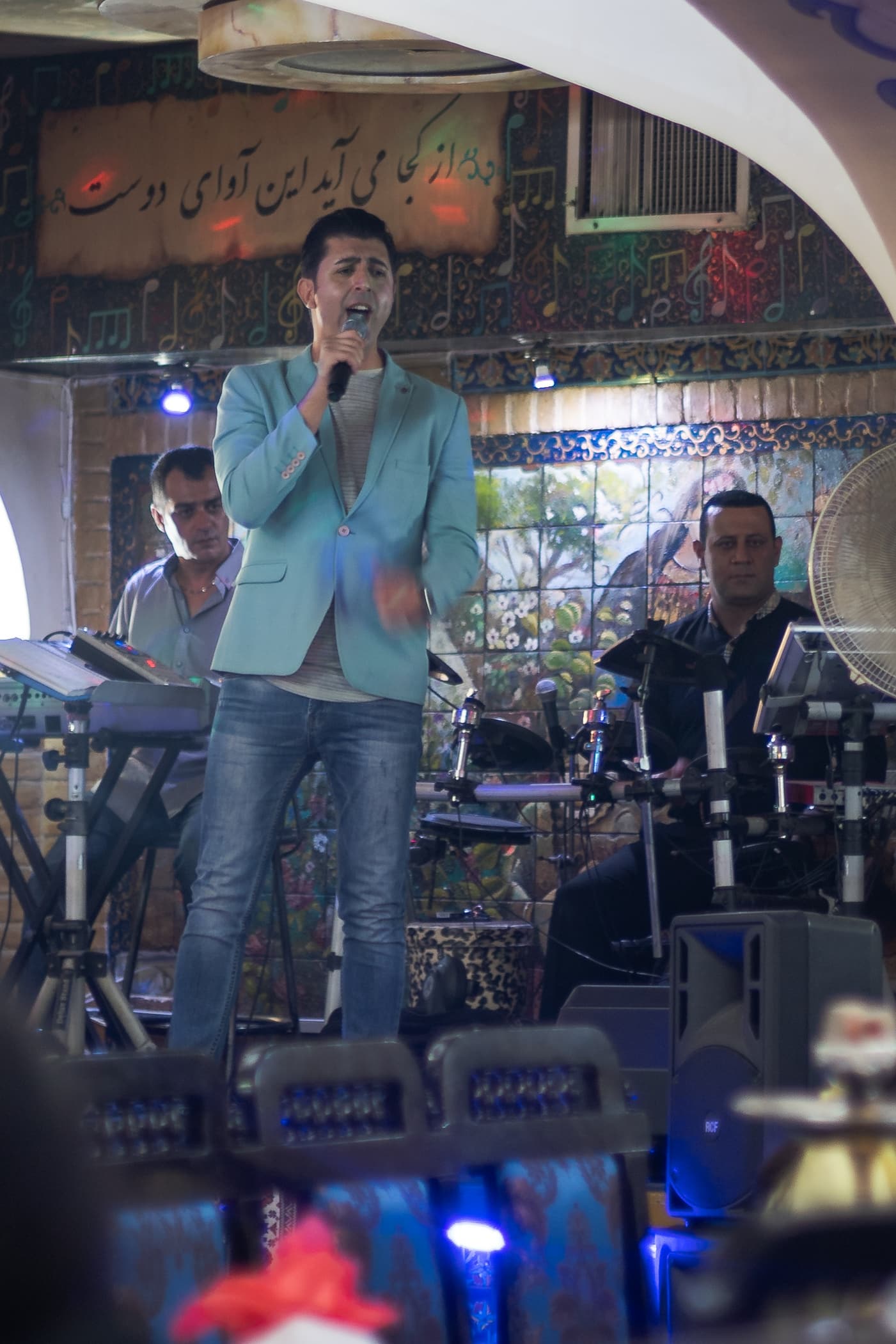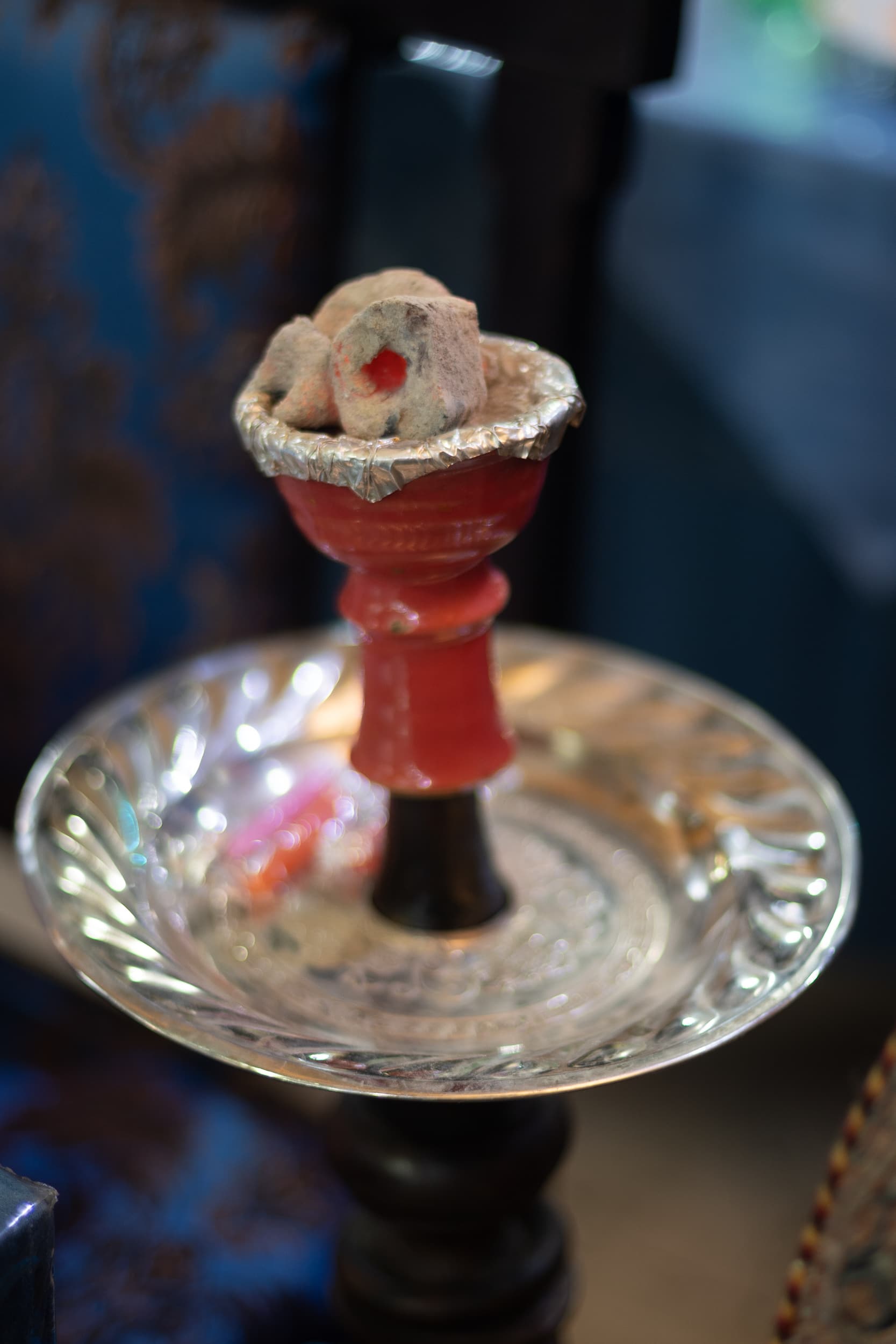 Cycling back north
Before it became almost too comfortable for us at the great Tehran Heritage Hostel, it was time to hit the road again and to explore more of the Iranian countryside. Our plan was to cycle back north, over the mountains again, and back to the Caspian sea. As Irina had only a total of 2 weeks in Iran and as I had to cycle towards Mashad before the end of my Visa, it was the best to take this route. We decided to cycle as far as we were comfortable with, to deposit my touring bike at someone's home, and then heading back to Tehran by train to have a few more days in the capital before Irina had her flight back.
Although Irina had a much lighter bike and only 2 small panniers, it was quite a tough start for her with a few days of climbing ahead. During the last weeks or even months, I was able to get used to the heat around 40 or more degrees. For Irina instead, in terms of cycling and temperatures, there was no acclimatization for her. So I was pretty amazed at how well she did!
We started with a 60km, then an 80km and finally a 100km day with a total of 3000m of climbing in these 3 days. As soon as we cycled out of Tehran, from far away we could see a thick cloud of smog hanging over the city and finally, we could see the blue sky again. During these 3 days we cycled along "highway 79", up to Firuzkuh at 2000m and then down again to Qaem-schahr at 60m above sea level. As we crossed the mountains, the landscape changed again, but this time the other way around, from dry and brown to green and humid.
Halfway down to Qaem-schahr, Amir, a young cyclist joined us on the way to his hometown, where we could stay with him and his family. It wasn't a coincidence that we met on the road. Amir followed my journey on Instagram for a long time and we have been in contact since I was in Azerbaijan. He asked me to meet if my route leads through his city. We had 2 fun days together and it was nice to have some great talks with someone who loved the same as I did, cycling.
When we left Qaem-schahr to cycle a short 30km's to Sari, the capital of the Province of Māzandarān, we already had another host for the night, how could it have been different. One more time, we got invited for lunch as we stopped at a small roadside restaurant. The same couple then invited us to stay with them in Sari. Amir also joined us on this short 30km stretch and as Amir typed in the phone number of our new Host to talk with him in Farsi, he started laughing out loud. He had already saved the same number under his contacts, our Host was Amir's teacher during his studies. What a great coincidence it was!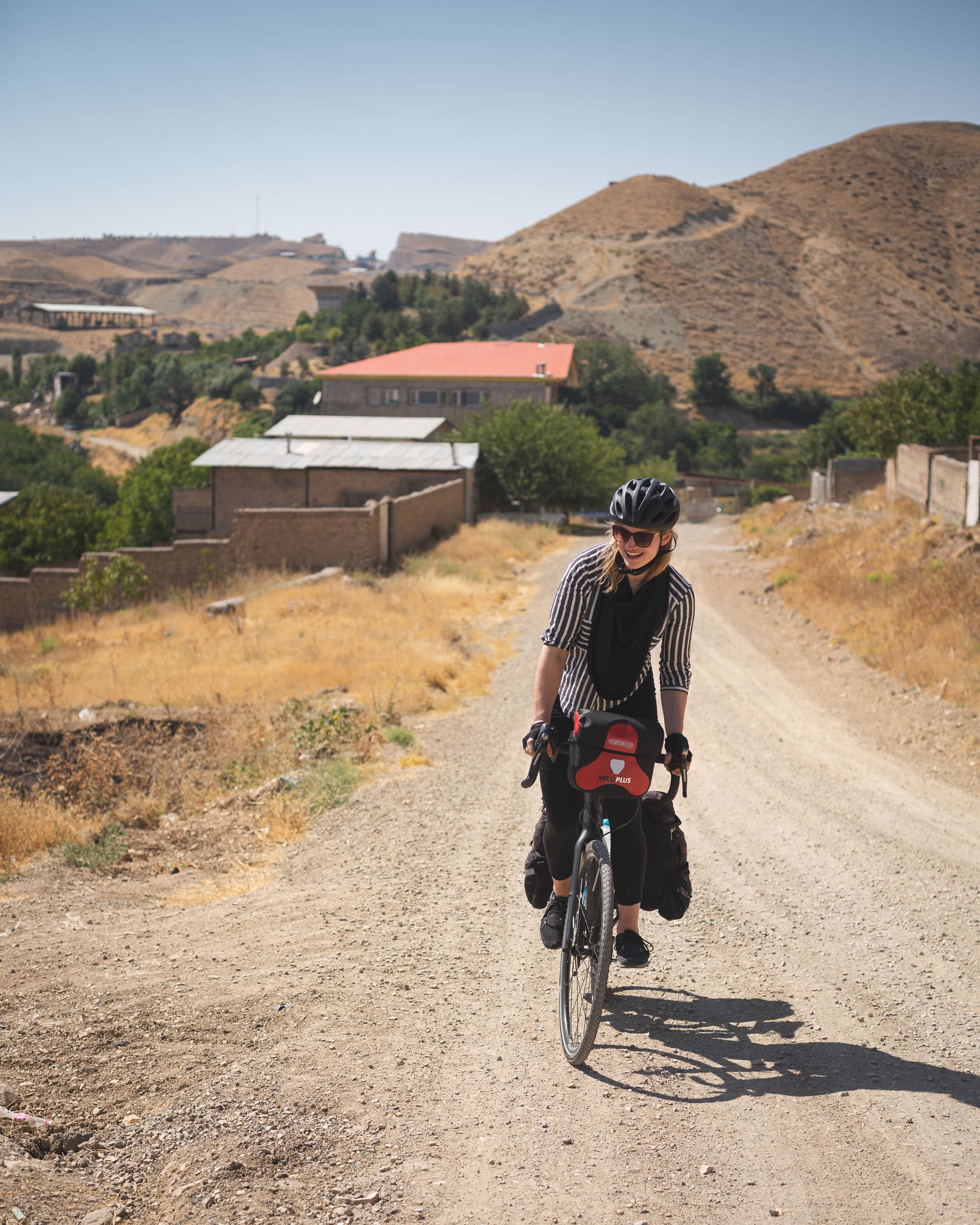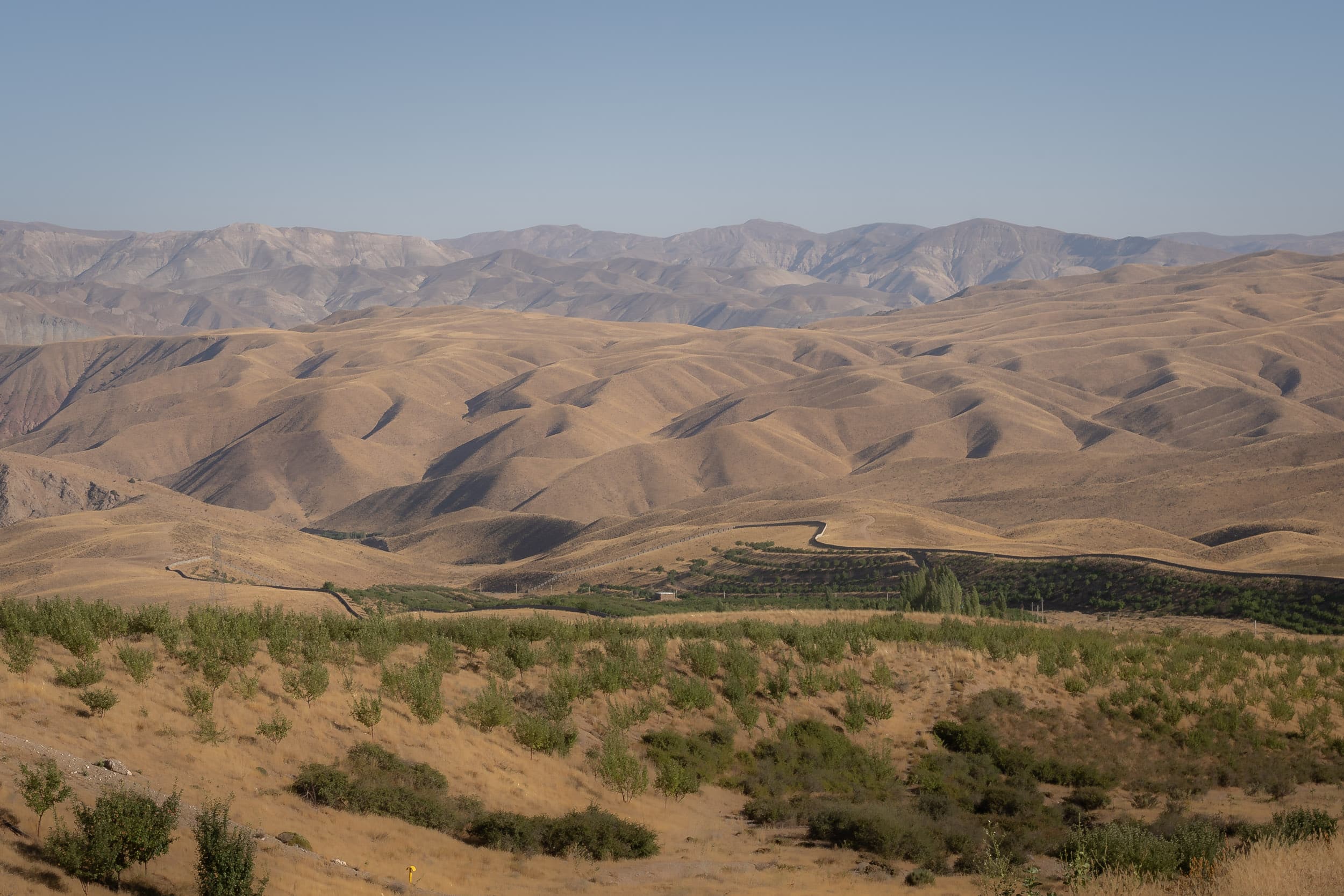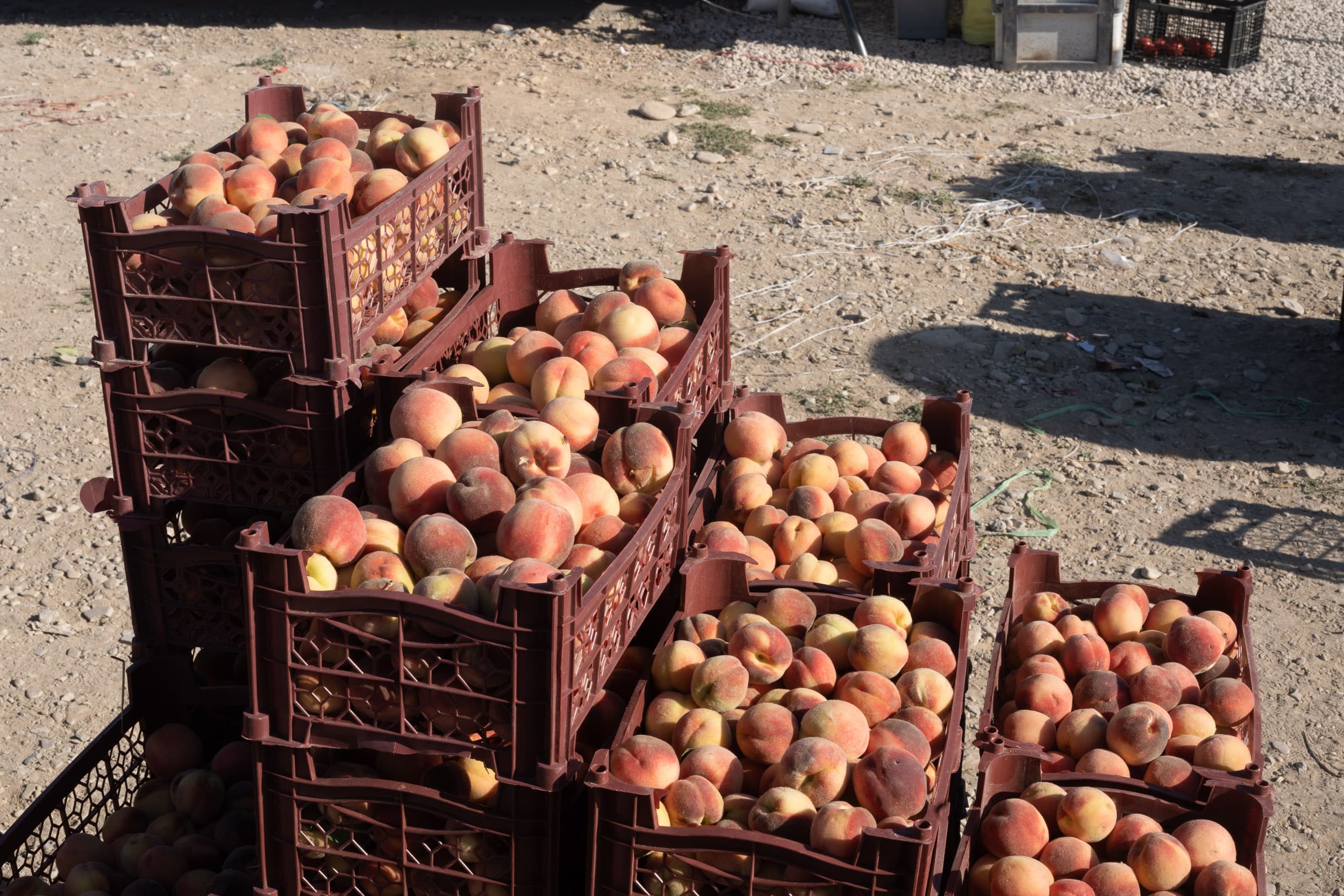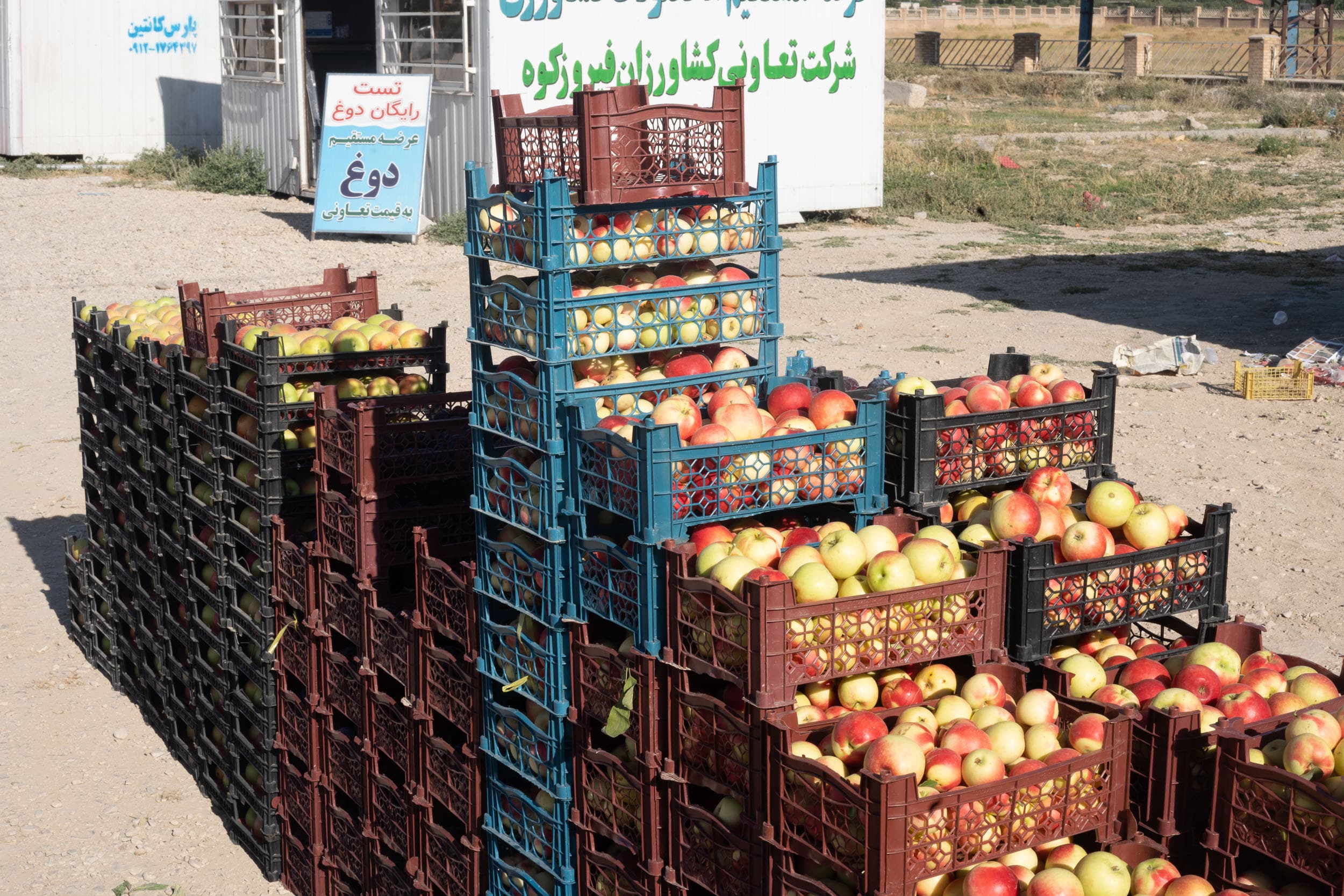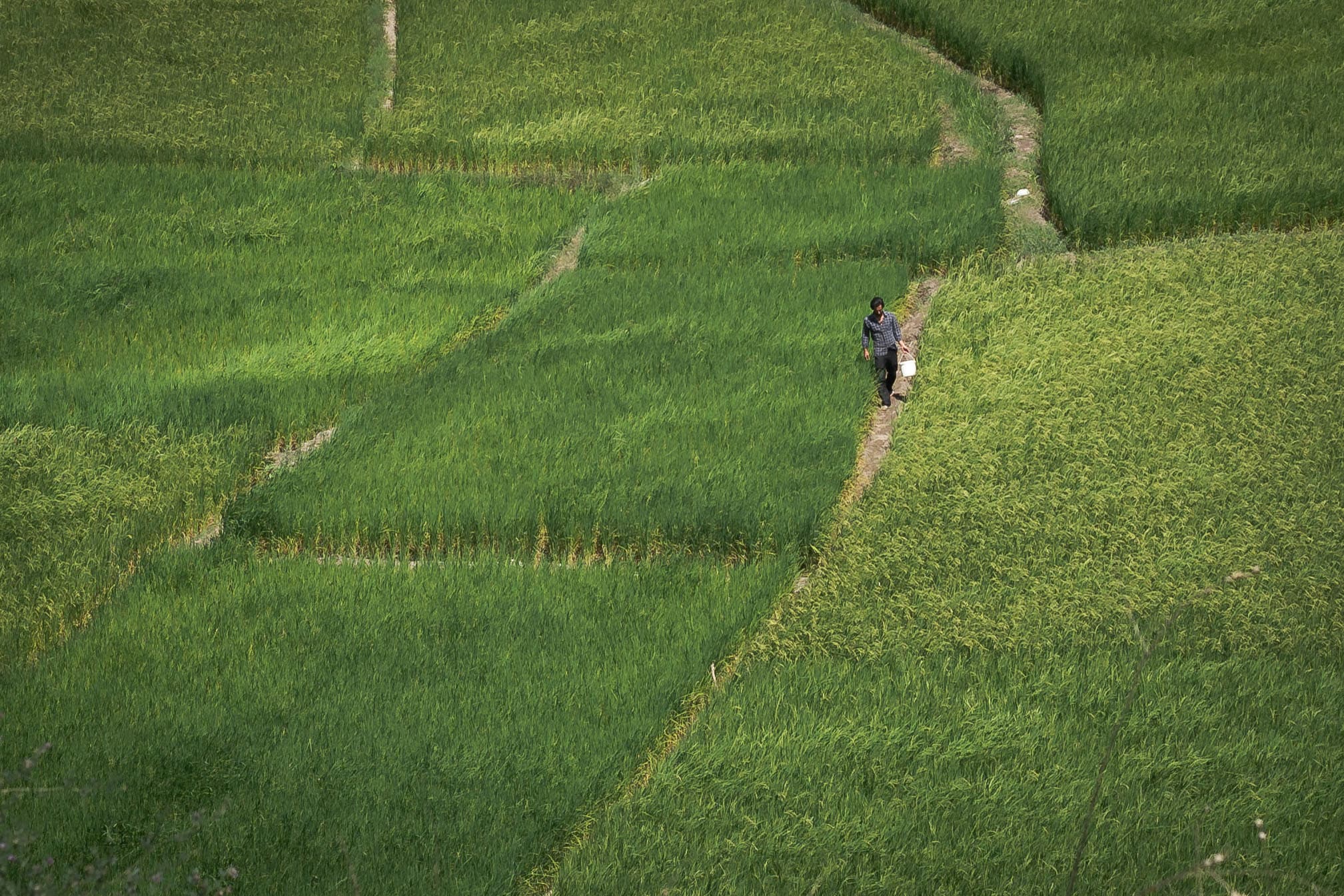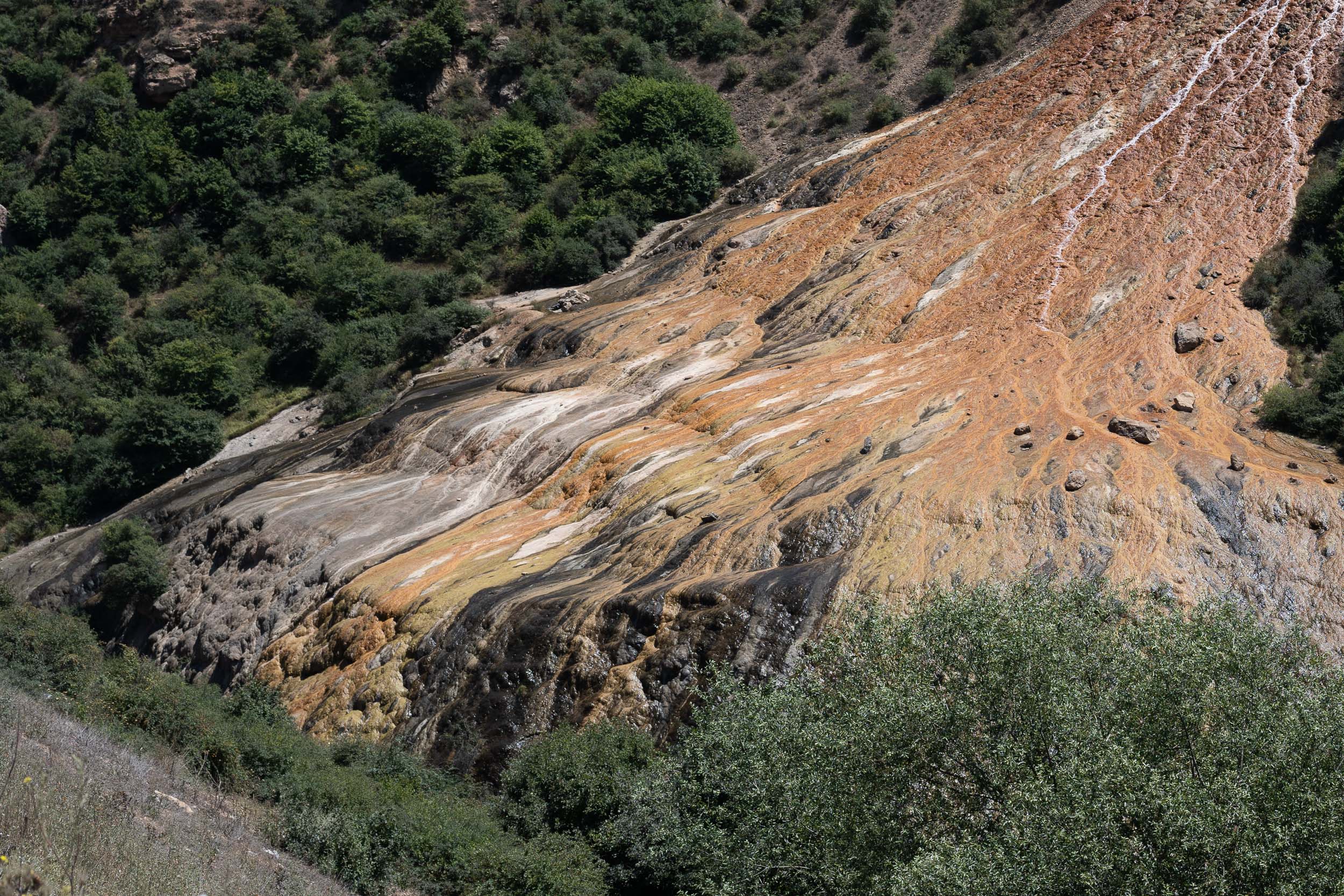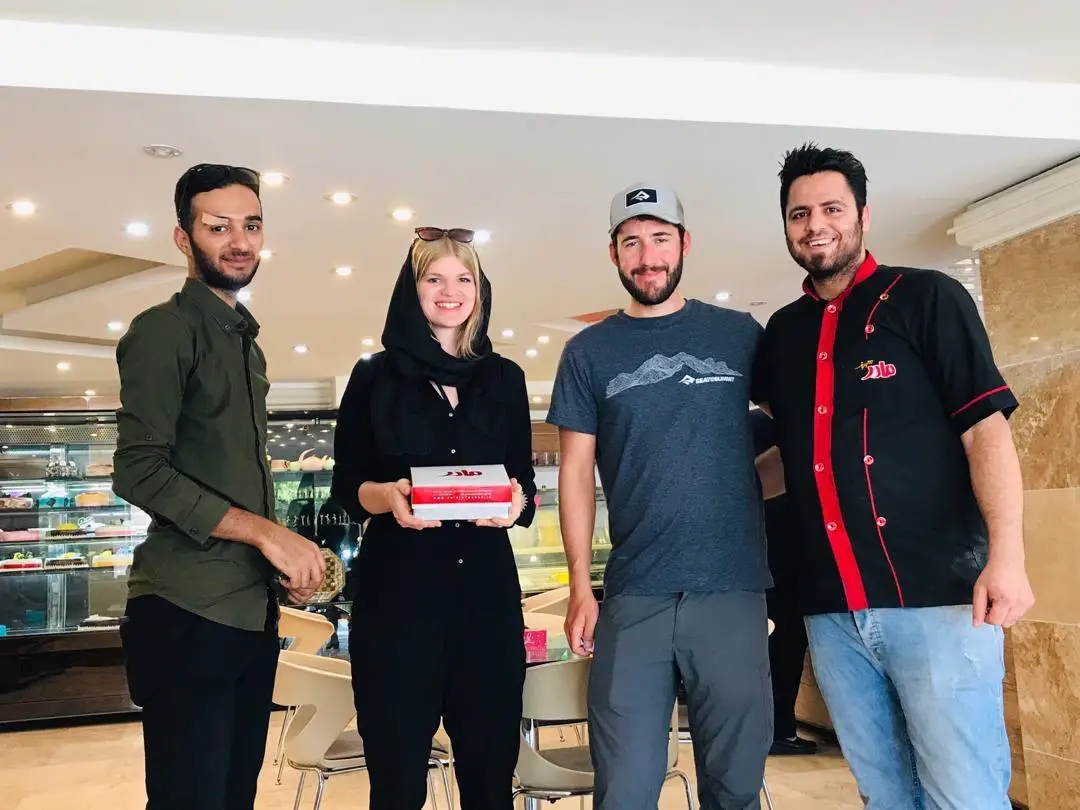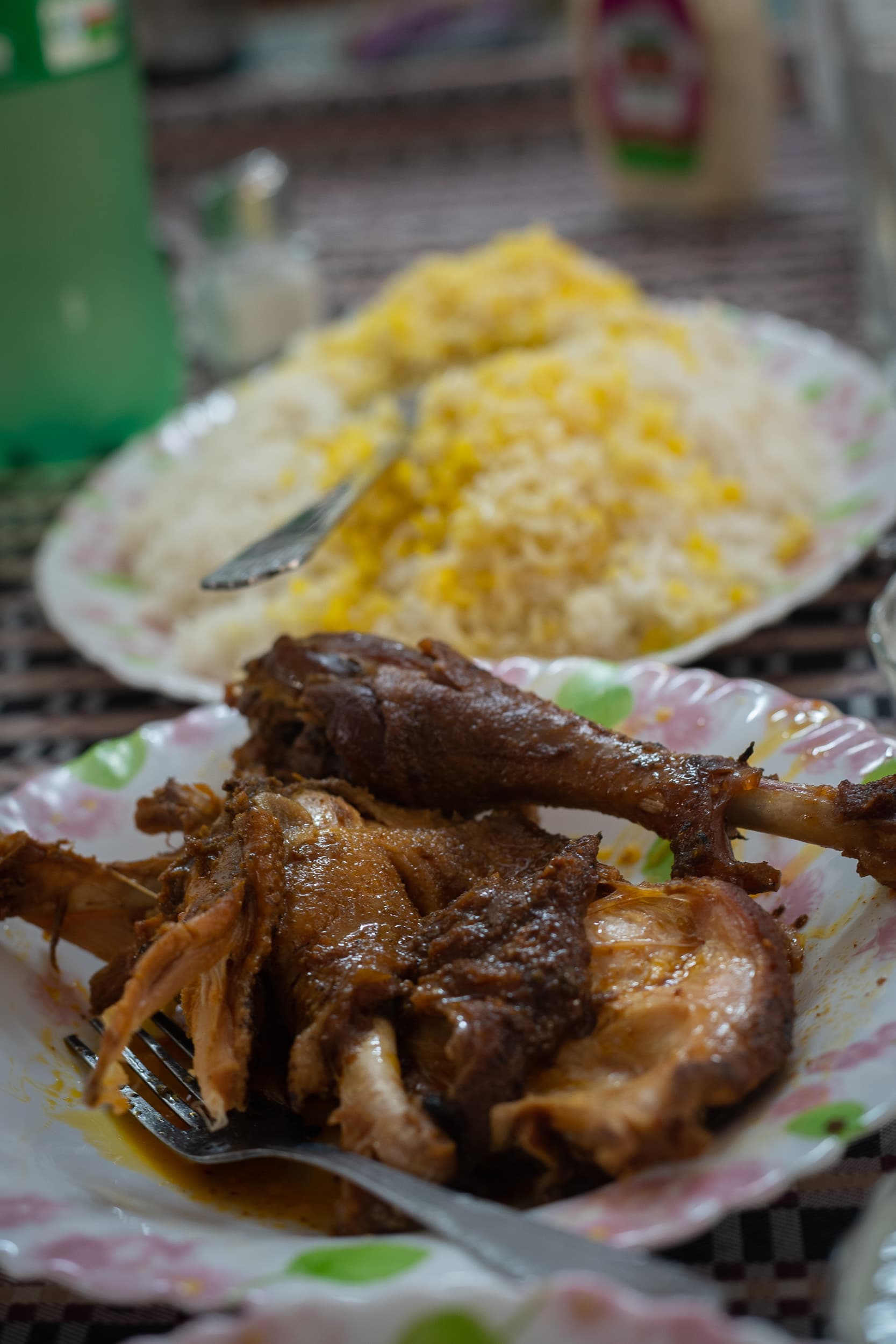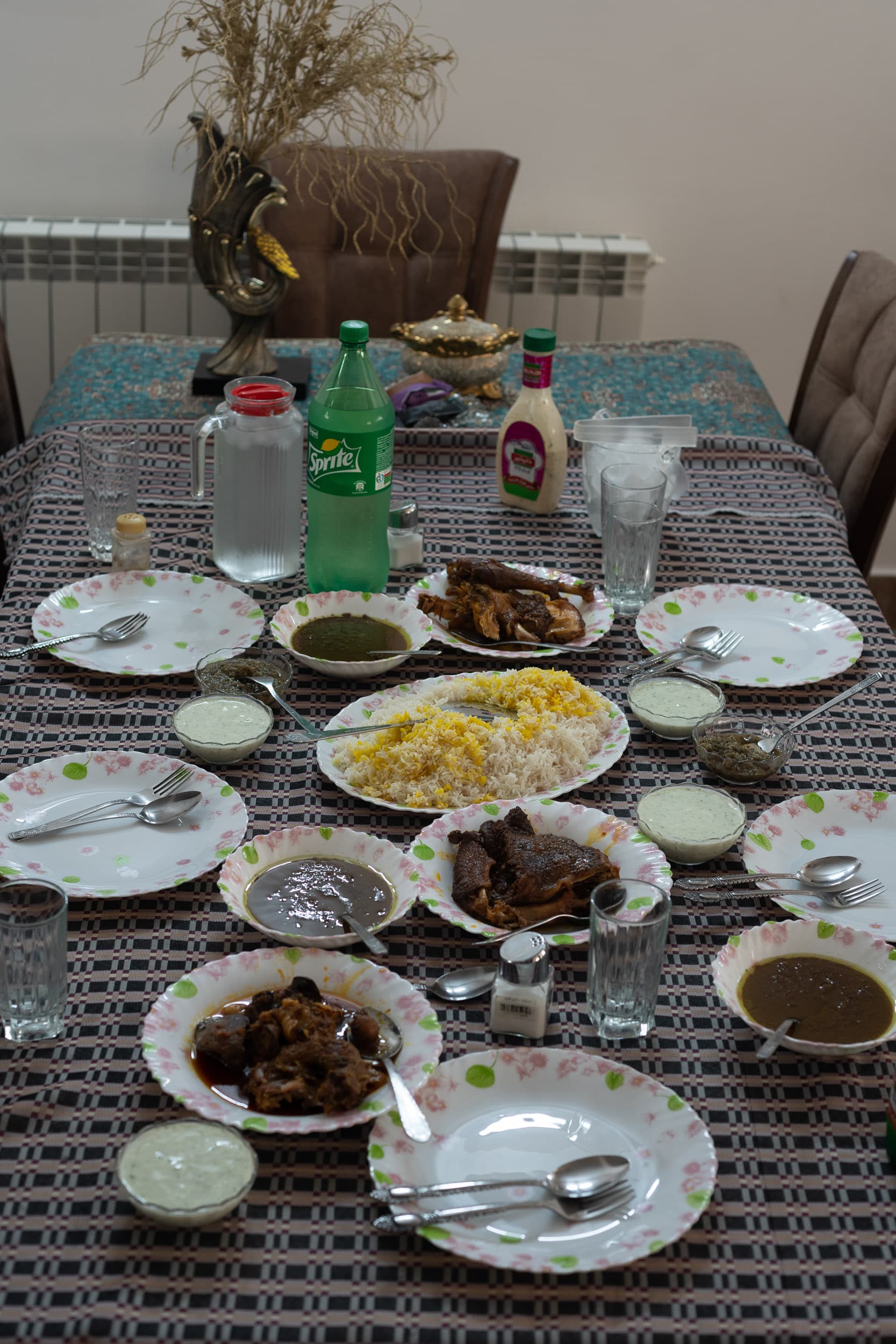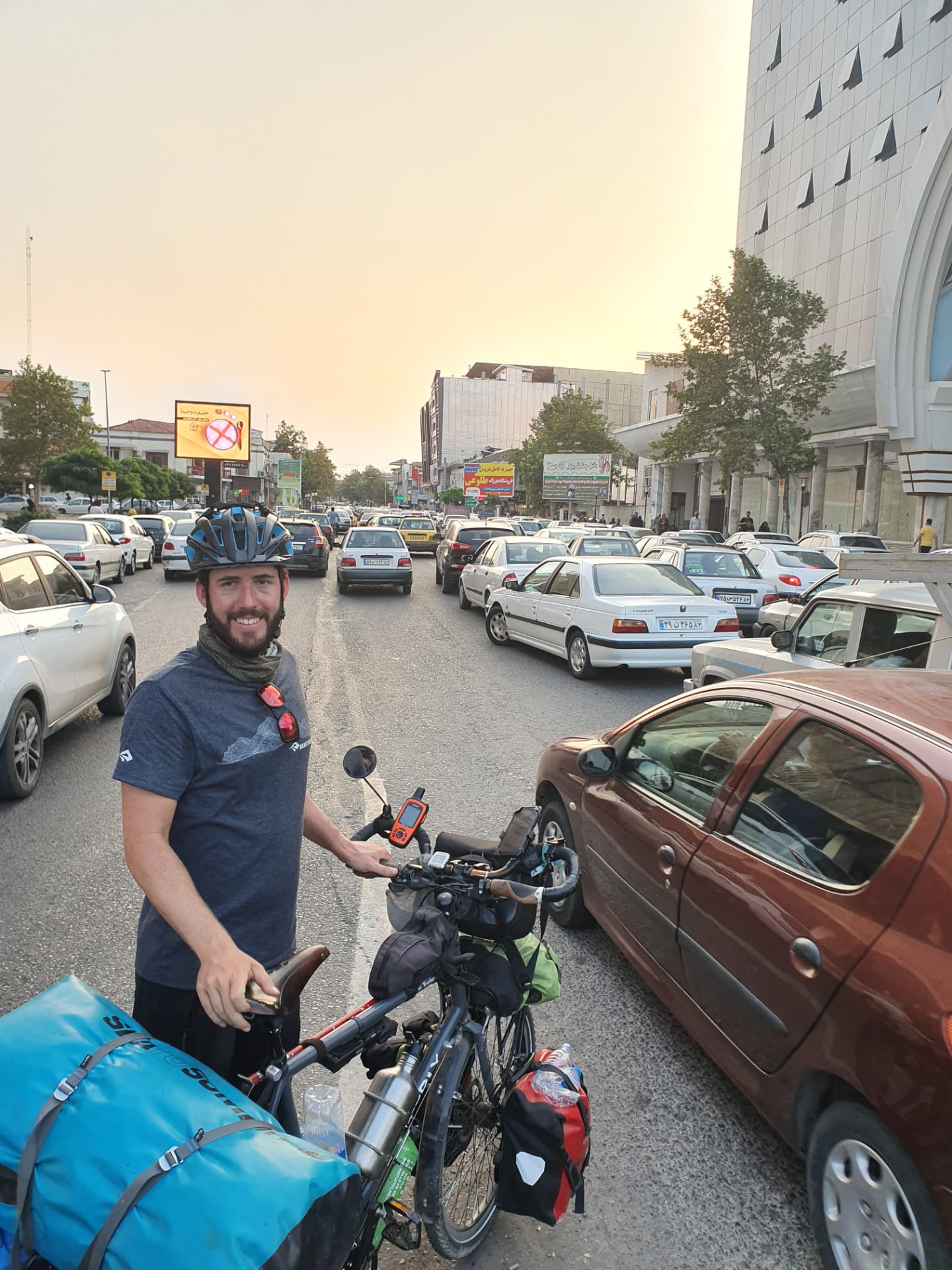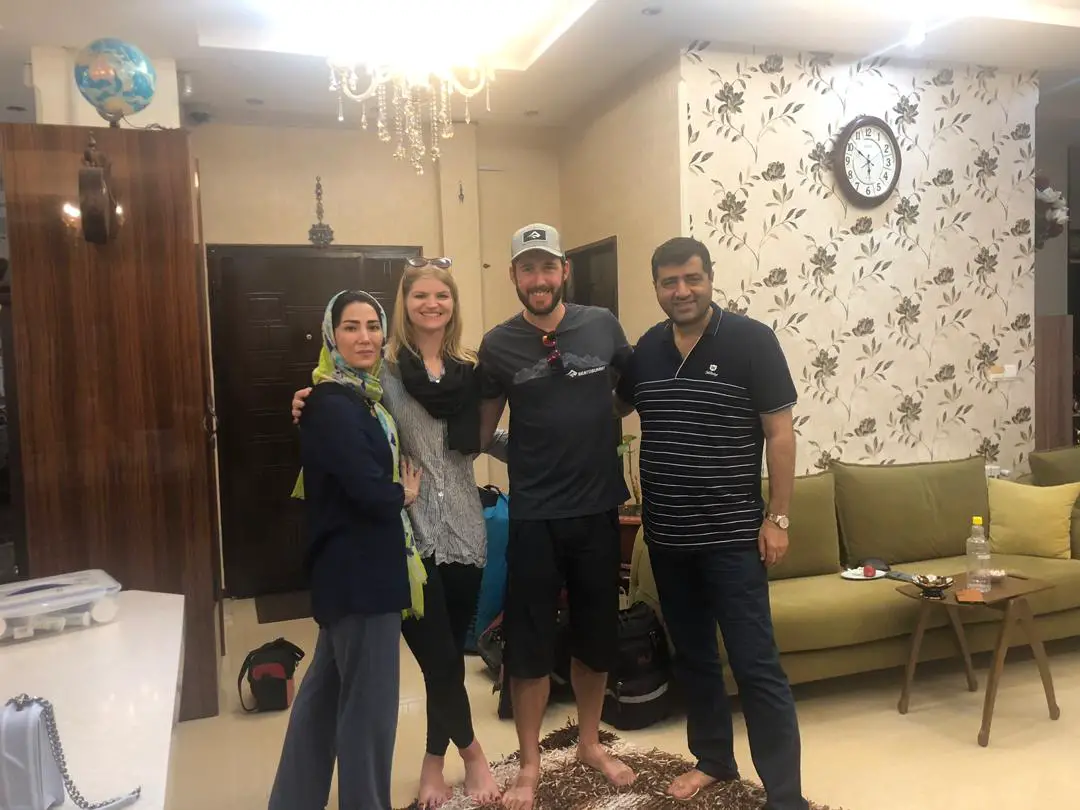 Our next destination was the city of Beschahr, where we were awaited by Davood, another Warmshowers.org-host, even though we arrived quite late in the evening. The next days we could join them going to a birthday party of a new-born baby, which was a loud, musical and super interesting experience. Another highlight was the delicious food Arezoo, Davood's wife cooked for us. With Davood I was able to talk about Photography, as he was a photographer too. What he was doing next to the photography, was no less interesting, however. Together with a friend, he was running a wood-turnery, where they produced persian tombaks, a kind of drum they were selling in Tehran and other cities.
As we stayed multiple days with Davood and the family, Behschahr was also the end of cycling together with Irina. Davood let me deposit my bike and all the luggage at his house, and Irina and I went back to Tehran.
In the capital we had 2 more days before Irina had to take her flight back to Switzerland. As a crowning happening, we had another planned appointment together with Amir from Karadsch and his girlfriend. Initially, they wanted to visit us for a day in Tehran, but since Amir's mother Zahra had her birthday on the same day, we decided to take a train to Karadsch to surprise her. Amir did all the planning and as we all showed up behind the main door, Zahra was blissfully happy, also because this time I had Irina with me.
We had a last great evening together with lots of laughs, food and a birthday cake, before we took a taxi back to Tehran. Finally, the time had come to also say goodbye to my girlfriend again. Saying goodbye to her after two weeks full of experiences wasn't easy,  but it never was. We would see each other again, it was only a matter of time and a few pedal strokes away.
After her departure, I went back to Behschahr by train on the same day. There I was able to spend one more day with these great persons and hosts, doing an excursion to the nearby mountains and enjoying some more and great food together.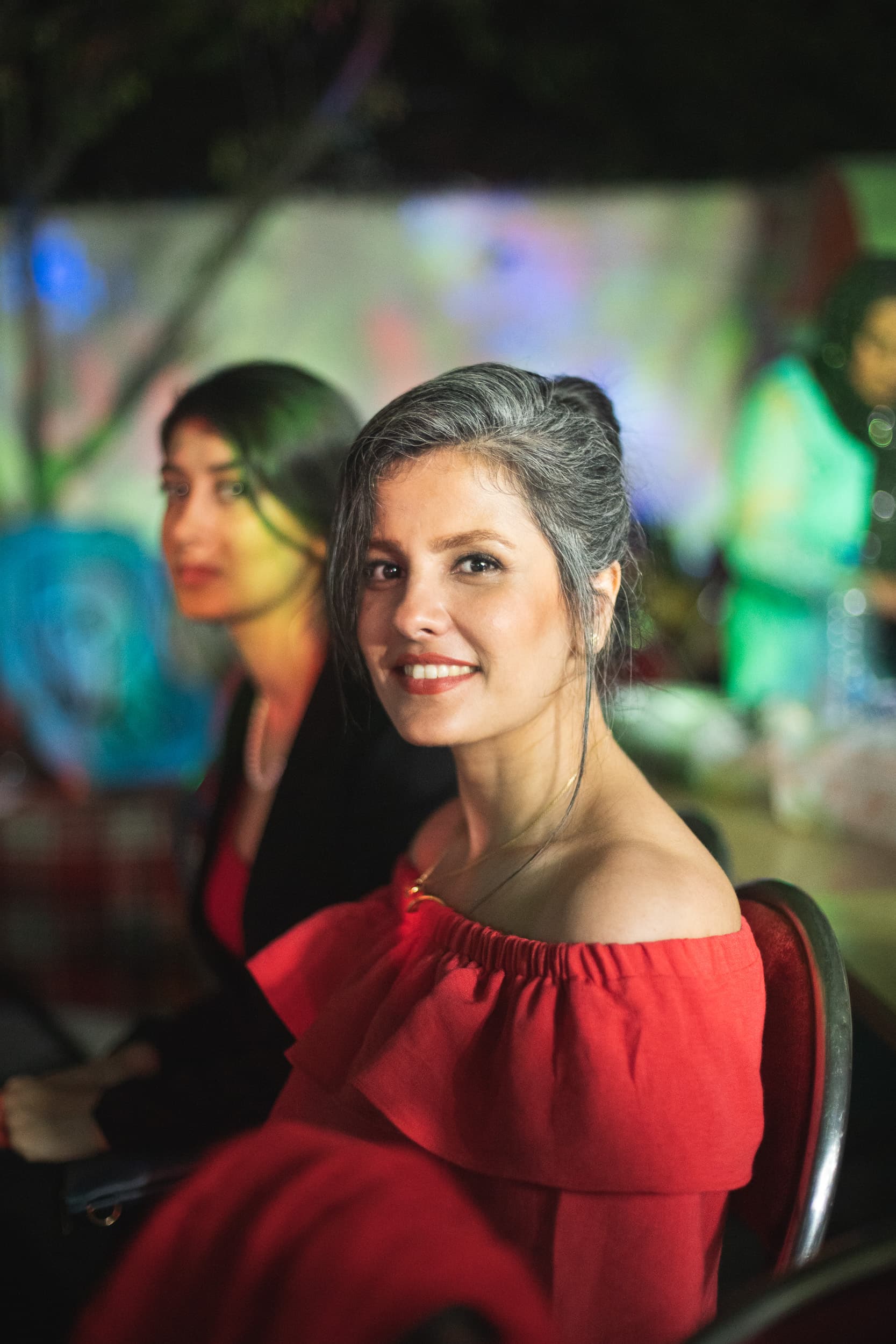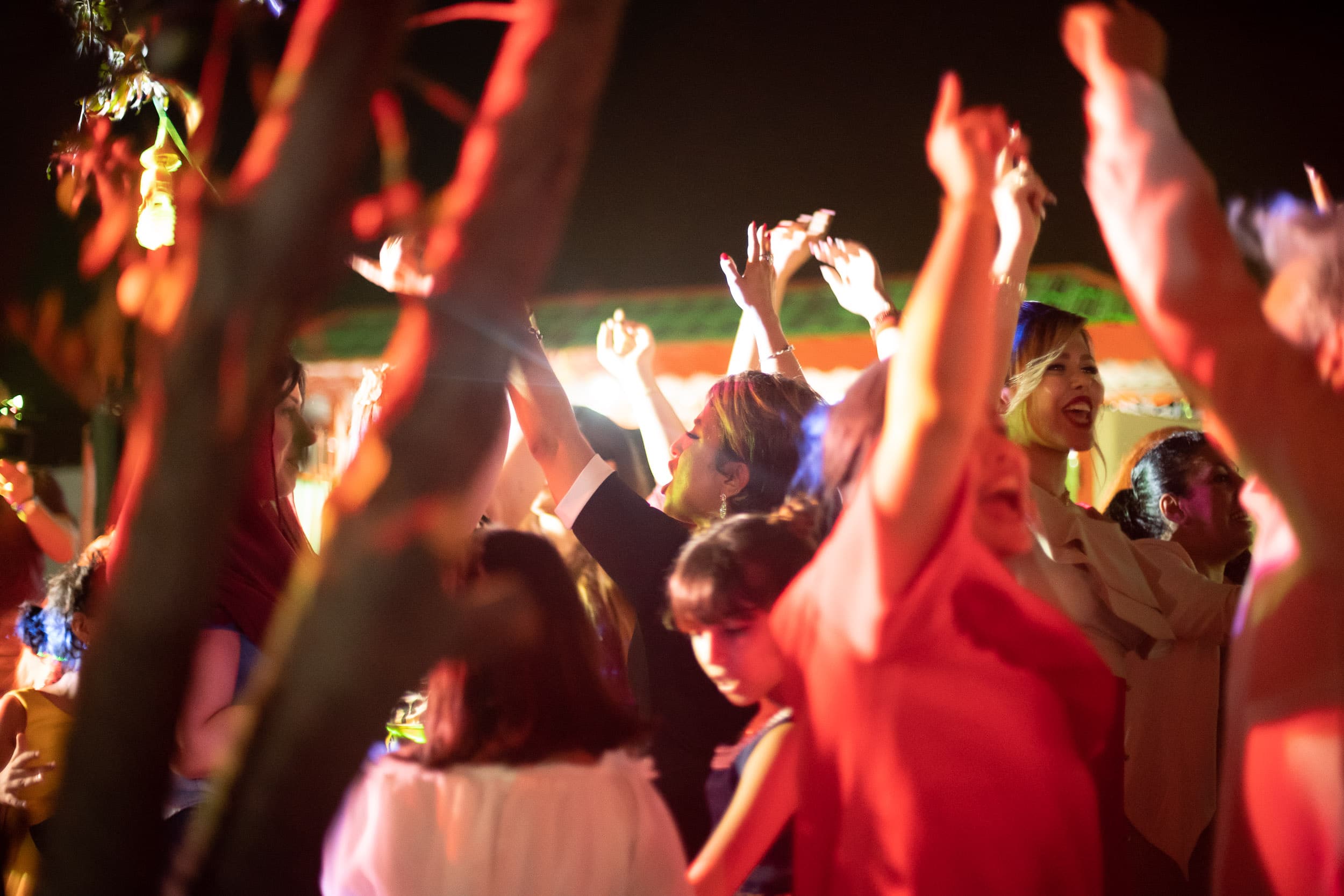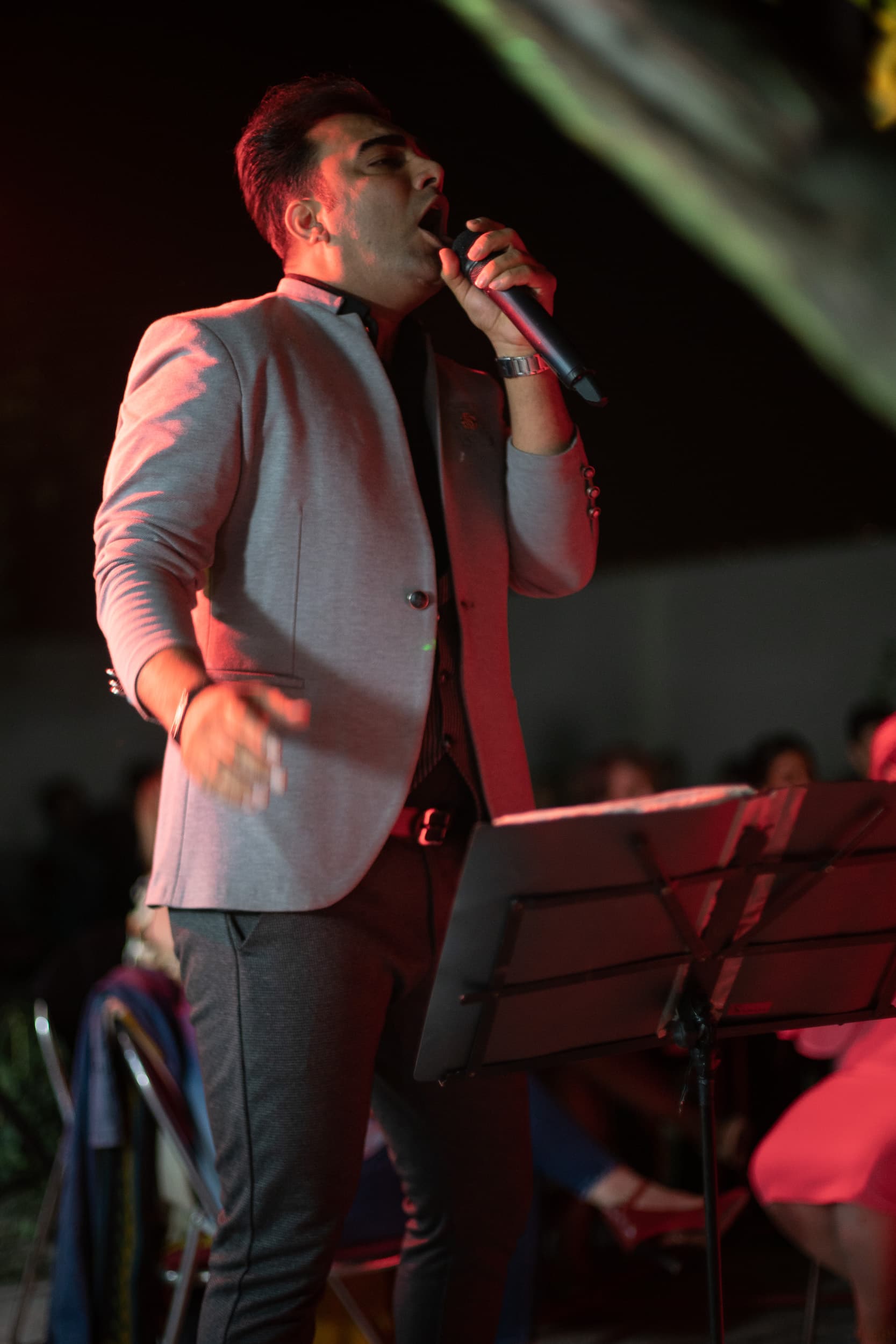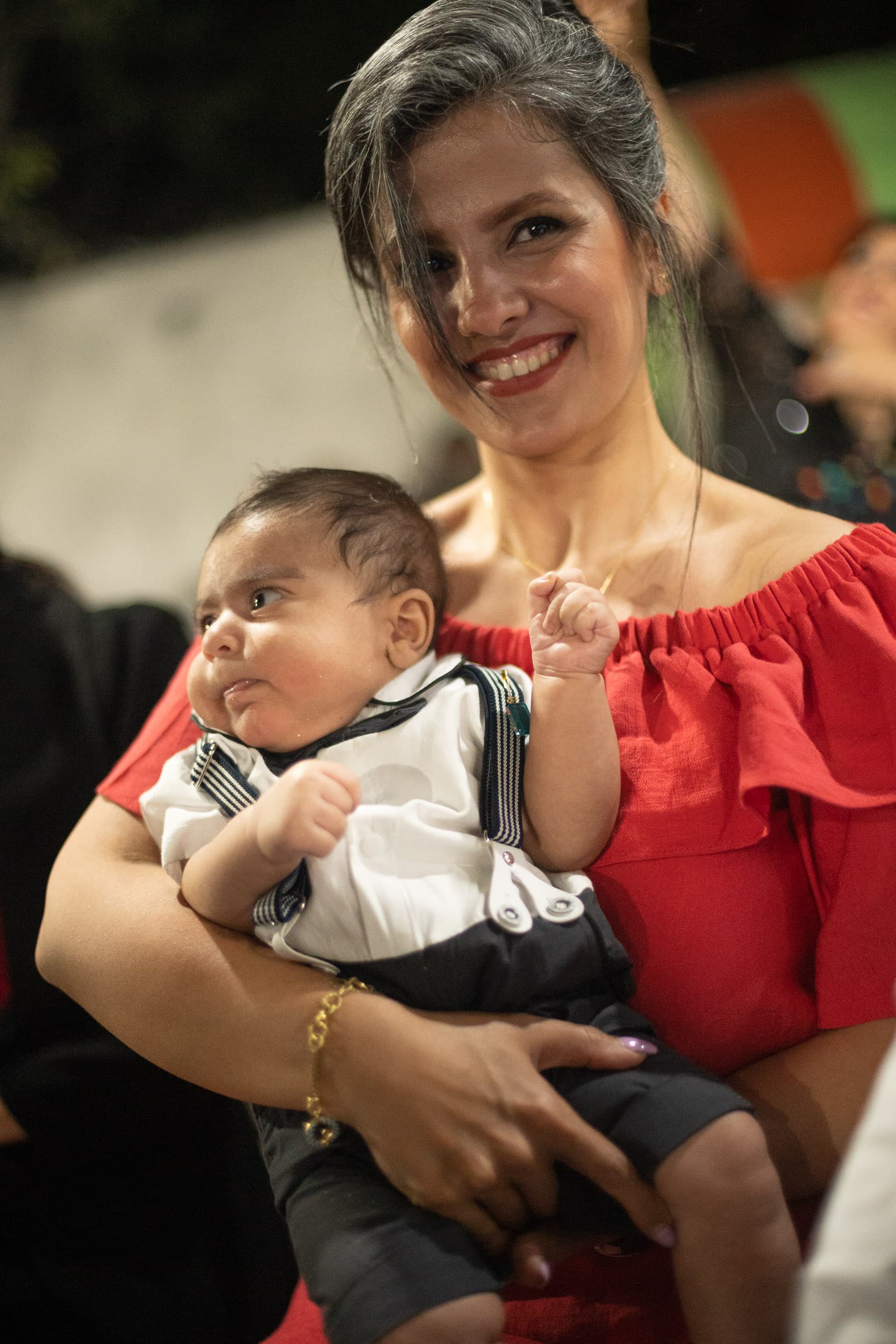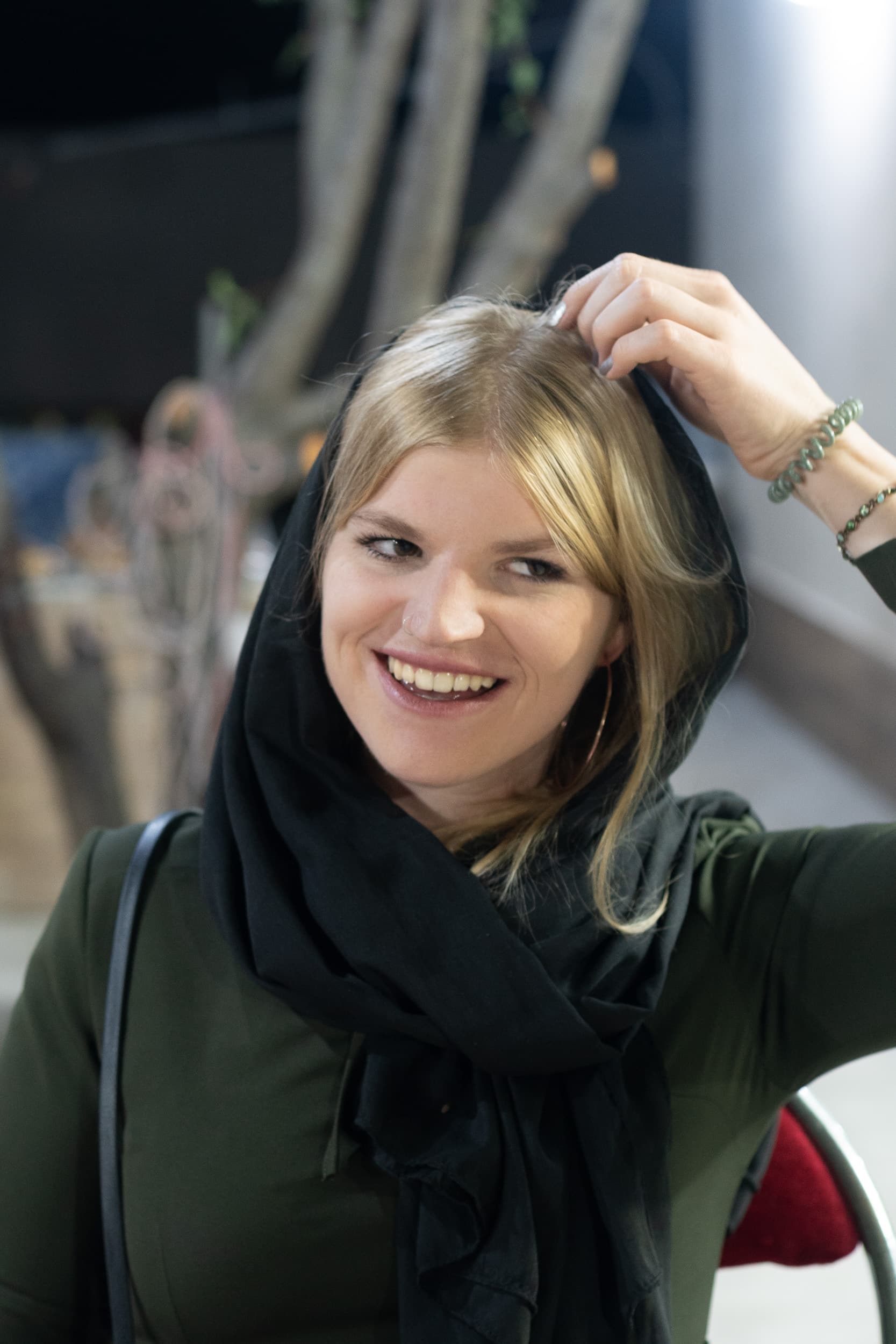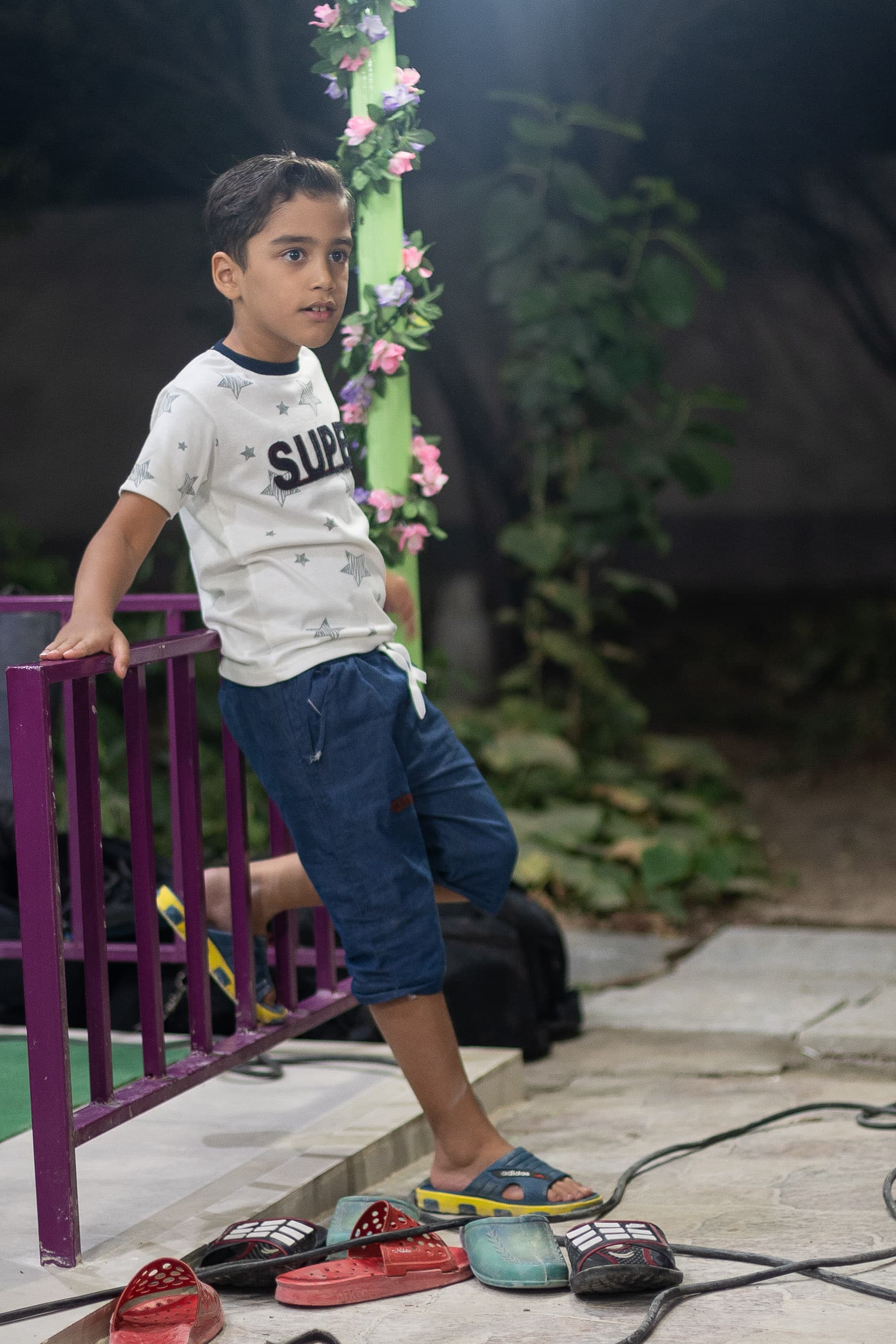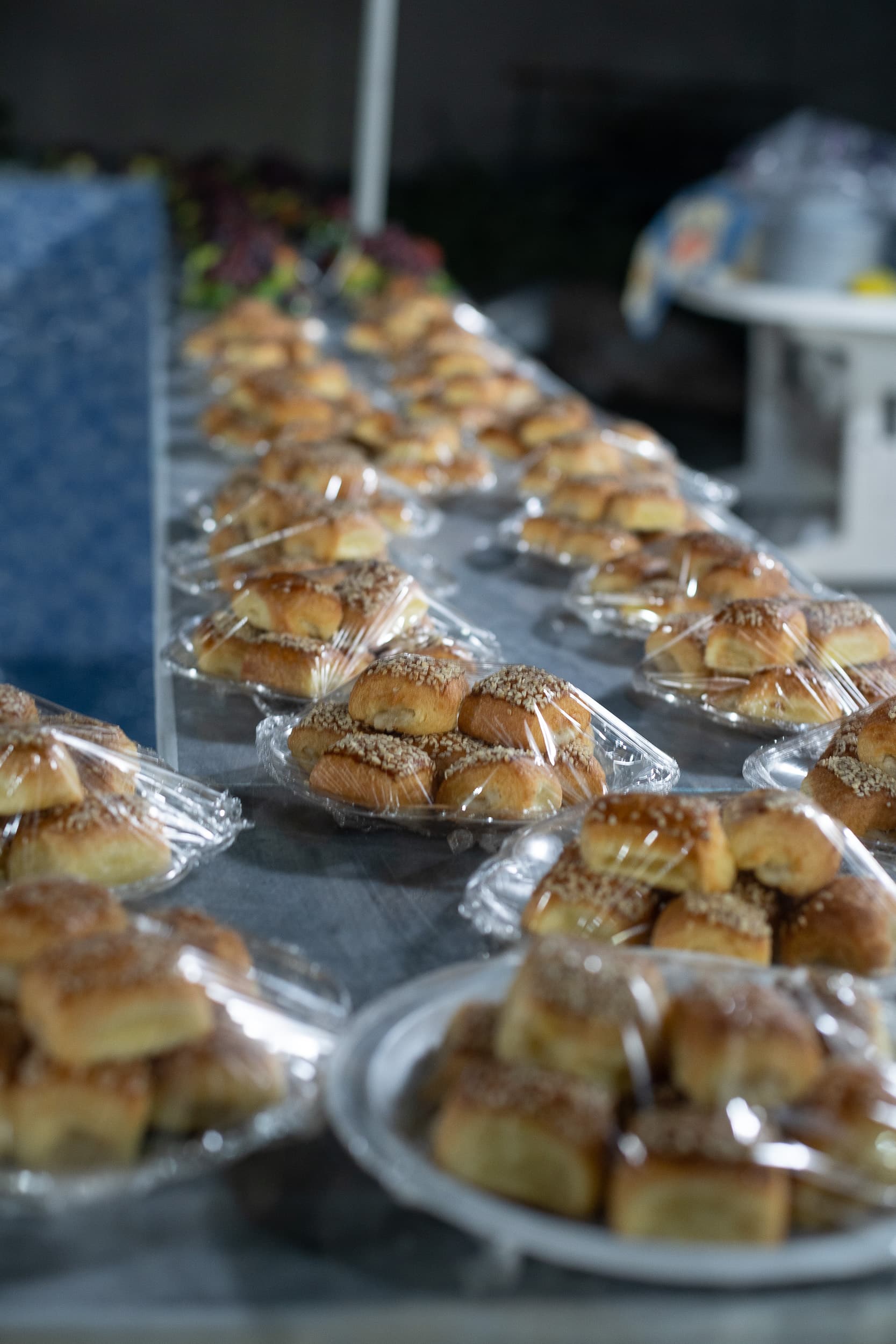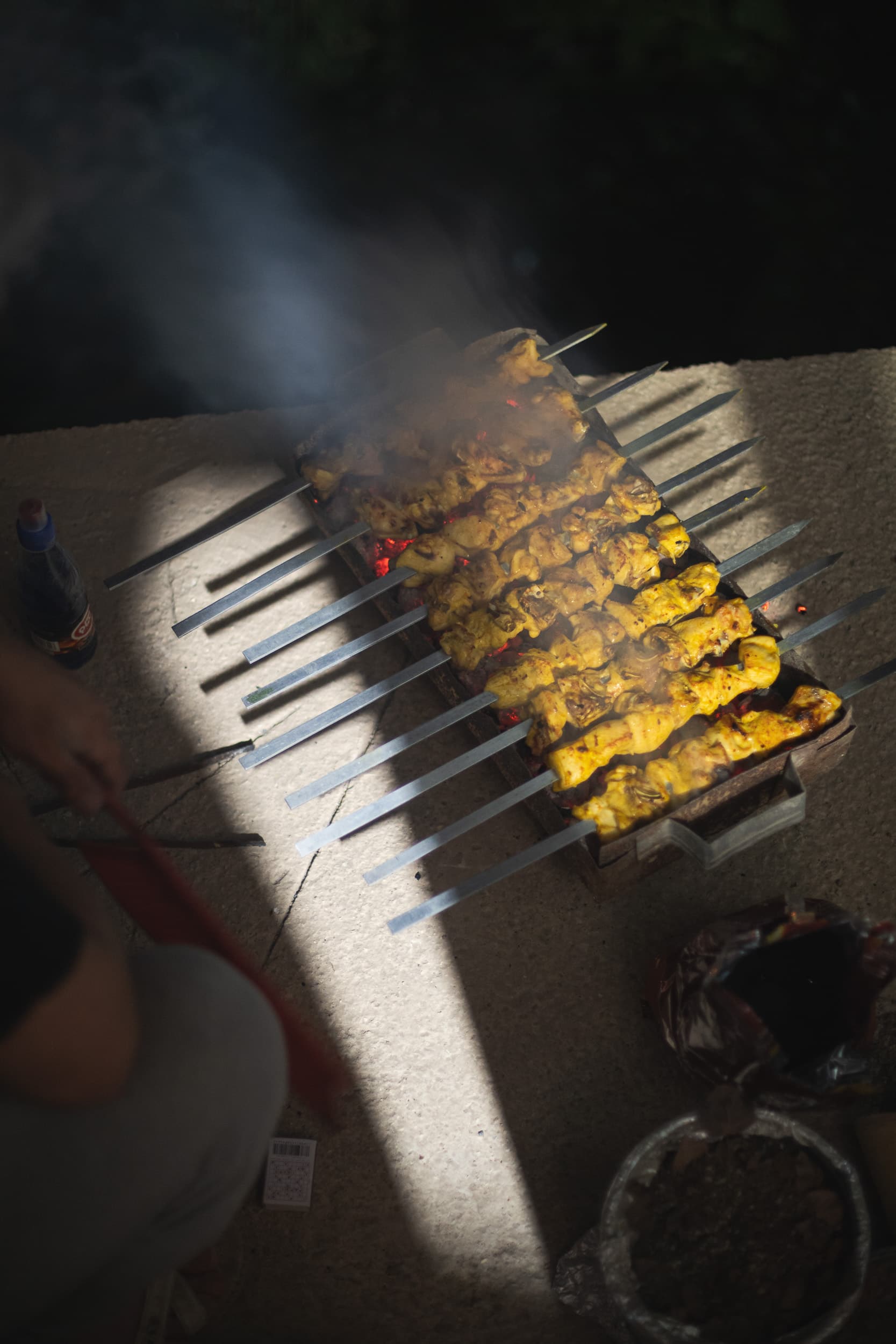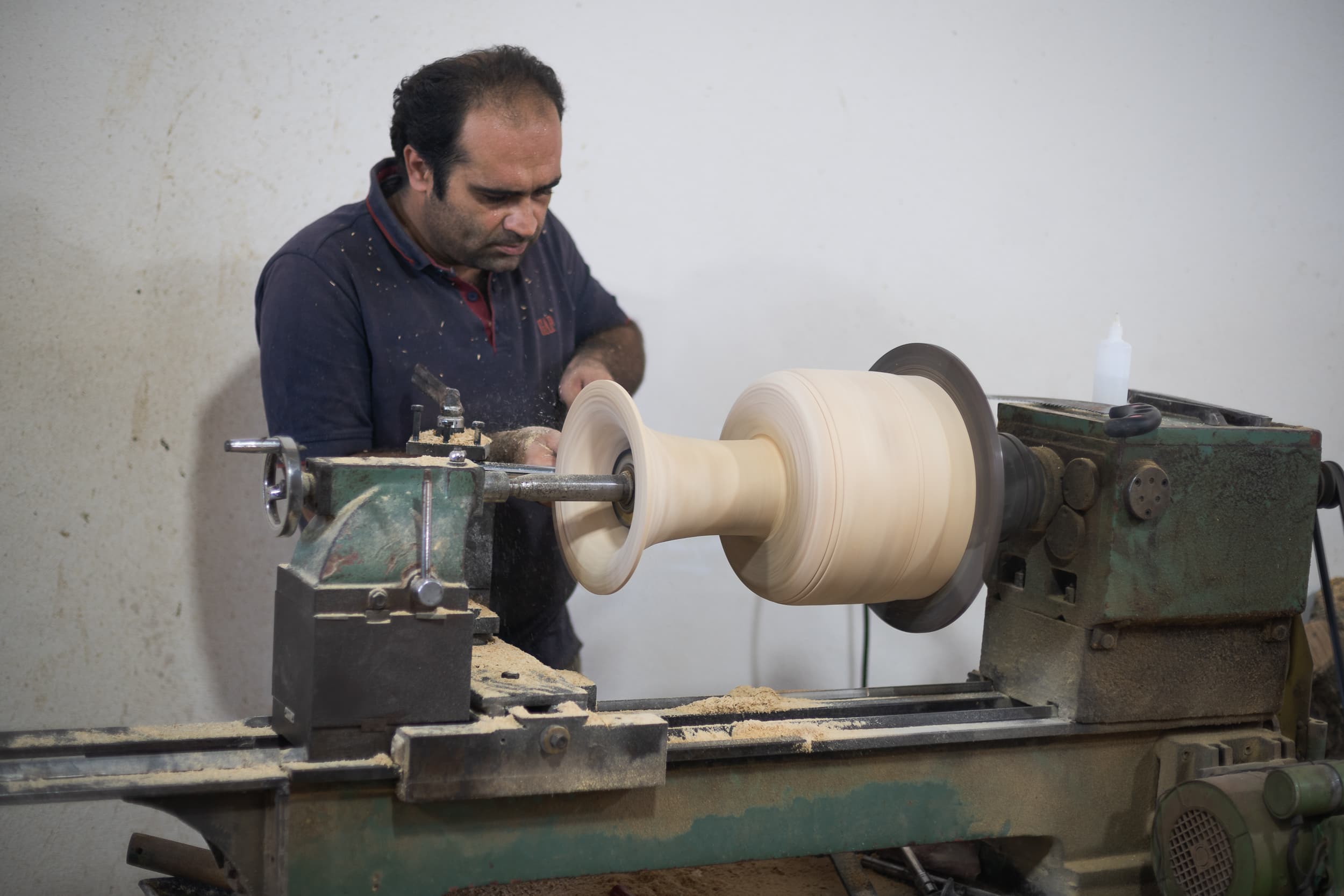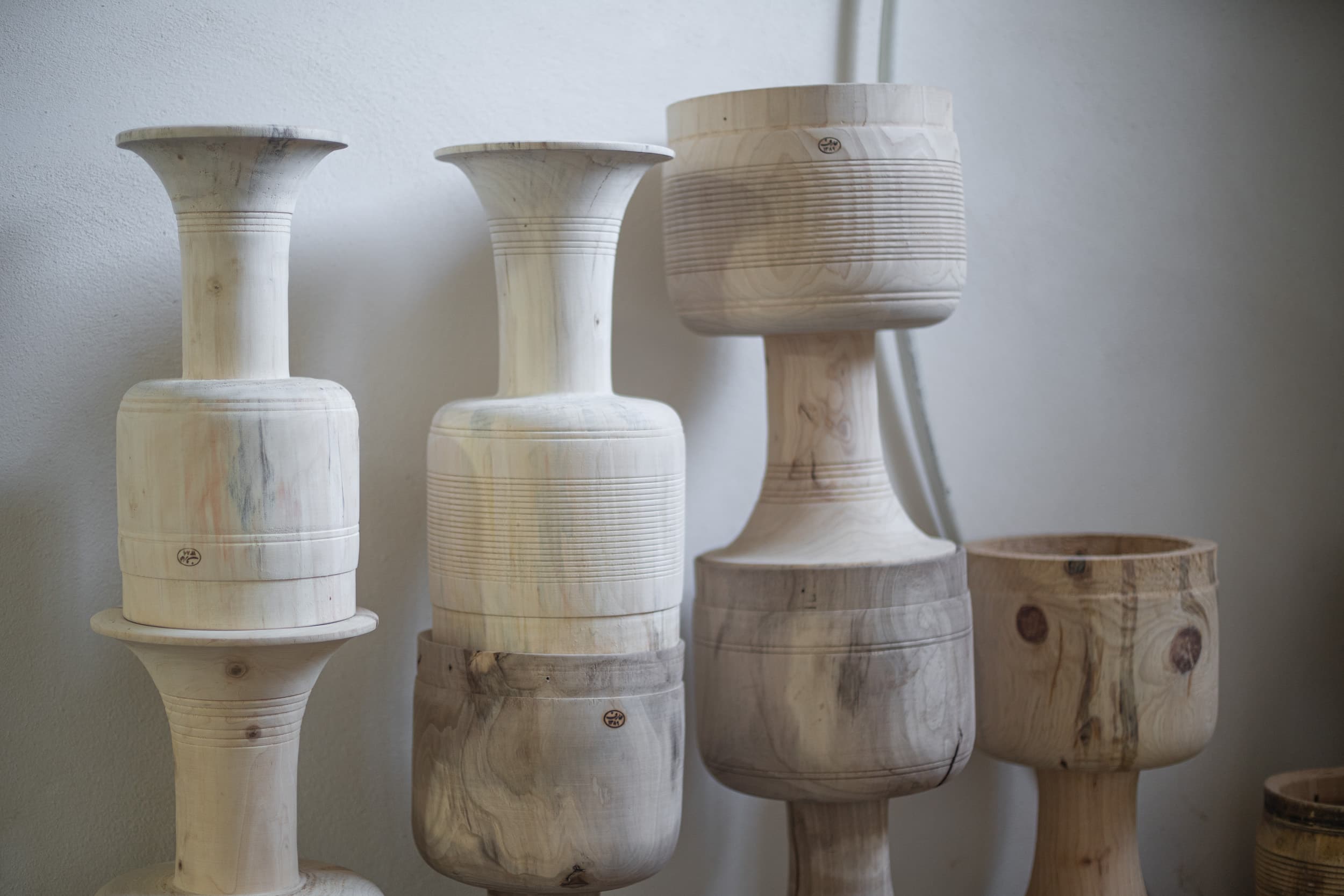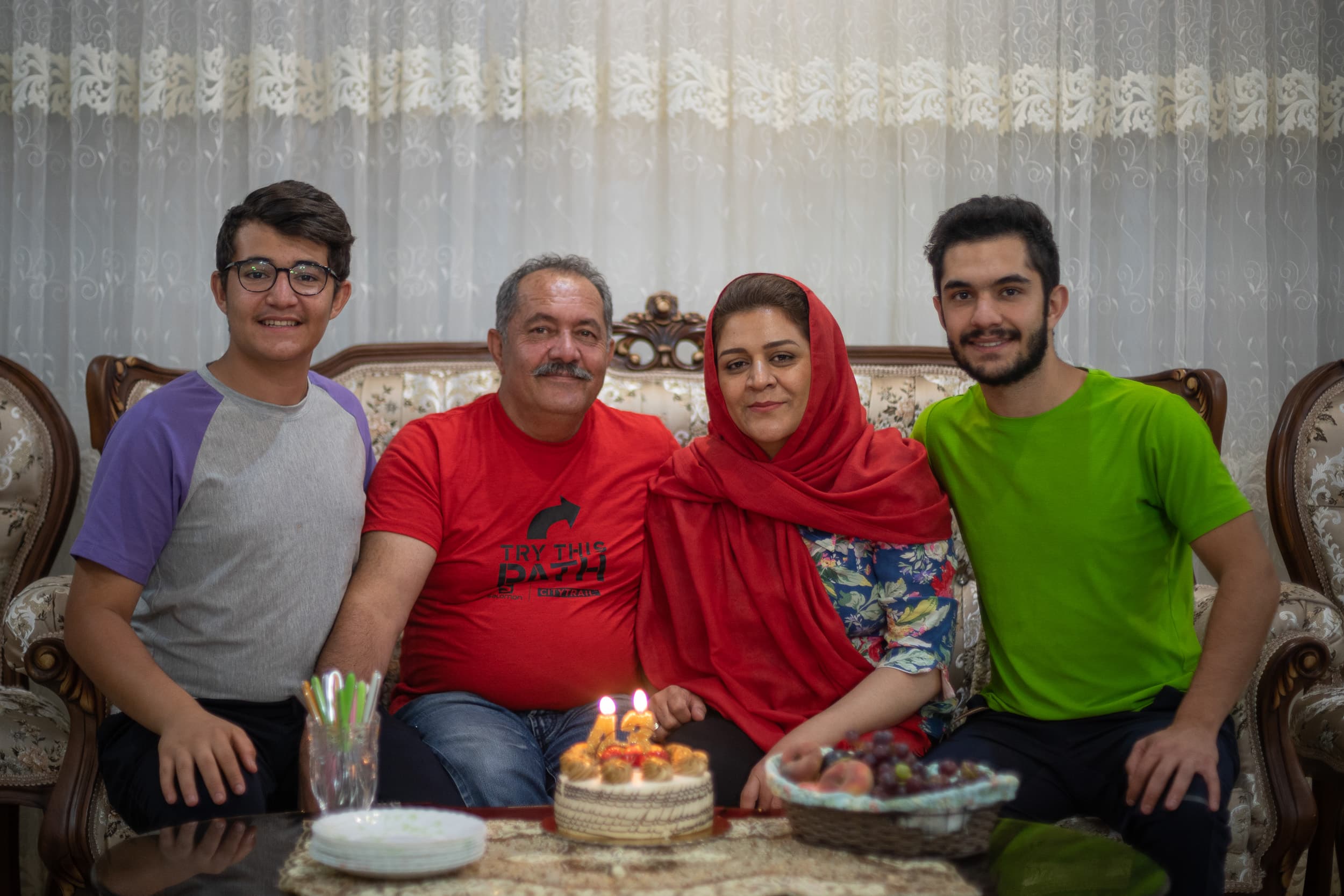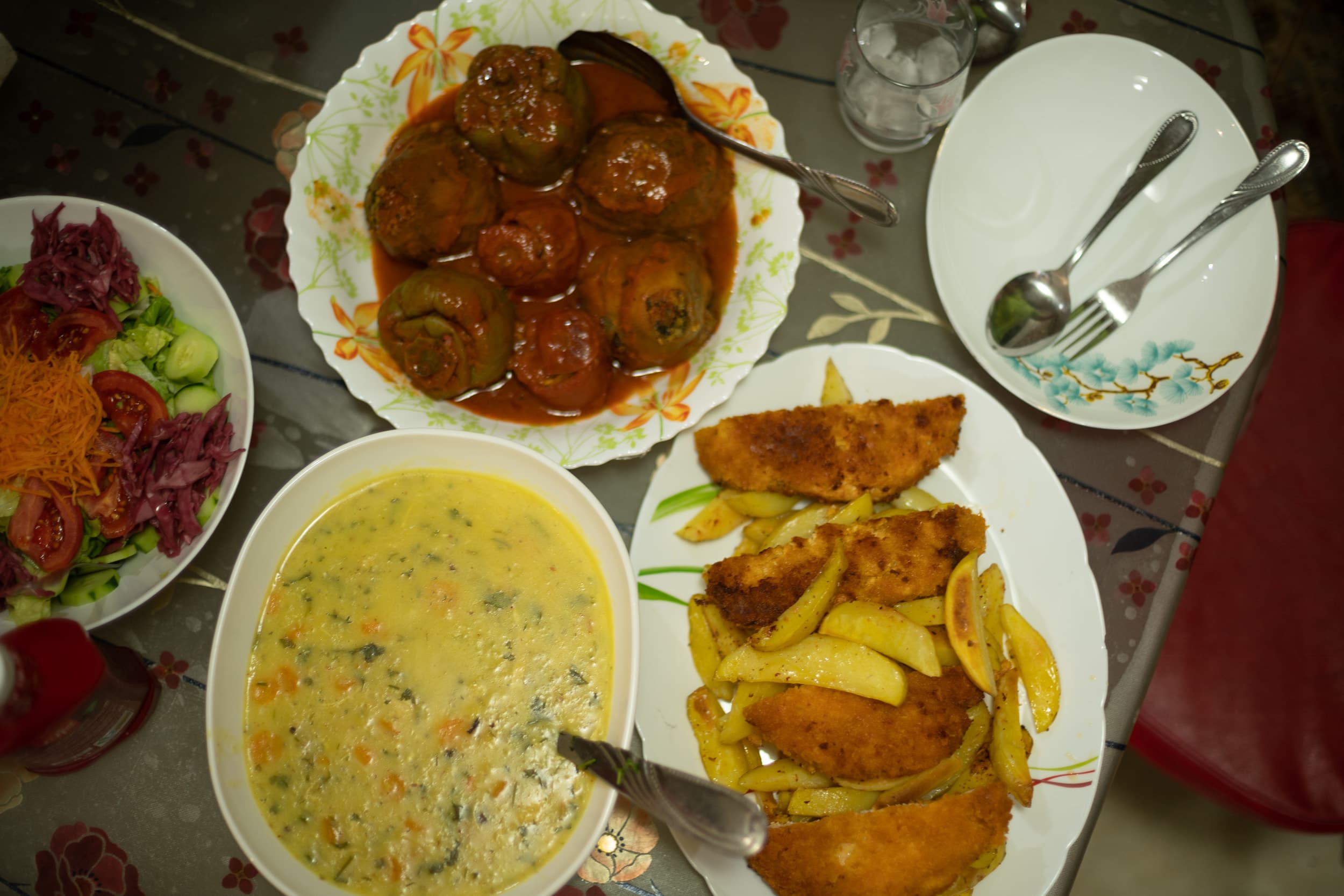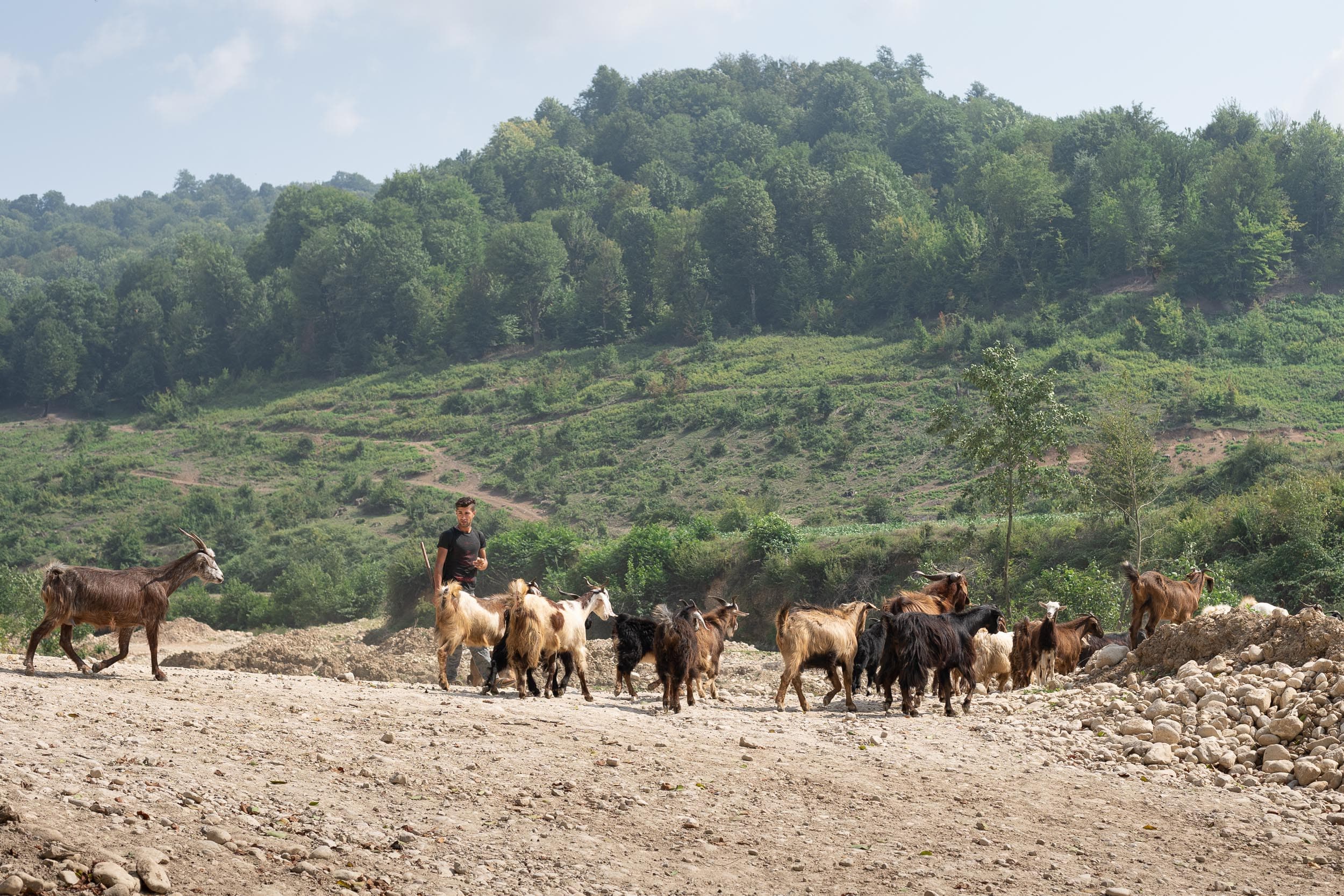 Turkmenistan and an unplanned detour
One day before Irina took her Flight back home from Tehran, I got bad news from the Turkmen-embassy.  They told me that my visa application was rejected. It was known that Turkmenistan arbitrarily refused some visa applications, origin and gender played no role. I applied for the 5-day transit visa the same way as 3 other cyclists in my Hostel, some of them even took my form as a template.
It was devastating, they didn't even say why it was rejected, I just got a "no". But I didn't want to give up that fast. I had to ga back to Behschahr anyway cause my bike was there, so I decided to go to Maschhad anyway, the last big city before the border to Turkmenistan. Maschhad was the only other place where it was possible getting Turkmen-visas, so from Behschahr I continued cyclid towards the most religious city of Iran.
My next stop was in Gorgan, where I was able to stay with warmshower-host Esi and Mahbube. Mahbube is an english- and yoga teacher and Esi was working on his own farm. With them, having good conversations in english was pretty easy, something which was not always the case. Cause I was not quite sure what to do regarding my visa issue,  I stayed a day with them, so I also had some more time to make a plan. Together with Esi, Mahbube and some friends of them, we made a day trip to the mountains to have a picnic. We played badminton, visited an old historical village and cooked dinner together. It was another fantastic time with another couple/family and I easily could have stayed longer.
The problem was, I didn't have that much time left as I didn't know what's gonna happen with my visa. In Gorgan I contacted Vali, a owner of a famous homestay in Maschhad, who previously helped other travelers, including cyclists, to get a visa in Maschhad. His answer was clearly "get to Maschhad as quick as possible!". So, as it was my main plan to cycle every meter possible on this journey, I now had 2 options.
Packing bike and luggage in a Nightbus and heading to Maschhad, if I didn't get a visa there, at least I would have all my things with me.
Deposit bike and luggage at Esis house and heading to Maschhad, the better option if I would get the visa, to then taking a bus back and continuing cycling to Maschhad.
I decided to go with the second option, cause the chances to get the visa at the second attempt were not that big. In Maschhad, Vali gave me some advise how to behave at the embassy and with fresh dollar notes, a new form and some leftover optimism I went to the Turkmen embassy. A few minutes later I was back, with the uncomfortable certainty that my route and previous plan will be messed up by Turkmenistan.
No chance to get a visa here. At that point I was extremely frustrated, I even thought about ending my whole journey here in Iran. Ahead of me was a big detour, one that throws me back by almost 2 months. I had to go back all the way where i came from, back to Azerbaijan and taking a ferry across the Caspian sea, to then cross the whole Kazakh and Uzbek desert to get to Bukhara, a city which was only a 7 day ride away from Maschhad.
After another night in Maschhad, I was able to accept the new situation. Shit happens! The journey must go on! The next day I was able to visit the main attraction of the city and most important sanctuary of Iran, the Imam-Reza-Shrine. A gigantic complex, the largest mosque in the world by area and a pilgrimage site, that is visited by up to 20 million people every year. Visiting the shrine was also kind of a farewell to Iran.
The next day I took my bicycle apart, packed it to a carton-box, packed the box to the train and went by train and bus to Baku, Azerbaijan.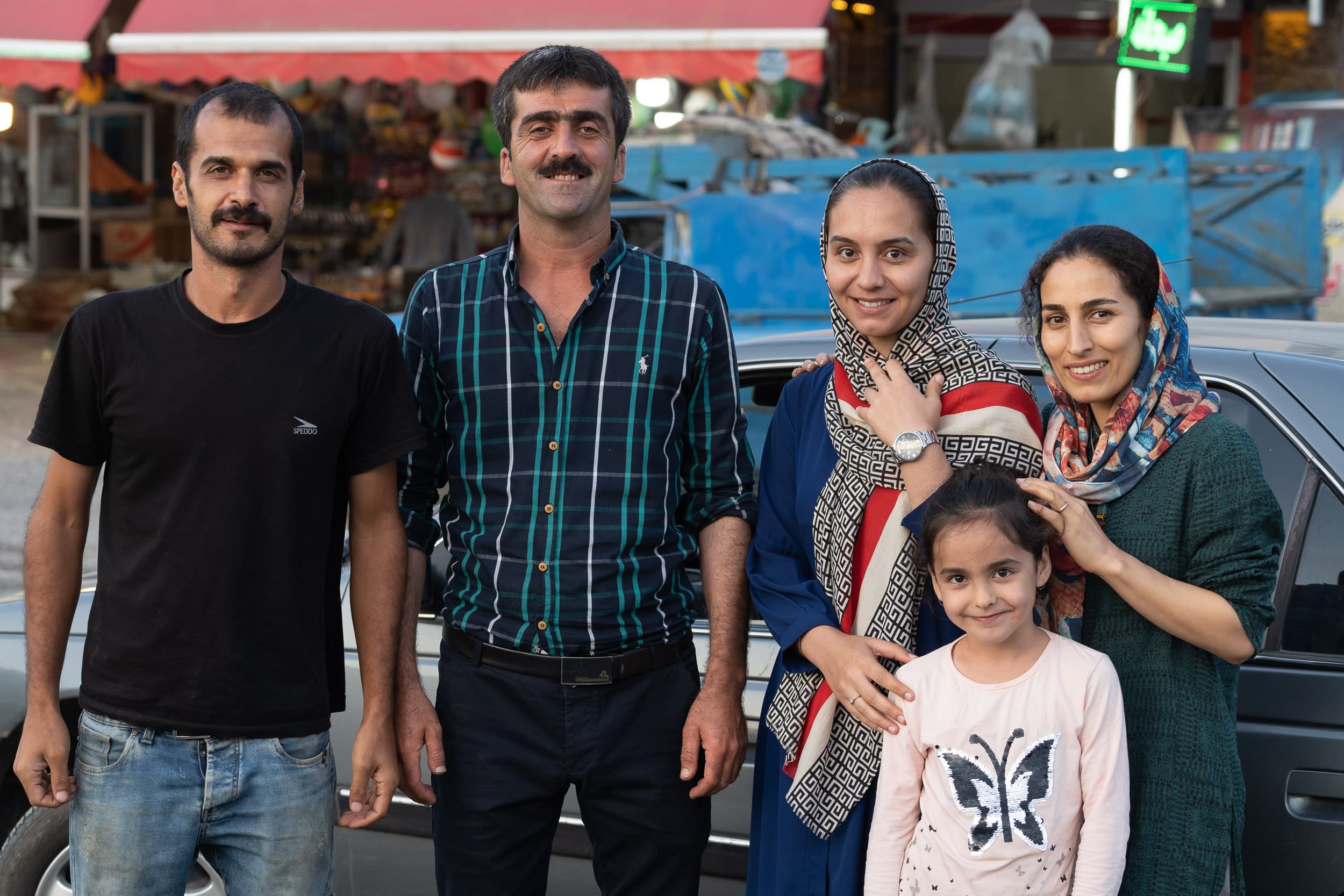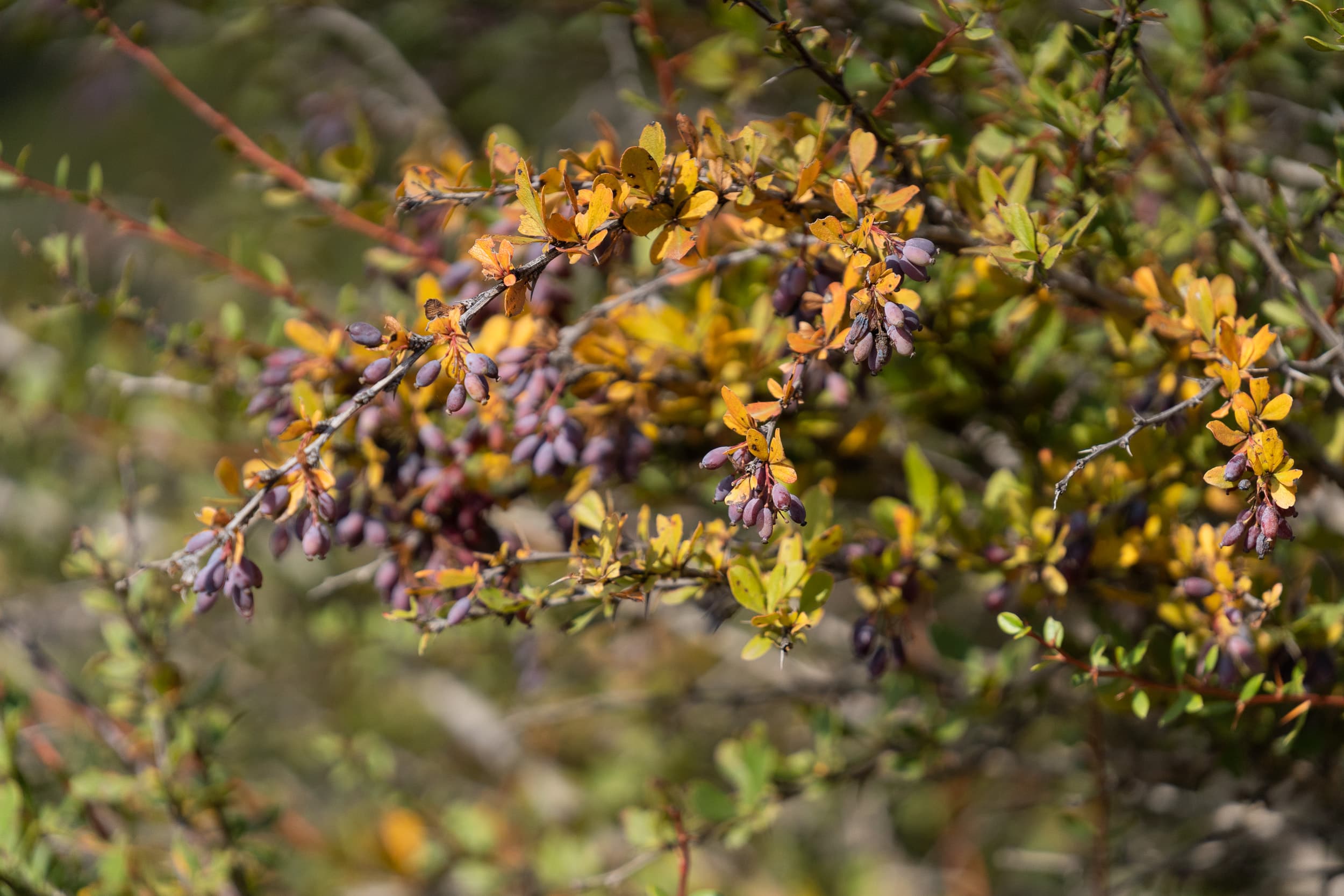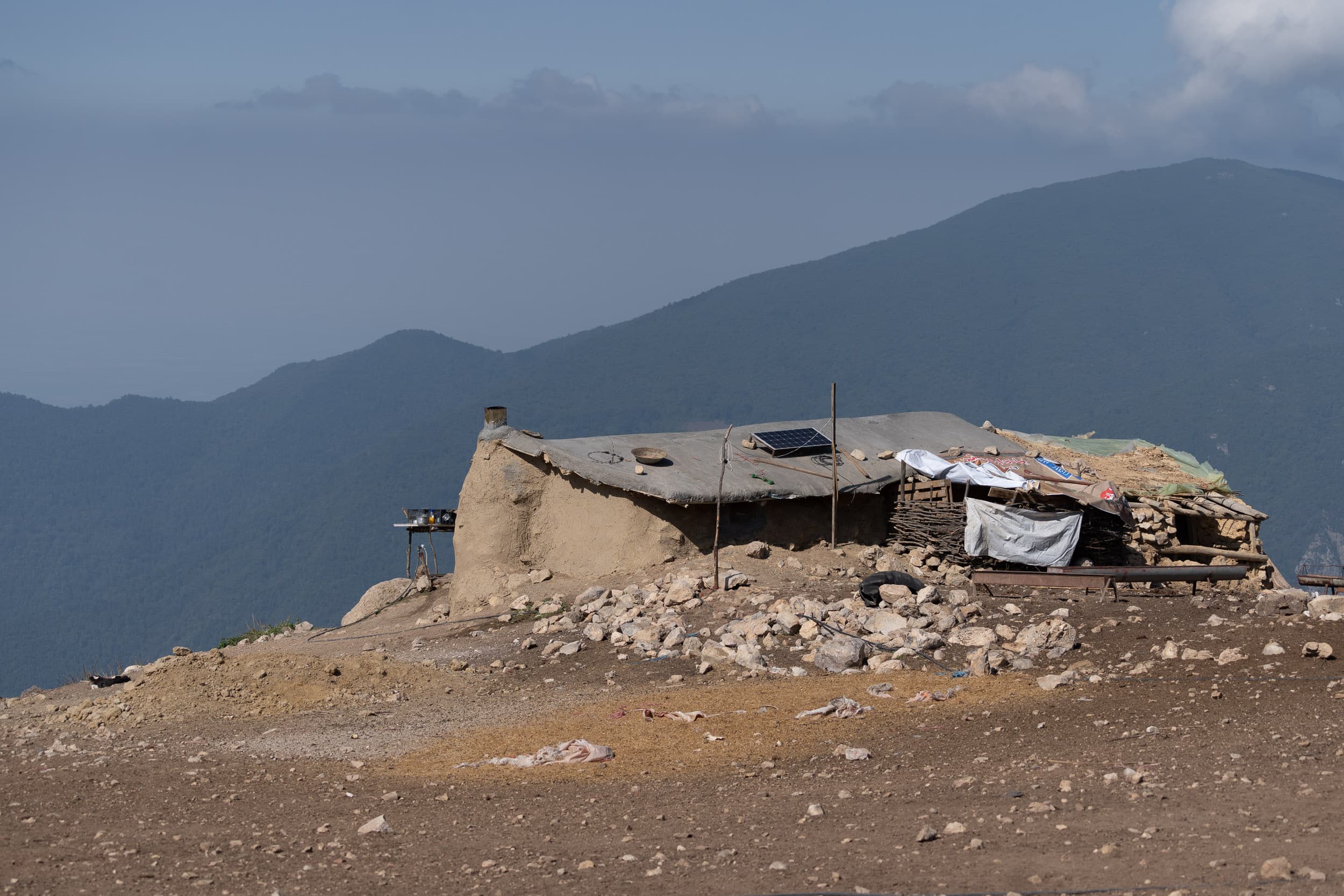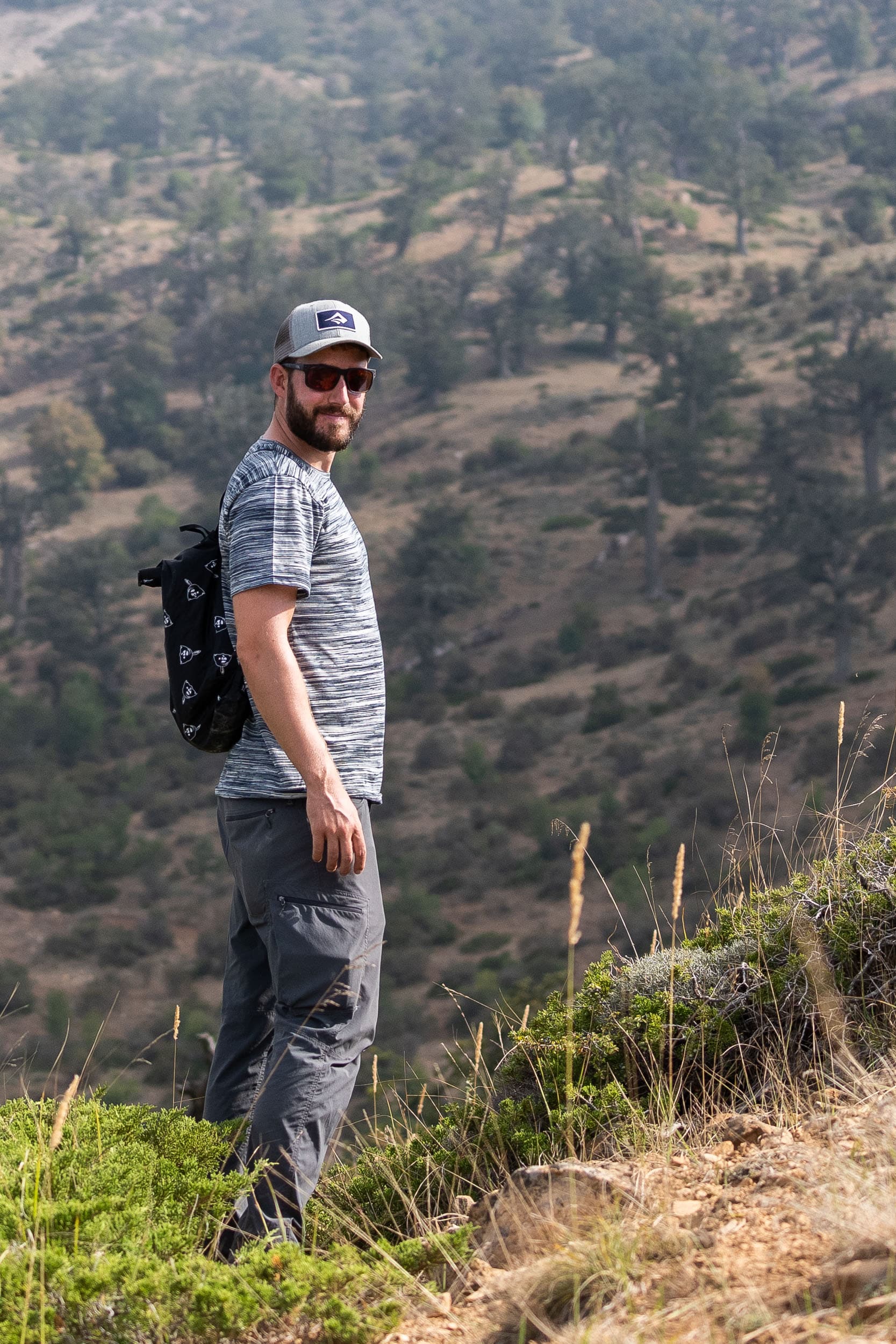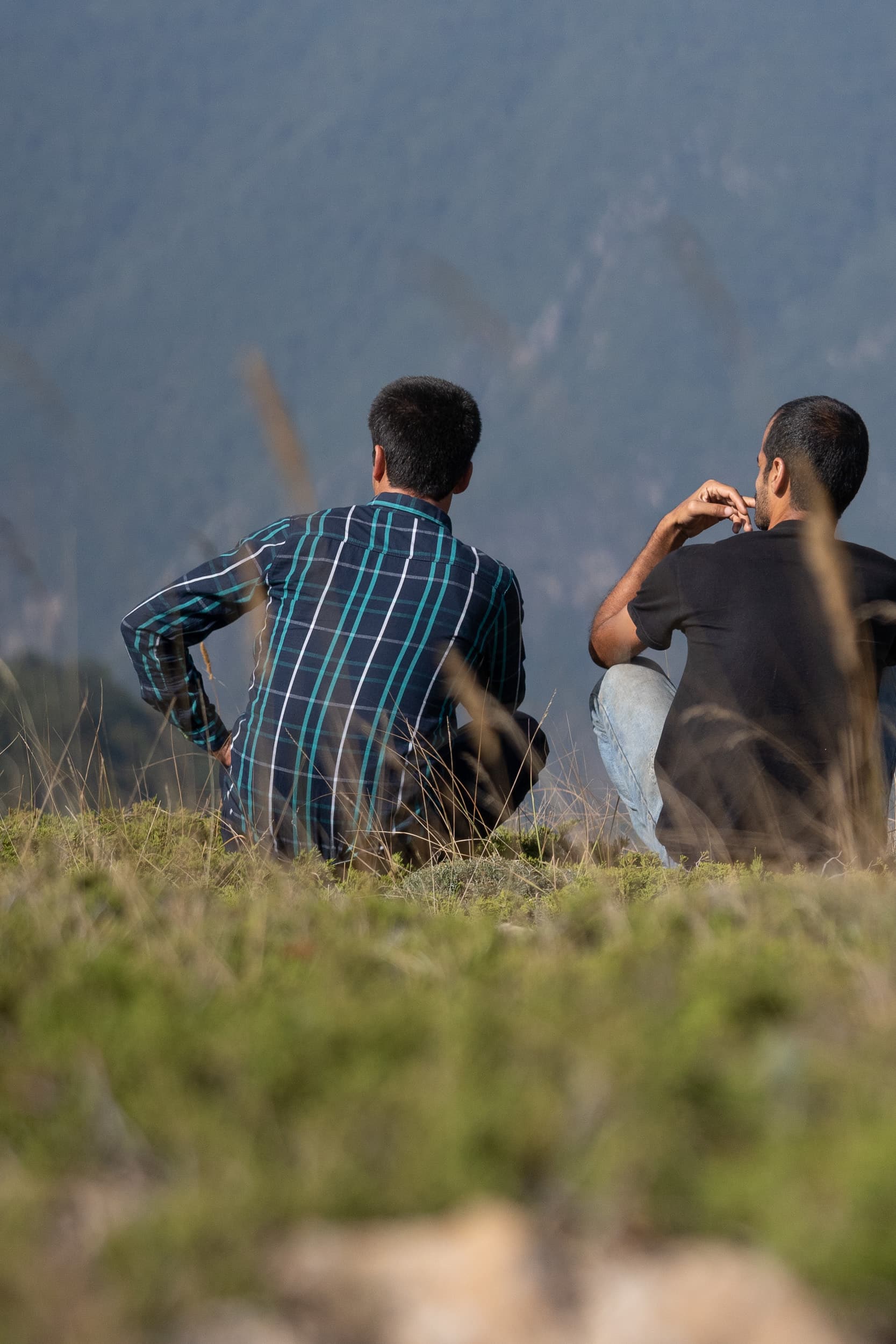 After more than a month in Iran it was time to say goodbye. Though Iran offers some amazing landscapes and sights, what made this country so special for me were definitely its people!⁠ I've been able to experience absolutely unique hospitality, stayed in homes of 10 different families, and was gifted or invited for food almost every day. Despite the difficult situation, whether economic or political, people here give you a warm welcome, helping you wherever they can and doing everything to make sure you have a great stay. ⁠
⁠
What I take with me are memories of encounters with wonderful people and a new learned lesson/example on how to welcome strangers back in Switzerland.
⁠
Kheili mamnoon friends in Iran, it was a wonderful time I wouldn't have missed!
Until next one
Fabian
Special thanks to all of you for being part of my journey:
Irina, Teymour, Rooshanak, Nima, Shahram, Ehsan, Korush, Romina, Rasol, Amir, Amin, Zahra, Mohadese, Hamid, Neda, Mahsa, Mahshad, Nima, Amir, Nadali, Davood, Arezoo, Mohamad, Mahbube, Esi, Vali